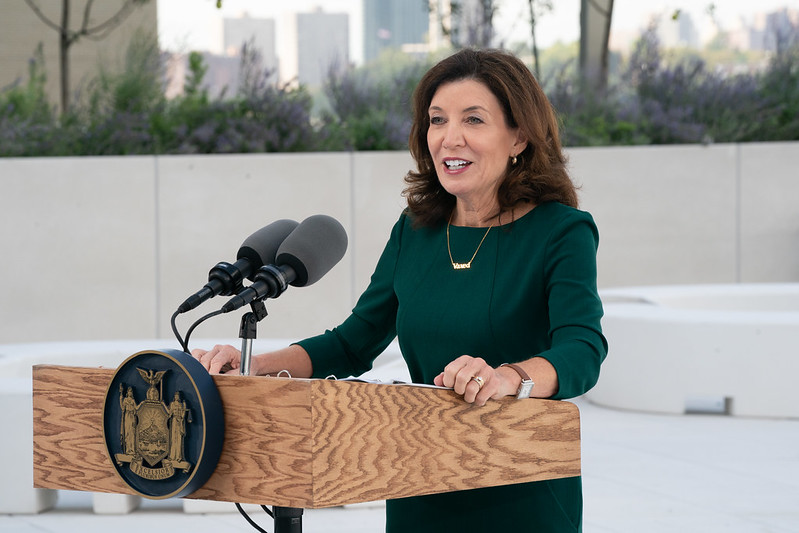 Gov. Hochul (photo: governor's office)
---
We all knew Governor Kathy Hochul would be unique. Simply by virtue of being our state's first woman executive, she will stand out in history. She entered the office in unfortunate circumstances, not the typical path to New York's Executive Chamber. But since taking the oath just over a month ago, we've seen a governor in action.
New York's 57th governor began her term with a ceremonial swearing in where she wore white, the color of the suffragettes, and noted that "brevity is the hallmark of [her] administration." Later that day, she delivered an address to the people of New York that included the promise of a fresh start and a commitment to address big issues facing communities, saying "…this is our time."
In early September, she met with the press regarding the emergency response to historic flooding from Hurricane Ida in a windbreaker with what appeared to be a did-it-herself alteration crossing out in black marker the "Lt." before "Governor" on her embroidered title. "No-nonsense," it seems, may be a hallmark of her leadership style, in addition to brevity.
During Climate Week, the governor shared stories of her childhood, detailing why she cares about the environment and why it is a top priority for her. Growing up in Lackawanna, "pollution was just a fact of life" for everyone who lived there, she said. She described the dirty, orange air and the harm if caused. Her announcements included an air monitoring program for communities most affected by air pollution and the release of $600 million in grants to protect clean drinking water and modernize infrastructure.
At several events that week she expressed her intention to accelerate state investments in clean water quickly and efficiently to address local needs. She also proposed to add $1 billion to the 2022 Environmental Bond Act, to total $4 billion, and proposed to rename the measure to accurately describe its purpose, "Clean Water, Clean Air, and Green Jobs."
It is, as the governor noted on her first day, our time. Our time to tackle global warming, from reducing the pollution that causes poor air quality and frequent, extreme weather to protecting people and buildings from deadly floods and heat. Our time to ensure state agencies have the resources they need to implement laws and regulations that protect us from pollution and safeguard our environment. Our time to invest in infrastructure that will ensure we have safe roads and clean water to drink and to swim and fish in. Our time to conserve our forests, farms, and wetlands before they are lost forever.
We're facing big, complex problems, and we need all levels of government to deliver solutions. Governor Hochul can provide strong leadership in New York and demonstrate to the nation what is possible by empowering her agencies to achieve our ambitious climate goals and collaborating with the Legislature to provide the necessary resources and enact policies to save lives. Top priorities must include rapid action to build the renewable energy economy, protect clean water and air, and conserve family farms and forests. The governor already has a strong start.
In addition to passing the Bond Act in November 2022, we must increase investments in our environment and infrastructure right now – including a $500 million Environmental Protection Fund and $1 billion for the Clean Water Infrastructure Improvement Act. These funds generate huge returns on investment for New York communities, such as good jobs, while preventing pollution in our drinking water and conserving local farms, forests, and parks.
Increasing funding for our State Parks and state lands owned by the Department of Environmental Conservation will provide the recreational opportunities New Yorkers sought out with heightened urgency during the pandemic. It will also ensure the state-managed lands and waters are in good condition and safely accessible to residents and tourists alike – an economic boon to many communities.
Finally, and in a move that would additionally set Governor Hochul apart from her predecessor, we need to increase investments in the public workforce at state agencies. Big announcements for capital projects and nation-leading goals often make excellent press releases. But after the dust settles, someone needs to hold programs accountable for meeting their goals and ensure funding gets to communities quickly and essential services are provided to New Yorkers.
By investing in our state agencies, partnering with the Legislature, leveraging federal funding, and providing effective, transparent leadership, Governor Hochul can cement her place in history as a truly unique and inspirational leader.
***
Jessica Ottney Mahar is Policy and Strategy Director at The Nature Conservancy. On Twitter @jessicaottney & @nature_ny.
***
Have an op-ed idea or submission for Gotham Gazette? Email This email address is being protected from spambots. You need JavaScript enabled to view it.