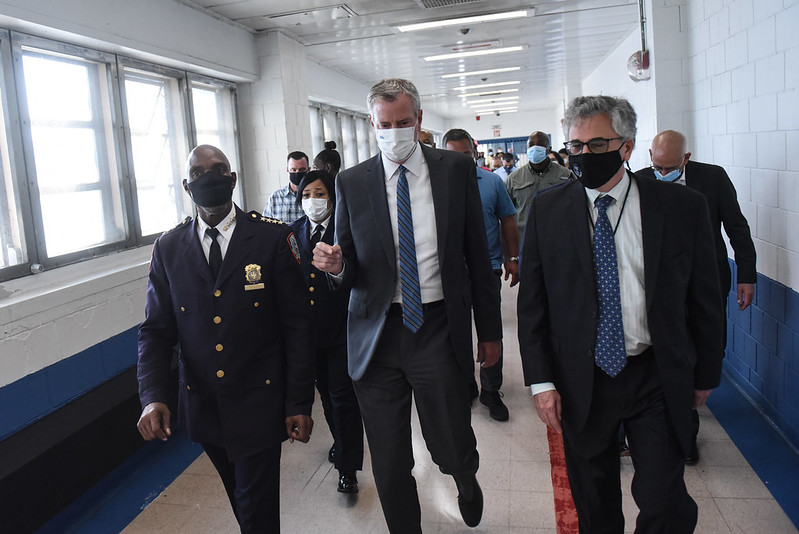 Mayor de Blasio on Rikers Island (photo: Michael Appleton/Mayoral Photography Office)
---
Just over a year ago, the city of New York did something special, a monumental achievement not seen since the end of World War II. In May of 2020, for the first time since 1946, the average daily population (ADP) of city jails dropped below 4,000.
A combination that included the plan toward a reduced-capacity borough-based jail system, significant bail reform taking accused people's ability to pay into account, and transitional housing facilities like the ones we at Exodus set up in empty hotels across the boroughs to process people as they were released from city jails, came together to achieve what Mayor Bill de Blasio had just two years earlier said was "noble" but untenable.
This was great news for New Yorkers. Unfortunately, just a month later the population at Rikers Island began creeping up again and now, a year later, swelled to 5,574 people as of October 5.
This is not, like some media and organizations say, due to rising crime - it's a directly traceable result of a shift away from the policies that made closing Rikers a possibility, back to the policies that in one year have brought Rikers Island to the humanitarian crisis it currently is. After backlash to bail reform by conservative politicians and media, some of the reform measures were rolled back in June 2020 and judges and district attorneys began again detaining people pre-trial indefinitely on Rikers Island. As people and organizations from some communities expressed displeasure at the idea of a correctional facility possibly being built near their neighborhood, the borough-based plan for closing Rikers Island experienced its own backlash. And transitional communities like ours at Exodus continued working with the people who've been released while struggling to get the city to commit to issuing vouchers to make it possible for our people to secure permanent housing.
This is all to say, we need to stop, rest, and reassess. New York City was able to significantly reduce the jail population through making serious investments in expanding supervised release, housing, and other alternatives to incarceration that protected vulnerable New Yorkers at the peak of the COVID-19 crisis. With the current crisis in city jails claiming the lives of 14 of our neighbors this year alone, we must renew and increase our investments in these critical programs and the providers who care for our communities.
Two absolute necessities to reclaim our communities are: to have a robust investment in alternatives to detention (ATD's) and to shift the Department of Correction's investment toward more programs inside the city correctional facilities, which are sorely needed after 18 months of not being allowed on Rikers Island because of the pandemic.
ATDs provide a higher level of services to people to stabilize their lives and ensure they show up to their court date while diverting them from pretrial detention. Examples of this include Fountain House, which provides services, employment, and educational programs to people living with Serious Mental Illness (SMI). Fountain House reports to have a less than 5% recidivism rate for participants with a history of incarceration and justice involvement.
Over 80% of the women on Rikers Island have a Brad H. designation, meaning they have mental health diagnoses requiring the city to provide special discharge planning services to them. There are still so many women on Rikers Island that we have the resources to provide for outside of jails (or the state prisons where they may be moved temporarily).
Judges must actively start moving to release these people and allow our communities to support this. Exodus recently opened its seventh hotel, located in Downtown Brooklyn, to provide housing for justice-involved New Yorkers, supporting both city and state reentry efforts. The primary goal of community-based hotel housing like ours is to prepare people to transition into permanent housing, challenge discriminatory housing policies, and support impacted communities. We are doing our part in this community task.
Current city Correction Commissioner Vincent Schiraldi has, since assuming the role this summer, made a priority of bringing back educational, vocational, and therapeutic programming to Rikers, fast-tracking the process of obtaining and renewing IDs and working with organizations and coalitions that had a presence there before the pandemic. In the past two months, Exodus staff have been able to navigate services on Rikers Island to ensure people we work with who are being presented for court have access to care packages including essential items they have been denied for much of the past year, such as toilet paper, masks, and hand sanitizer.
We found the way, for those 30 days in April 2020, toward closing Rikers and a post-Rikers way of doing justice and healing communities. Since then we've lost our way, and our neighbors are dying in a penal colony that most of us agree should be part of our dark history, not our present. Here are some urgent actions the city must take if we are to find our way back:
Continue to support the Commission on Community Reinvestment established by Local Law 193, and adhere to their recommendations, including baselining in the city budget funding to convene and support the commission through 2027. The Commission on Community Reinvestment was established as a part of the Close Rikers plan but experienced delays because of COVID-19. As of August 2021, the commission had hosted its first town hall and established four subcommittees, led by directly impacted advocates & service providers.
Reduce the DOC workforce to free up to $1 billion per year for community investment to prevent incarceration. This would also allow the Mayor's Office to shift the administration of services and programming for people in custody away from DOC's authority to community service providers.
Take steps to proactively meet mental health needs, including stable housing, to prevent people from interacting with the criminal justice system. And support them with permanent housing solutions.
People incarcerated on Rikers Island are our mothers, fathers, sons, daughters, sisters, brothers, cousins, and neighbors. They are our community. And, as a society, we can and must do much better for our loved ones. We can decarcerate to under 4,000 people again and go even further.
***
Kandra Clark is Vice President of Policy and Strategy at Exodus Transitional Community. She oversees Exodus's policy and advocacy efforts, including supporting the closure of Rikers Island and the transformation of our justice system. On Twitter @KandraClark17 & @etcnyorg.
***
Have an op-ed idea or submission for Gotham Gazette? Email This email address is being protected from spambots. You need JavaScript enabled to view it.