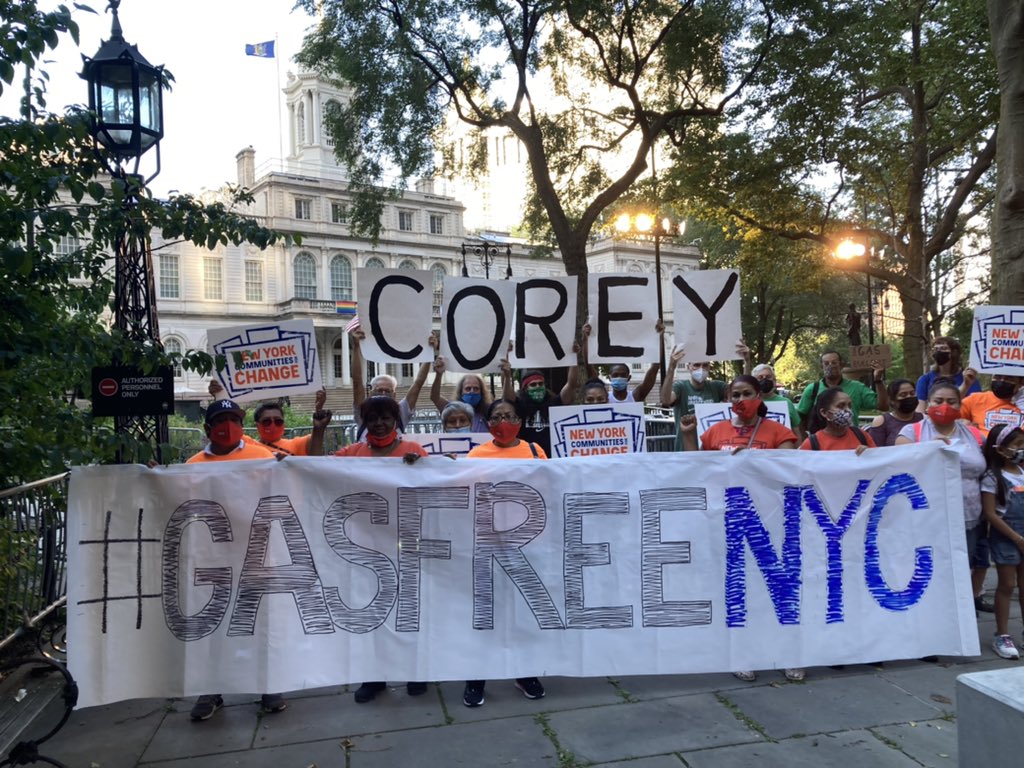 The #GasFreeNYC push (photo: @weact4ej)
---
It's hard to wrap one's head around, but the city's future existence is in serious danger as more climate pollution spews into the atmosphere. Simply put: with over 500 miles of coastline and the subway and utilities underground, there may be no way for New York City to survive substantially higher sea levels. To save our city, and so many other precious places, every government, worldwide, needs to take action to slash climate pollution.
Fortunately, the New York City Council is considering ending gas in new construction and gut renovations, as several large West Coast cities have already done. This vital bill, Intro. 2317, is prime-sponsored by Council Member Alicka Ampry-Samuel and supported by 23 other co-sponsors and Speaker Corey Johnson.
While the climate emergency is a crisis, it's also an opportunity to build a healthier, safer and more fair society. Ending gas in new construction and gut renovations would help both slash climate-heating pollution and fight inequality.
Banning gas would create jobs in clean energy, as developers would build to higher energy efficiency standards and install electric-powered heat pumps, boosting employment in design, construction, and electrical work, creating good new jobs in clean energy. Building on the massive job creation of NYC's Local Law 97, which requires large buildings to slash their climate-heating pollution, it would further New York City's economic development as a leader in green buildings.
Passing a gas ban would also prevent deadly air pollution. RMI and university researchers estimate that such air pollution from combusting fossil fuels to power, heat, and cool the city's 1 million buildings causes about 1,000 New Yorkers' deaths per year.
Moreover, the quality of air that people breathe is unequal: Black and Latino New Yorkers breathe dirtier air because of increased air pollution in neighborhoods segregated by society's many inequalities. New Yorkers could also rest a little easier knowing that their building wouldn't catch fire, explode, or asphyxiate them because of a gas leak.
The benefits of ending fossil fuel dependency are clear. Thankfully, it is also practical and affordable because advancing technology and economies of scale have slashed costs. Construction costs are now about equal. And energy efficient new buildings minimize utility bills because energy use is so much lower than in wasteful, drafty older buildings.
We have identified almost 80 building projects of all sizes and uses that demonstrate fossil free development. Take Alloy's 100 Flatbush Avenue. It's a 44-story tower currently under construction. When completed, it will be the tallest fossil free building in the U.S., following the path-breaking world's tallest fossil free super-high energy efficiency building, a 26-story residence at Cornell Technion on Roosevelt Island.
RiseBoro, a social services and affordable housing provider, is also demonstrating in the real world that it can deliver low energy bills to low-income seniors in its HUD-supported housing, without fossil fuels. RiseBoro is now building a nine-story, 164-unit affordable building in Inwood for low-income seniors. RiseBoro will guarantee low, affordable energy bills for residents because it will be energy-efficient and use heat-pump technology. All of RiseBoro's future development will be fossil-free.
These and other developments show the practical, affordable nature of the bill's requirements, which should apply to new permit applications starting in one or at most two years. Other cities have applied their requirements in one year. The City Council bill's current timeline is two years.
Mayor de Blasio -- who to his credit has supported banning gas, which has helped advance the issue -- has so far been vague about the timeline on which he believes requirements should take hold on new permit applications.
The Real Estate Board of New York, Exxon, and the American Petroleum Institute are among those lobbying hard against the bill. They can be counted on to try and weaken the bill's timeline, if they can't stop it altogether. As we push for this bill's passage before the end of the year, when the terms of this mayor and City Council class will end, the key negotiation will be over the bill's timeline.
One of the mayor's top climate appointees, Office of Sustainability Director Ben Furnas, pointed out in a Gotham Gazette interview that a 2025 timeline - four years away - would match the International Energy Agency's advocacy for ban on sales of new fossil fuel boilers worldwide by or in 2025. That's one critical minimal condition, worldwide, to avoid blowing past "red lines" on climate.
It's clear that New York City must act more quickly. A ban by all governments across the globe clearly won't happen by 2025, especially if wealthy cities like New York refuse to go faster. Indeed, a slower timeline by the City of New York than other cities that have already passed gas bans could be detrimental if other cities, pressed by their respective developer lobbies, incorrectly concluded requirements should be delayed.
Each year about 2,500 new buildings are built in New York City. Right now, New York City consumes about a whopping 5% of all gas used in buildings nationwide. It's time to wean ourselves from an addiction to fossil fuels.
New York should build a fairer and safer society. Passing a gas ban on new construction and gut renovations will be a major advancement. Similar to when New York City committed to divest several of its pension funds from fossil fuels in 2018, the bill's enactment will help spark further action worldwide. This bill heads to a public hearing on November 17. After the hearing, the City Council should swiftly enact it.
***
Pete Sikora is the Climate & Inequality Campaigns Director for New York Communities for Change. On Twitter @PeteSikora1.
***
Have an op-ed idea or submission for Gotham Gazette? Email This email address is being protected from spambots. You need JavaScript enabled to view it.