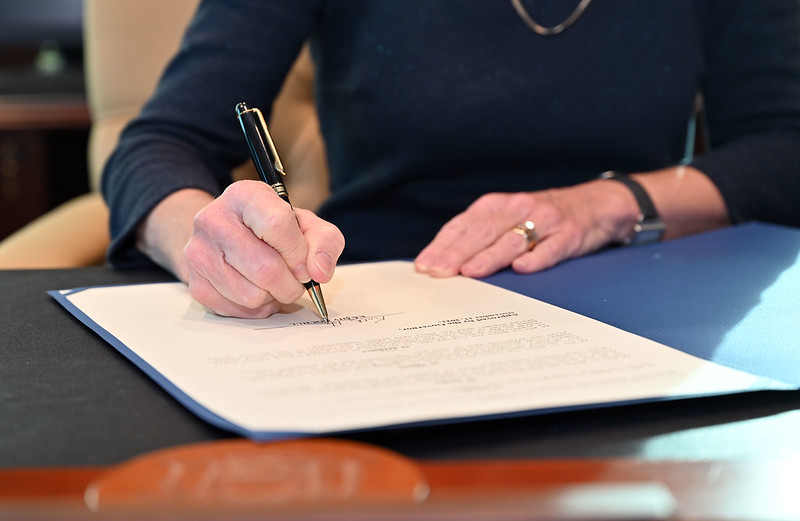 Gov. Hochul signs legislation (photo: Kevin P. Coughlin/Office of the Governor)
---
Imagine being a young, impressionable teenager unable to vote or even drive a car. A teenager who can't take a field trip, get a passport, or make health decisions without the guidance and consent of an adult; but if you made a terrible mistake, you were held accountable as if you were an adult.
Young people are more emotional, vulnerable, and impulsive than adults. Yet, prior to 2019, 16- and 17-year-old teenagers across New York State were automatically charged and sentenced for crimes as if they were adults.
One bad decision leading to one terrible mistake meant that your opportunities were considerably limited for the rest of your life, even after you accepted full responsibility and were held accountable.
Your pathways to education, employment, and housing were forever limited because your teenage actions led to an adult criminal conviction in the court system. Employers, educators, and landlords perpetually reduced you to the stigma associated with the charge for which you were convicted.
Judges have the discretionary authority to grant teenagers charged as adults a status known as "youthful offender" or YO. This status is meant to relieve the young person from the onus of having an adult criminal record haunt them for the rest of their lives. Their records are sealed, and they can move about the world without the stigma of a felony conviction.
Without this status, individuals would face lifelong consequences because their conviction is accessible to employers, landlords, and schools by way of background checks.
Sadly, in many instances, judges have chosen not to grant YO status, which has happened to far too many people in New York who were charged and sentenced as adults when they were young.
It happened to me when I was 17 years old.
Like too many Black and brown teenagers, I was raised in an over-policed, underserved community that lacked appropriate resources, was plagued by drugs, and provided limited role models and opportunities for young people.
I made poor decisions that held severe consequences. I was charged and ultimately convicted as an adult, serving 10 years in prison. I spent most of my adolescence in an adult correctional setting and was forced to grow up in one of the most dangerous and challenging places anyone can fathom.
After leaving prison in 2003, I was determined not to engage in the behaviors that led to my confinement. But as I returned to my community, I was confronted with systemic barriers. I remember filling out a job application to work in the stock room of a national retail chain. During my interview process, they asked so many questions about my conviction. Ultimately, they said I needed more experience and denied me the job. Eventually, I was relegated to back-breaking labor on a construction site with no benefits because that was my only option at the time.
This was just one obstacle. According to the Council of State Governments, in New York there are 1,052 collateral civil consequences: legal and regulatory restrictions that limit or prohibit people convicted of crimes from accessing certain occupations, licenses, funding, and more.
When young people sentenced as adults ultimately complete their prison sentences, they are subjected to a life sentence of lost opportunity.
Thankfully, New York State recently took a big step to supporting second chances. Governor Kathy Hochul signed into law new legislation (S.282/A.6769) providing individuals who were sentenced as adults when they were youths with a new pathway to remove their adult felony conviction. This new law allows people to reapply for consideration for youthful offender status, and it offers hope to those still suffering the consequences of an adult conviction for a decision they made as a teenager.
What does this mean for me?
I may be free—finally—of the limitations of a felony conviction record. I was released from prison at age 27. Now, more than 17 years later, I am eager to reapply for youthful offender status. I am so much more than the felony record which has labeled me for all these years.
I am proud of the work I have done both to help people avoid incarceration and to assist formerly incarcerated individuals with the process of reentry in New York City. I am filled with hope that this change will be transformative for people who made mistakes when they were young. May they have the opportunity to live better lives without barriers to success.
***
Rob DeLeon is the Senior Vice President at The Fortune Society. On Twitter @RobDeLeon14 & @thefortunesoc.
***
Have an op-ed idea or submission for Gotham Gazette? Email This email address is being protected from spambots. You need JavaScript enabled to view it.