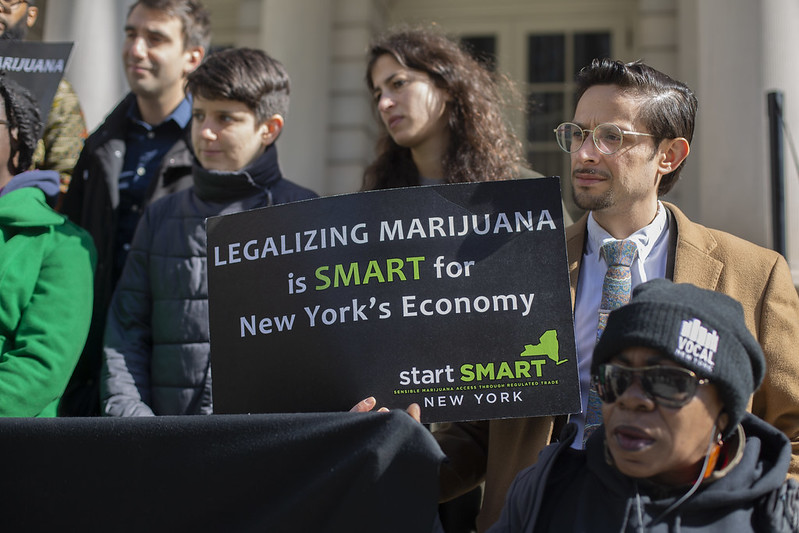 The push for legal cannabis (photo: John McCarten/City Council)
---
This past year was remarkable for New York's cannabis industry. After years of debate, the Legislature passed the Marijuana Regulation & Taxation Act (MRTA), which legalizes and regulates recreational cannabis and will lay the foundation for a recreational program.
Recently, the Cannabis Control Board (CCB) began loosening restrictions on medical cannabis (including allowing patients to buy a 60-, rather than a 30-day supply, along with the purchase of whole flower), and finalized the cannabinoid hemp regulations. In the meantime, tens of thousands of entrepreneurs from all around the state, including the "legacy" (illicit) marketplace, are preparing applications for a coveted recreational license.
Over the next few years, New York's nascent cannabis industry has a generational opportunity to create a new market out of whole cloth. There are those who push back, holding onto outdated notions of cannabis as a gateway drug and fears that legal cannabis will result in unsafe neighborhoods and loss of property value. Legal cannabis will be a game-changer. Here's why:
A Boon for New York Agriculture
Farmland makes up about 20% of New York's land, and we are the fourth largest producer of dairy in the nation, home to over 33,000 family farms. However, the economics of farming are changing, especially in high-cost states like New York, where family farms are disappearing at alarming rates.
A legal cannabis marketplace would be a blessing for agriculture, especially those family farms. Over the last decade, hundreds of farmers have embraced hemp cultivation and craft brewing, both of which have been a lifeline. Legal cannabis cultivation presents a unique opportunity for the farmers, which will allow this evolving industry to harness an existing New York asset.
Generating Thousands of Good Union Careers
New York's adult-use cannabis industry is expected to generate 30,000-50,000 new jobs. Currently, 80% of the medical cannabis industry consists of unionized workers receiving family-sustaining wages and benefits, along with strong workplace protections, setting a standard for industry employment and creating a dedicated workforce.
New York is committed to ensuring quality careers and a pathway to unionization as the MRTA requires that cannabis employers enter Labor Peace Agreements (LPAs) with unions as a condition of licensure, thus limiting their ability to resist, challenge, or contest workers' efforts to form a union.
With the inclusion of organized labor, the legal cannabis industry has an opportunity to further professionalize and create labor standards for an industry that has operated in the shadows for decades. Additionally, labor will serve a critical role, ensuring a robust pipeline of talent and local hiring that ensures equity, and acts to represent workers as stakeholders in the industry's success.
Building Small Business
The MRTA is built around ensuring social equity, requiring that half of all licenses go to people from BIPOC communities, women, veterans, and distressed farmers. While corporate cannabis is already in New York, and will have a role in the industry, the MRTA prioritizes small businesses, and all signs point to the CCB maintaining that precedent. According to leaders from the NY Cannabis Growers & Processors Association, the state's largest trade federation, "the goal is to create hundreds of millionaires, instead of a few billionaires."
The cannabis industry is large and complicated, so while most New Yorkers may think about businesses that grow or sell the product, there will be hundreds of ancillary businesses in the sector. This will include testing, marketing and branding, packaging, technology, security, construction, maintenance, and legal services.
As an economic development tool, legalization immediately created an opportunity for tens of thousands of entrepreneurs to join the new industry. While these entrepreneurs represent a wide range of communities, many will come from the legacy market, hoping to legitimize their business and spur a chance to create generational wealth (including growers, processors, bakers, and delivery services).
Investing in New York Communities
In addition to its social equity provisions, the MRTA earmarks 40% of cannabis tax revenue to be repurposed as grants to non-profit organizations serving communities affected by the war on drugs. These grants will be used for job placement and skills training, mental health and substance abuse counseling, nutrition, and financial literacy. Additional tax revenue will fund a state-run incubator for small businesses and social equity applicants, including no-interest loans.
Localities will also have a chance to receive tax revenue from cannabis sales, provided they opt into retail dispensaries and/or on-premises consumption. Those municipalities with the foresight to opt in will soon have a new source of revenue, new jobs, and the economic output that comes with these opportunities.
Within this decade, New York has the potential to be the largest cannabis market, as sales could reach $750 million in 2023 (the first expected year), and $2.4 billion by 2026. Legal cannabis will be a game-changer for the economy and workforce, and generate opportunities for communities long left behind by prohibition. This is a once-in-a-generation moment for New York State and we must work together to get it right.
***
Jordan Isenstadt is a Senior Vice President at Marino, a New York City-based public relations agency, where he leads a team focused on a burgeoning portfolio of cannabis-focused brands and serves as a member of the Town of North Hempstead Cannabis Task Force. Nikki Kateman is the Political & Communications Director of Local 338 RWDSU/UFCW, a labor union whose growing membership represents 80% of the workers in New York's cannabis industry who are employed across the supply chain from seed to sale, and serves as a member of the Town of North Hempstead Cannabis Task Force. On Twitter @MrIsenstadt of @marinopr and @nmkateman of @Local338.
***
Have an op-ed idea or submission for Gotham Gazette? Email This email address is being protected from spambots. You need JavaScript enabled to view it.