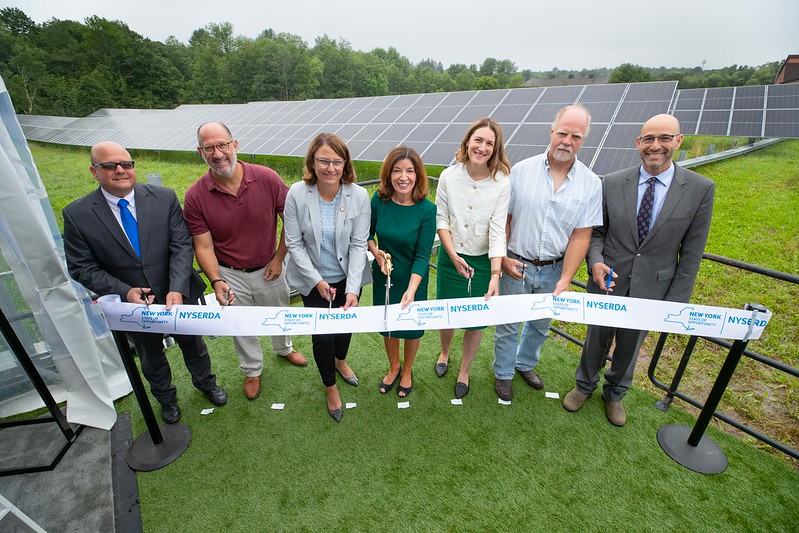 Gov. Hochul at a solar farm event (photo: Philip Kamrass/New York Power Authority)
---
In 2019, I took a vote in Albany that I remain proud of to this day: after supporting the bill for many years, I voted to finally pass the Climate Leadership and Community Protection Act (CLCPA). I thought we were on track. The CLCPA made New York a true leader on climate, committing our state to a rapid decarbonization of our economy and ensuring that we invest in frontline communities most impacted by pollution and climate change.
The CLCPA includes aggressive benchmarks for getting off of fossil fuels: by 2030, 70% of our electricity must be from renewable sources, and by 2040 our state's entire electric grid must be zero-emissions. These mandates line our state up with the emissions reduction timeline put forth by the Paris Agreement and make New York a climate leader — but only if we can meet them.
Three years later we have made pitiful progress in reducing our emissions, we've built almost no new solar or wind and actually burn more carbon today than in 2019. Just six percent of our electricity comes from wind and solar. For comparison, Texas, a state known for its conservative leadership and reliance on oil and gas, gets 17% of its electricity from wind alone, nearly three times as much as New York. We cannot in good faith claim climate leadership when our own energy profile lags behind so much of the country.
Earlier this month, I pressed leadership of NYSERDA -- the New York State Energy Research and Development Authority -- on New York's renewable pathways, and they said we were on track, despite not even being halfway to our 2015 goals. This was shocking and disconcerting because if every renewable project in New York's pipeline (of which only 4 of 63 have succeeded thus far) and the Champlain Hudson Power Express (CHPE) were fully operational, New York would still not meet the goals of having 70% of its energy come from renewable resources by 2030. It's shameful, if this is what NYSERDA and Governor Hochul think is climate leadership.
That is why I sponsor the Build Public Renewables Act. The BPRA lifts the arbitrary generation cap on the New York Power Authority, the largest public power authority in the country, and enables it to own and build new renewable projects to ensure we meet the mandates of the CLCPA.
The Build Public Renewables Act would make the New York Power Authority accountable to everyday New Yorkers, and expand interconnection by removing uncertainty in the renewable buildout. We do not have time to waste, the recent spike in electric bills shows what happens when we are reliant on gas, we must build public renewables.
But renewables alone are not enough. It's time to take a new tack, and put our money where our mouth is. That's why I'm proud to stand with the NY Renews coalition and demand a $15 billion investment in climate, jobs, and justice for New York in this year's state budget, due by April 1. This money will help us meet our climate goals, invest in frontline communities, and build a thriving, just economy for all. This $15 billion in concert with the Build Public Renewables Act would reestablish New York's climate leadership. These two actions together would help us meet the ambitious and essential mandates of the CLCPA.
Ninety years ago, New York led on climate when Governor Franklin D. Roosevelt created the New York Power Authority, which became the New Deal model. New York can become a climate leader again. But we won't get there with the same tired talking points of the past three years. Inaction now is disaster later. Half measures now is no better. Now is not the time for rose-colored optimism. We need to be serious, bold, imaginative, and we need to act at the scale of the crisis.
This means dedicating the necessary funding in the state budget to reach our climate goals. It means passing bills like my Build Public Renewables Act and Pollution Justice Act, which will allow our state to rebuild our energy system and economy for a sustainable future and eliminate dirty peaker plants.
Investing $15 billion for climate, jobs, and justice in this year's New York state budget will put us on track to be the climate leaders we need to be. I'm calling on my colleagues and the governor to meet the incredible need of the moment and include all of these in our budget this year to truly lead.
***
Robert Carroll is the prime sponsor of the Build Public Renewables Act and represents Park Slope, Windsor Terrace, Kensington, Ditmas Park and other neighborhoods in the State Assembly. On Twitter @Bobby4Brooklyn.
***
Have an op-ed idea or submission for Gotham Gazette? Email This email address is being protected from spambots. You need JavaScript enabled to view it.