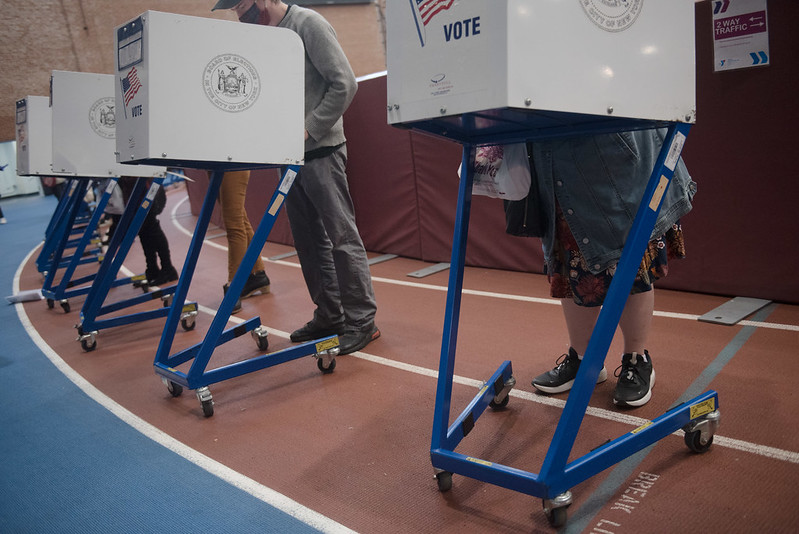 Voters at the polls (photo: Michael Appleton/Mayoral Photography Office)
---
Due to the ongoing challenges to New York's redistricting maps approved by Democratic lawmakers earlier this year, New York voters may be required to vote in two separate primary elections this year, one in June and another in August.
Issues with the new Congressional and State Senate district maps have thrown our upcoming party primaries into disarray and could run the risk of reducing voter turnout statewide. To preserve voter turnout and spare confusion, the Legislature should vote to merge and hold all primaries on August 23.
A state judge set August 23 as primary day for the U.S. House and State Senate party primary elections after the New York Court of Appeals rejected the newly-drawn districts for those chambers as unconstitutional. Primaries for statewide offices like Governor and Lieutenant Governor and for State Assembly remain set for June 28. This is a potentially costly and confusing development for voters and must be addressed rapidly.
In 2018, New York State ended its two primary system, where voters used to vote in federal primaries in June and state primaries in September. New York's divided primaries caused the state to spend many millions of dollars more while suppressing voter interest. The federal government requested the change to a single primary to provide enough time for military and overseas voters to get absentee ballots for the general election.
Holding a separate primary is costly, given the logistics of running a statewide election. According to the New York State Board of Elections, statewide primaries will cost as much as $30 million, covering ballots, election day materials, inspector pay, poll site rentals, moving costs for voting machines, staff, and mailings. Some lawmakers have called for additional funding for local elections boards to help pay for the two separate votes, which would include not only the two primary days, but the mandatory early voting periods ahead of each.
Consolidating the 2022 primary elections would minimize the impact of the Court's ruling on voters, candidates, and election officials and provide some stability to the current election cycle. Changing the political calendar requires swift legislative action due to legal deadlines and administrative constraints.
Not voting to consolidate the primaries is wasteful, expensive, and only leads to confusion and lower voter turnout. Historically, the two separate dates caused some hesitancy in voters' minds about when to vote. While the August date is not ideal given the likelihood of summer vacations, it has been established by the court, and cannot be moved. The June primary can be shifted, and for the sake of all voters, should be.
To reduce voter confusion and maximize turnout, the Legislature should refer to historical precedent and vote to merge the elections for this year, unifying the primaries in August. This would provide the summer to prepare absentee ballots and give some time for a lot of voter outreach and education.
The Legislature should prioritize legislation that unifies the primaries for this cycle in the next few days, providing ample opportunity for voter engagement and familiarity to ensure a sizable turnout at the polls. We must reduce confusion and rebuild trust among voters who may feel disenfranchised, confused, or upset about how redistricting has gone and the issues with the shifting primaries. Elected leaders should provide one date that guarantees New Yorkers will vote in all races on the ballot this year where there are primaries.
***
Christian Amato is an organizer and Democratic candidate for State Senate in New York's 36th District. On Twitter @amatoforny.
***
Have an op-ed idea or submission for Gotham Gazette? Email This email address is being protected from spambots. You need JavaScript enabled to view it.