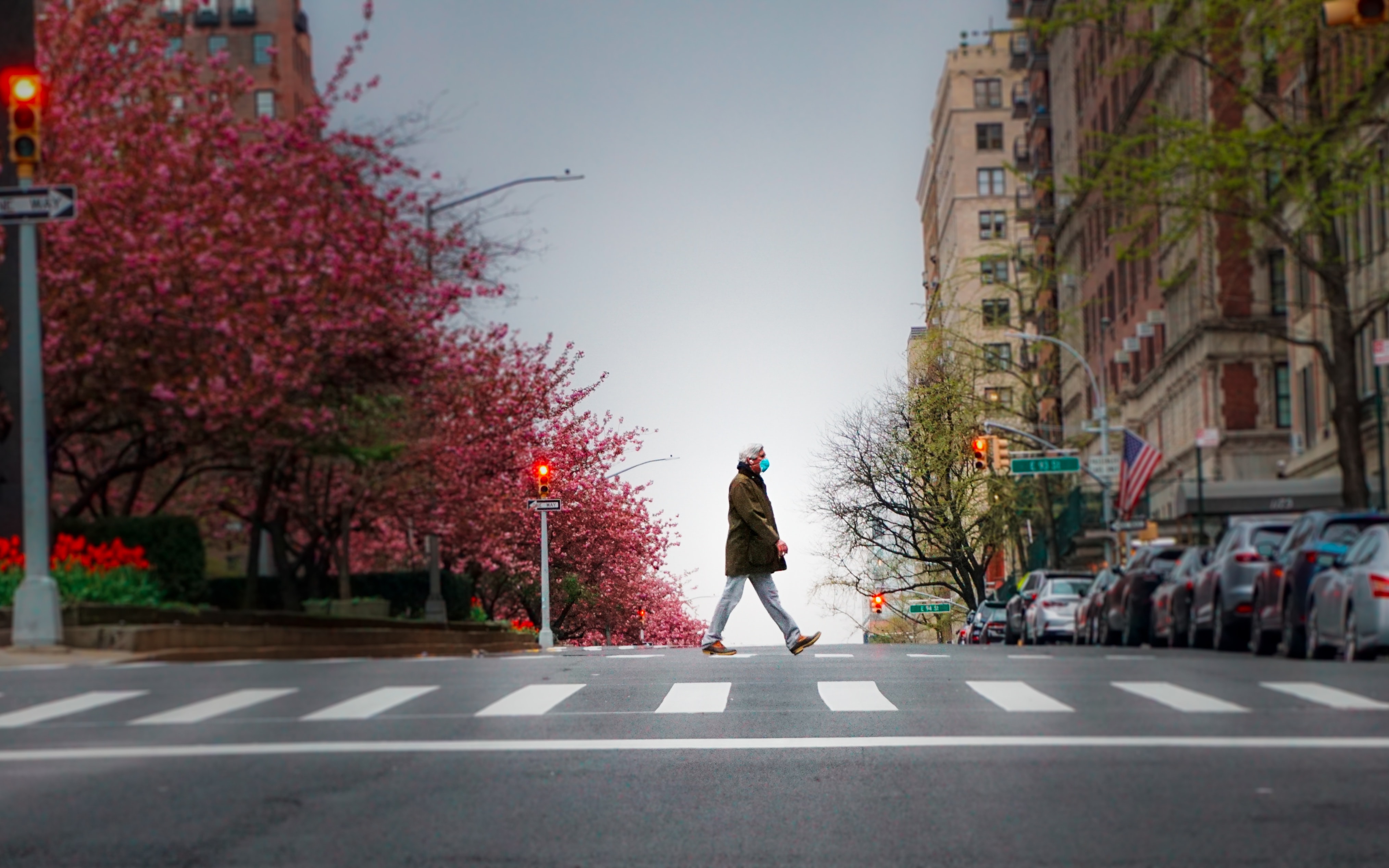 Crossing the street safely (photo: Clay LeConey)
---
99-year-old Holocaust survivor Jack Mikulincer was killed crossing the street in his wheelchair by an SUV driver in Brooklyn.
88-year-old Thomas Soong was killed just one block from his home in Queens at an intersection the city knew to be dangerous.
76-year-old Lola Blair was killed by a dump truck driver in the Bronx while crossing the street.
These are not statistics, but our neighbors and family members. 
New York City's pedestrian- and transportation-rich cityscape has long made it a welcoming home for seniors to age in place. From walking to the corner store to visiting family by bus or subway, the city invites older residents to stay engaged with their neighbors and neighborhoods. 
However, as we grow older, that invitation grows more dangerous. As New York City faces four years of increasing traffic violence, older New Yorkers have been disproportionately affected by car crashes, dying at a rate 60% higher than their share of the population.
In fact, one in three New York voters age 65 or over has been injured in a traffic crash, and two in three know someone who has been injured or killed, according to polling from Siena College.  
However, getting older does not have to mean a death sentence on our roadways or home detention for fear of crossing the street. Over the decades, New York City has developed proven tools to prevent this public health crisis and protect our most vulnerable. Initiatives like daylighting, sidewalk widening, and pedestrian safety islands led to a 17% decline in senior pedestrian fatalities. Mayor Eric Adams recently committed $904 million to the NYC Streets Plan to scale these and other proven safety measures across the five boroughs.
As our leaders in the city take bold steps to keep older New Yorkers safe, so, too, must our leaders in Albany. Right now, state lawmakers are deciding our ability to expand life-saving safety measures such as automated traffic enforcement and lower speed limits. 
We know what works. When New York City lowered its speed limit from 30 to 25 MPH, traffic fatalities fell by more than 22% and pedestrian fatalities fell by more than 25%. 
When New York City expanded its red-light camera program, t-bone crashes causing injuries fell as much as 58% at red-light camera locations.
And when New York City installed speed safety cameras in school zones, we saw a 55% drop in traffic fatalities and a 72% drop in speeding.
What's more, automated traffic enforcement and lower speed limits are supported by an overwhelming majority of older New York voters: 81% favor adding more speed safety and 86% support the red-light cameras.
We call on our lawmakers in Albany to lift the limits on life-saving automated enforcement programs, permitting the City of New York to protect people from speeding every hour of every day in every school zone. We also need them to pass Sammy's Law to allow lower speed limits across the five boroughs.
***
Beth Finkel is State Director of AARP New York. Danny Harris is Executive Director of Transportation Alternatives. On Twitter @BethNY & @AARPNY & @DannyHarris_TA & @TransAlt.
***
Have an op-ed idea or submission for Gotham Gazette? Email This email address is being protected from spambots. You need JavaScript enabled to view it.