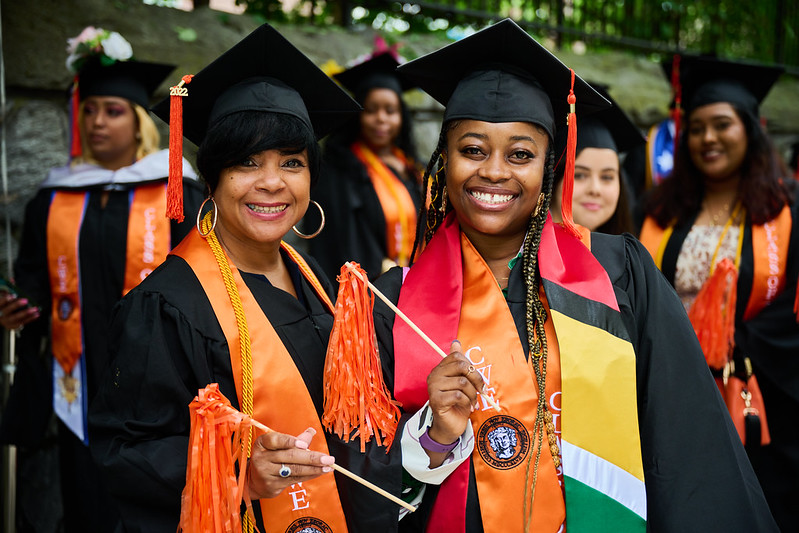 CUNY graduation (photo: CUNY)
---
Since the start of the pandemic, CUNY students have witnessed trauma every day. They've mourned loved ones who died. They've struggled with testing and vaccine availability.  They've borne the stress of the COVID-19 economic crisis, and braved the worst outbreaks as front-line workers to help their families survive.
Unsurprisingly, CUNY's enrollment declined beginning in March 2020. It's struggled to rebound, especially at the community colleges where many students come to campus from the neighborhoods hardest hit by COVID-19.
Community college students have always struggled to balance life and a life-changing education. Community colleges around the country face the persistent challenge of retaining students through to graduation. With the increased attention on enrollment this year, now is the time to move toward a solution by investing in the wraparound services that make it possible for CUNY students to return to and stay on campus.
City Council Speaker Adrienne Adams' recently announced CUNY Reconnect Initiative wisely offers the funding needed to support the services we know work to ensure students remain enrolled and engaged. The initiative would invest $23 million in CUNY and should be supported by the Mayor and full City Council in this year's budget negotiations. 
According to the Center for an Urban Future, there are nearly 700,000 working-age New Yorkers with some college credits but no degree. As a result, the jobs that create a pathway out of poverty and sustain families are often beyond their reach. On average, Americans with college degrees earn 65% more income per week than workers without degrees. CUNY Reconnect would help give working age New Yorkers with some college credits another chance at a great education.
The program emphasizes the need for increased services to help struggling students navigate the college environment.  A similar program in Tennessee invested in child care, pre-enrollment counseling, and other services. CUNY is poised to provide such support. But the proposed investment is only a start. 
The Speaker's initial request for $23 million is a laudable beginning but we must go further. CUNY Reconnect can work, while serving existing students, if we make additional investments in the services that are proven to boost graduation and retention rates. One such service is ASAP, the Accelerated Study in Associate Programs Initiative.
ASAP is known as the most successful program at CUNY's community colleges and modeled around the country in part because it gives students access to a dedicated advisor from enrollment to graduation. Multiple studies show that improved advising increases graduation rates. More funding must be included to increase access to academic advising at CUNY.
Since COVID-19, the increased need for advisors has created an unprecedented backlog. As Academic Advising Director in the Department of Africana Studies at John Jay, I saw the huge increase in numbers of students that needed guidance as we switched back from virtual to in-person learning. And now I see the urgent need for more thorough advisement among students returning to their studies after taking a break during the pandemic. An astonishing 44% of CUNY students are first-generation college students. They depend on advisors to help them navigate a system that can seem byzantine to an outsider. When acclimating to the new and unfamiliar space of college, advisors are their lifeline.
CUNY advisors want to help, but we're struggling. At a recent union gathering one advisor called the student-to-advisor ratio "mental and emotional murder." Another noted that "it's very difficult to do case management because those caseloads are so high… [we are] losing staff members. We are all exhausted." The current situation is not sustainable and doesn't give our students what they deserve.
We can do better. CUNY is a public service and a wise investment. In this year's budget, the City must step up for its people. This year's New York City budget must expand funding for advising CUNY-wide so that all students can receive the level of high-contact individual attention offered via ASAP. And for good reason: the three-year graduation rate for ASAP students is more than double that of non-ASAP associate degree students at CUNY's community colleges and it narrows graduation gaps for Black and Hispanic males. A move toward ASAP for All is a $20 million investment that would provide more students with the advisor they deserve.
CUNY students want to graduate, taking their new skills and diploma into the next stage of their lives. The City wants that too. It can't happen without the wrap-around services students need to navigate college.
***
Rulisa Galloway-Perry  is Academic Advising Director and Administrator at John Jay College.
***
Have an op-ed idea or submission for Gotham Gazette? Email This email address is being protected from spambots. You need JavaScript enabled to view it.