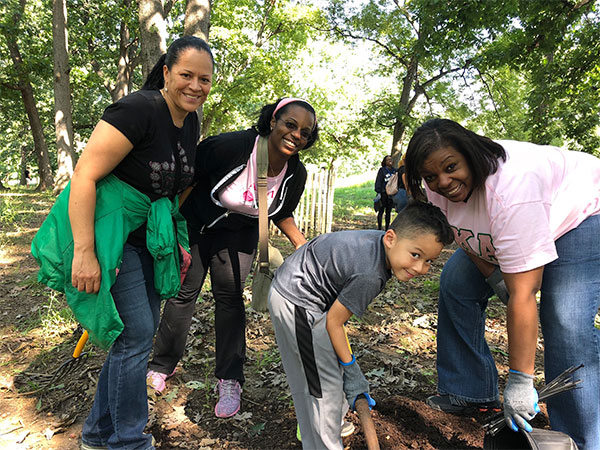 A family volunteers with Bronx is Blooming, a grantee of The New York Community Trust
---
School children spend months dreaming about the start of summer vacation — a magical time uncluttered by the concerns of homework, teachers, and early bedtimes.
For their parents, however, summer inevitably conjures up fears of a familiar two-word phrase: "I'm bored!"
Thankfully, there are ways to engage children in worthwhile activities that teach valuable life lessons and keep them entertained during summer's dog days.
One way to do that is by introducing them to volunteerism and charitable giving.
Philanthropy can be a powerful way to share values — opening a path to discussions about social issues and our collective responsibility to make the world a better place.
It's a way to learn about the world and each other — and when it's experienced at an early age, it's a habit that sticks. When children learn the value of giving, they tend to carry that lesson into adulthood.
Here are some tips to help you and your family discover new ways to work together and share the joy of helping others this summer:
Nurture the Youngest Donors
If children have developed the motor skills to hold a dollar in their hands, they have the capacity to give that dollar away. 
Find ways to bring giving into everyday life. You can have your children help you pick items for a food drive and drop them off together, this can precede discussions about giving direct financial support.
Invite Your Children to Give
Ask your child to identify a cause they care about and then, together, research organizations working in that area. This helps foster their feeling of ownership and autonomy.
This is also an opportunity for children to learn how to better understand how nonprofits work or make difficult choices among competing needs.
Follow an organization together to see what kind of impact your gift has made.
Some of the donors at my organization, The New York Community Trust, create donor-advised funds for older children and give them the opportunity to make choices about where to grant money in the fund.
Learn Together
Organize a family documentary night or group reading on a particular issue to spur conversation about giving or invite family members to attend events with you.
For example, The Trust hosts briefings on philanthropic giving throughout the year that are open to donors and their guests.
Establish a Family Tradition
Create a family giving ritual where all come together during the summer and discuss how the family will make grants in response to current needs and events.

For younger children, serve a special treat as an incentive to participate fully.
You also can schedule it at another time of the year — for example, the day after Thanksgiving — so that it becomes a tradition.
Get Hands On
While giving money is important, so, too, is giving time. One of the best ways for children to learn about giving back is through volunteer activities. Many organizations have a difficult time finding volunteers during the summer months.
New York Cares, a volunteering database for New York City, allows you to filter volunteer opportunities by location, dates, and family friendliness. Young children respond to ritual and repetition, so if you are able to engage in these activities regularly, all the better. For example, both of my boys had a volunteerism requirement at their high schools.

It's never too early to teach your children the value of giving, whether that means time, talent, or treasure.
Summer is a great time to plant the seed for a lifetime of giving by teaching your child the value of philanthropy.
***
John Oddy is vice president for donor relations at The New York Community Trust, the community foundation for New York City, Westchester, and Long Island. On Twitter @NYCommTrust.
***
Have an op-ed idea or submission for Gotham Gazette? Email This email address is being protected from spambots. You need JavaScript enabled to view it.