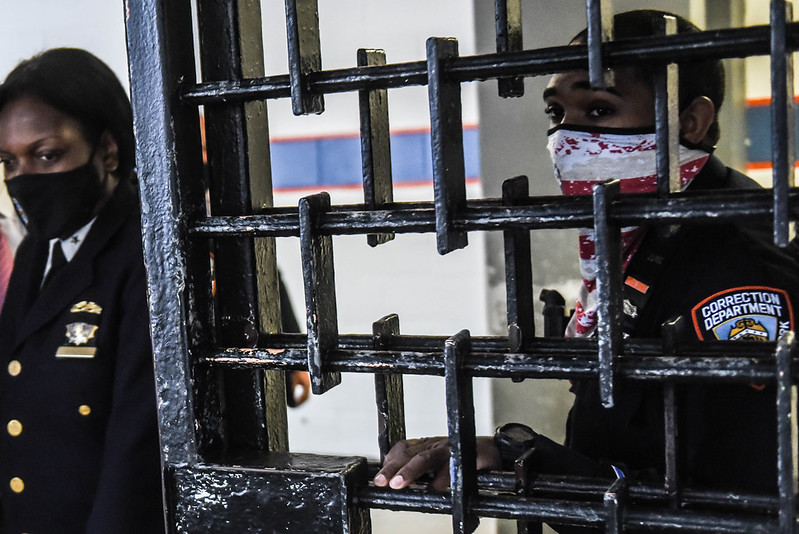 On Rikers Island (photo: Michael Appleton/Mayor's Office)
---
July 15, 2022 marked the day that 34-year-old Michael Lopez died of an overdose in a mental observation unit at the Rikers Island jail, bringing the number of lives lost under New York City Department of Correction custody this year to 11. Mr. Lopez's death and the broader public health and humanitarian crises at Rikers demand that we reimagine true public safety through a lens of community care, rather than more punishment. 
An eight-jail complex standing on an island in the East River plagued by environmental hazards, Rikers has been described as a modern-day penal colony intended to isolate its mostly Black and Latino residents from society and networks of support.
The rampant violence, cramped conditions, corruption, and horrendous sanitation within its dilapidated walls are largely out of sight and out of mind for New Yorkers. The crisis is not out of sight for Jennie Rosario-Megibow, the mother of Michael Lopez, whose many questions about his death have yet to be answered. 
Disturbing images released last year depicted 26 people occupying an intake cell filled with human excrement, where many had been held for days. Lack of basic services contributes to a culture of violence at Rikers leaving many vulnerable to attacks. It has been widely reported that the use of solitary confinement continues, where an individual can be isolated for 23 hours a day in a small cell deprived of any human interaction and essential medical care. Solitary confinement not only has immediate psychological impacts but also increases the risk of premature death.
Nearly half of the people incarcerated at Rikers require treatment for mental illnesses—a rate double that of the general population. On the heels of two deaths in one week, advocates are calling for a reduction in the Rikers population and an end to solitary confinement. 
Thanks to the leadership of formerly-incarcerated advocates, Rikers is set to shut down by 2027. However, conditions are dire now and require urgent action, lest we watch as more preventable deaths occur behind bars. It is well-documented that incarceration negatively impacts health. Most immediately, incarceration is associated with dramatically increased risk for overdose deaths and spread of infectious disease.
Fortunately, there are steps that policymakers can take to address dangerous conditions at Rikers.
As a member of the Campaign to Close Rikers and with a long history of investigating and promoting public health over punitive approaches to drug policy, the New York Academy of Medicine supports an approach that centers the humanity of individuals who are incarcerated and is based on the best available evidence.
Change must begin today to reduce harm by: 1) enforcing existing policy to decrease the current population and 2) improving access to housing, healthcare, and addiction services to prevent arrests and re-arrests. 
There is precedent for decarceration as an effective and immediate strategy to save lives. Heeding warnings from public health experts (including the New York Academy of Medicine) and the New York City Board of Correction around the risk of COVID-19 transmission in jails and prisons, the city released 3,400 people from custody between March and May 2020, reducing the jail population to levels not seen since World War II.
The NYPD's own data showed these releases did not impact public safety. The Department of Correction has stated that it would be better able to ensure adequate medical care if there were fewer people in their custody. Diverting the stream of individuals entering Rikers is essential to reducing harm to people on the island, while we work toward a closure date that cannot come soon enough.
Communities of color, disproportionately policed and arrested, need access to safe and affordable housing, healthcare, and addiction services. An estimated three out of every four people detained at Rikers experience addiction, yet evidence shows that a small minority of these individuals receive treatment for substance use disorder prior to incarceration. Evidence-based harm reduction services, such as overdose prevention centers, can more effectively address overdose risk and treatment access than jail. 
Access to affordable and stable housing is known to reduce arrests and cycling through the criminal-legal system. In 2021, the annual cost per person incarcerated in New York City was $556,539, compared to the $33,276 spent per supportive housing unit. Thousands of people incarcerated at Rikers are experiencing chronic homelessness and have significant health needs that could be best addressed in community settings. One of the key Points of Agreement in the plan to Close Rikers – 380 supportive units for people who most often cycle between hospitals and jails – remains unfulfilled because the contracts offered to providers did not meet their costs. To date, zero units have been opened.
Ultimately, public safety is best served by equitable access to healthcare and social services rather than more incarceration. These are the kinds of upstream solutions our city needs. The time to advance them is now. 
***
Gabriella Khawly is a Policy Intern and Michele Calvo, MPH, is a Program Officer at the New York Academy of Medicine. On Twitter @NYAMNYC.
***
Have an op-ed idea or submission for Gotham Gazette? Email This email address is being protected from spambots. You need JavaScript enabled to view it.