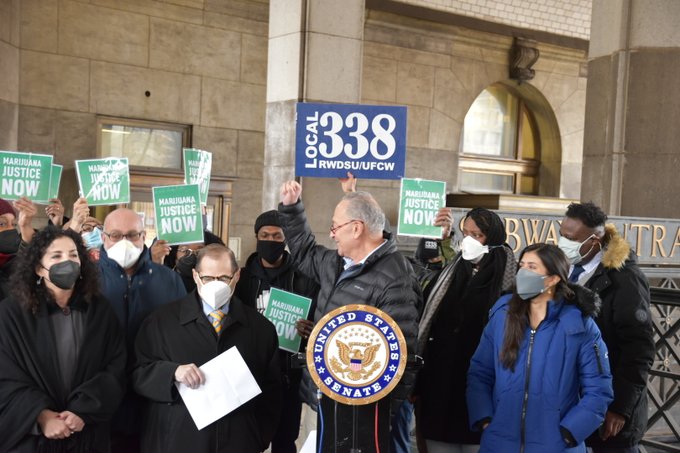 Senator Schumer rallies around "marijuana justice" (photo: @SenSchumer)
---
I am a proud Long Island resident, mother of two, working wife, and cannabis entrepreneur. As an active and concerned member of the community, I urge U.S. Senate Majority Leader Schumer and other lawmakers to rally behind the common-sense Secure and Fair Enforcement (SAFE) Banking bill. The SAFE Banking bill would prohibit enforcement action by the federal government against financial institutions that provide services to the cannabis industry.
Now is the time to act.  
In October, President Biden announced to great fanfare that he will pardon all federal convictions for simple cannabis possession, called upon governors to do the same at the state level, and requested staff to initiate "expeditiously" an administrative review process to remove cannabis from the list of scheduled drugs. 
Currently, federal law classifies marijuana as a Schedule I substance under the Controlled Substances Act. This classification is reserved for the most dangerous substances with no perceived medical benefit. This schedule classification of marijuana is even higher than that assigned to fentanyl and methamphetamine, the drugs driving today's overdose epidemic. 
Cannabis is no longer viewed as a danger. Nevertheless, the War on Drugs still encompasses cannabis and targets minority populations. As New York legalizes the cultivation, sale, and adult use of marijuana, the State Legislature has begun to address long-standing inequities by adopting legislation that specifically calls for a majority of cannabis licenses to be granted to those most impacted by the discriminatory policies of the past and small, minority/women-owned businesses. These are terrific advances, but if lawmakers do not ensure that entrepreneurs have access to the sophisticated federal financial system, our entrepreneurial business advances are doomed to failure. 
As it currently stands, banks and other financial establishments do not provide banking services to cannabis-related establishments, forcing them to operate entirely in cash and causing serious economic constraints. Without banking access through the passage of the SAFE Banking bill, the cannabis legalization effort will flounder — or worse, fail completely, and the illicit unchecked cannabis market will dominate.  
The principal objective of cannabis legalization is to create and promote a safe environment and market for the safe distribution of cannabis. There are real dangers associated with any delay in taking real action to facilitate the formation and successful operation of the small minority-owned businesses that are and will be best-suited to be at the forefront of the cannabis market changes. 
It is antithetical to this goal to deny the field soldiers access to the legitimate banking resources needed to operate safely and soundly. Adoption of the SAFE Banking bill, which has passed the House of Representatives six times and now sits in the Senate, would be a great start to addressing these issues and more. 
Senator Schumer is one of several legislators that has publicly and vocally supported SAFE Banking and further cannabis reform – but we need more. I urge Senator Schumer and his colleagues to support this bill.
***
Beryl Solomon Jackowitz is a cannabis advocate and founder of Poplar, an online health and wellness website that sells hemp-derived CBD products.
***
Have an op-ed idea or submission for Gotham Gazette? Email This email address is being protected from spambots. You need JavaScript enabled to view it.