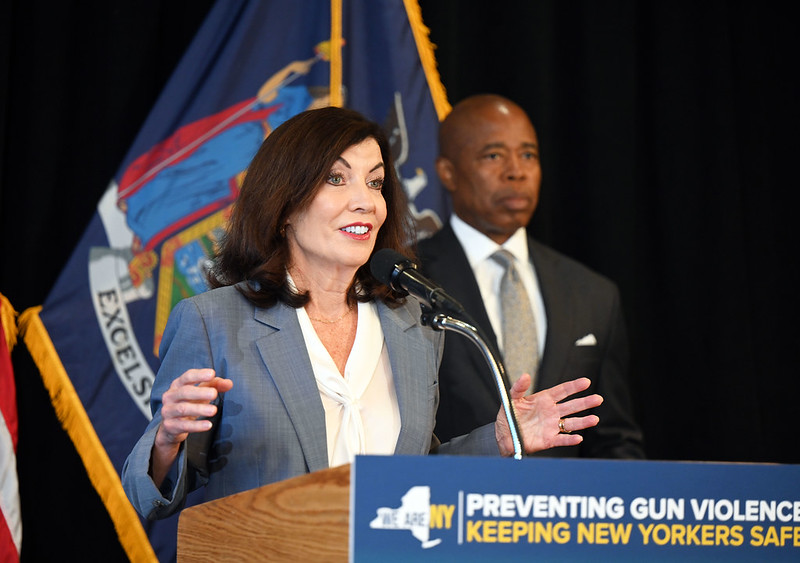 Gov. Hochul & Mayor Adams (photo: Kevin P. Coughlin/Governor's Office)
---
Over the past month, New York Democrats have been grappling with the outcome of a midterm election with devastating implications—both on a local and national level. 
Despite Republicans falling short of expectations across the country, New York Democrats saw four Congressional seats and seven state legislative seats flipped by the GOP. Not to mention closer than expected races for statewide offices. 
None of this was inevitable. In fact, Democrats in far more competitive and divided states fared much better, proving that New York's red wave was not a national trend, but a localized crisis, coming within a few percentage points of disaster. 
The New York Democratic Committee, led by Chair Jay Jacobs, was clearly underprepared and unorganized, and appeared uninterested in protecting key Democratic seats. Elected officials became exasperated over the lack of down-ballot support and volunteers routinely noted abysmal grassroots organizing attempts. 
The 2022 performance was very much a repeat of 2021, where the state party failed to spend a single dollar in support of constitutional amendments to fix the state's redistricting process, expand eligibility for absentee voting, and authorize same-day voter registration, which consequently led to this year's redistricting chaos. As Jacobs said last year, "maybe, in that sense, the ball was dropped." 
Here we are a year later, and the ball was dropped yet again.
With just weeks to go before Election Day, elected officials, union leaders, and others raised the alarm and called for a more concerted effort. Thankfully, the New York Working Families Party (WFP), labor unions, and local political organizations and clubs stepped up to fill the vacuum of leadership left by the New York Democrats. 
But the shortcomings weren't just limited to party organizing: we didn't speak about what Democrats have delivered and would deliver in the future. For example, in last year's state budget, Democrats passed the largest expansion of childcare coverage in a generation and new investments in the CUNY and SUNY systems. Yet out on the campaign trail, you barely heard about these meaningful accomplishments. 
Instead, we were stuck playing defense against the perennial Republican playbook, with many high-profile voices in our own party echoing Republican talking points and giving weight to Rep. Lee Zeldin's apocalyptic rhetoric, despite the fact that we have a stronger and more comprehensive message on public safety. 
It's not hard to imagine what would have happened if the WFP did not intervene. New York Democrats came within less than one percentage point of losing another congressional seat to Republicans. The contest for Governor was closer than it has been in decades, and Governor Kathy Hochul's margin of victory was almost entirely explained by votes she received on the Working Families Party line. 
These lessons are abundantly clear — and must be carried into the next legislative sessions in Albany and New York City. 
First, Democrats must build a new party infrastructure that touches every level of government and every community, with the mission to support and elect Democrats up and down the ballot.
Rather than engage in intra-party battles to exclude voices, we should be more inclusive, and by doing so harness the power and energy of the grassroots. We should activate and empower local party chapters and county organizations to do what only they can do best — support and elect local candidates — and not just during election seasons, but year-round. And we should embrace real transparency at every level of government and politics, and work to dismantle the corrupt machinery that discourages grassroots engagement. 
The New York WFP is a great model to look at, operating as a coalition party of working class activists, community advocacy groups, labor unions, and affiliate organizations that stand for a clear set of values and put in the work to support candidates in districts all across the state.
The second lesson we should learn from this election year is that message and substance matter. All the party infrastructure in the world means nothing if you're not able to excite and motivate voters. Instead of engaging with Republican lies, voters want to hear our ideas and records of achievement. We must speak to the issues that our base — New York's diverse working class — demands action on. 
Our party is built upon big ideas and recognizing the power and potential of everyday people. We believe in creating great jobs, increasing the minimum wage, expanding tenant protections, investing in child care and mental health, tackling climate change, and more. And to help make this possible, we believe that the most fortunate among us should pay their fair share so that working- and middle-class families don't bear the full cost of building a more fair and just society. 
That's what's popular. That's what builds trust. And that's what will help the most people.
Our state's Democratic Party cannot afford a repeat of 2022. The New York Working Families Party has laid out a roadmap for successful campaigning. Now it's up to the Democrats to learn from and work with them to defeat an increasingly dangerous GOP and, more importantly, build a New York where every person can thrive.

***
State Senator Andrew Gounardes and City Council Member Chi Ossé are Democrats who each represent parts of Brooklyn. On Twitter @agounardes & @OsseChi.
***
Have an op-ed idea or submission for Gotham Gazette? Email This email address is being protected from spambots. You need JavaScript enabled to view it.