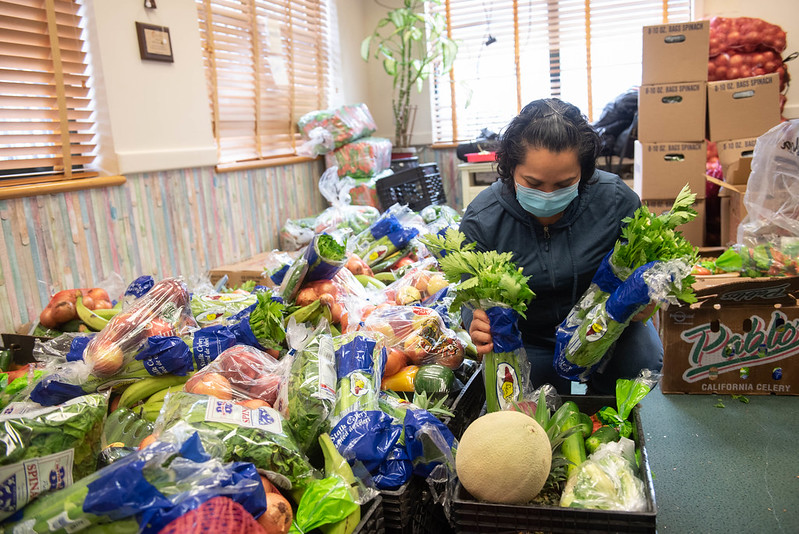 Getting people fed (photo: Michael Appleton/Mayoral Photography Office)
---
In this season of gratitude and reflection, we are grateful for the unprecedented commitments that New York City and New York State are making to the people who perform the essential services of New York's safety net.
Home care workers' hourly wages increased by $2 in October, and New York City human services nonprofits are receiving $68 million earmarked for workforce investment. Our New York State contracts included a 5.4% wage increase, and the State's Health Care Worker Bonus provided a one-time $3,000 payment for certain frontline health care workers in recognition of their service during the height of the pandemic.  
In the face of such bounty, one would expect nonprofit leaders to be full of joy. Yet, we are not. We are exhausted from many years of obstacles and non-response, confronting ever-steeper challenges to our ability to provide the life-saving and life-enriching care and services that New York promises to its residents.
As we prepare to spend the holidays with family and friends, many human services workers will spend them just as they do every other day: working to make New York a better place. After all, homeless shelters and food pantries do not close for the holidays. These workers are not being compensated enough for their tireless work. Our staff are paid far less than their counterparts in health care and other sectors with which we must compete for talent. In some instances, New York City employees' compensation is better than what we can offer for directly comparable positions.    
Along with non-competitive salaries, human services staff deal with daily frustrations that detract from our ability to focus on providing quality services. These issues include operating in hazardous NYCHA program sites that are in serious disrepair, responding to city-funded auditors who dispute the validity of city-approved expenditures, and complying with increased documentation requirements under certain city contracts that will further extend already delayed city payments.
We are gratified that New York State responded to our advocacy and authorized a much-needed increase for Medicaid-funded home care personnel, and at the same time we are frustrated that the state is not fully reimbursing home care employers for this mandated expenditure. Home care agencies operate on razor-thin margins. Without rate increases commensurate with this wage increase and the statutory requirements that accompany it, we are stressed to identify funds to fulfill this requirement. 
So while we are grateful for recent city and state investments, we are not breathing easy. We face the continued stress of recruiting a caring and skilled workforce, retaining committed staff who over time have developed trusted relationships with vulnerable clients — relationships that enable staff to work effectively alongside community residents to resolve even very complex situations. We can't talk about streamlining while simultaneously layering on new requirements and extending payment delays. We can't clap for essential workers without closing the pay gap in a meaningful way. We can't build a social care system on personal sacrifice and burnout.
In order to keep leading our organizations to be there for communities in need while battling the obstacles that sap our energy and tax our spirit, we need to have hope that these conditions are not permanent. We are hopeful that before we reach a crisis that rips unmendable tears in the safety net, we can come together to fashion real solutions. We have leaders in government who understand our struggles and value our work. We have nonprofit leaders who are creative and open to new ideas. We must all be prepared to make changes and seek compromises. Our communities demand and deserve nothing less from us. In this season of giving, we must give back to those who give to New York every day.
***
Diane Louard-Michel is the Executive Director of Lantern Community Services. Myung Lee is the President and CEO of Volunteers of America-Greater New York, Inc. Kathryn Haslanger is the CEO of JASA. On Twiter @lanterncs & @VOAgny & @JASAseniors.
***
Have an op-ed idea or submission for Gotham Gazette? Email This email address is being protected from spambots. You need JavaScript enabled to view it.