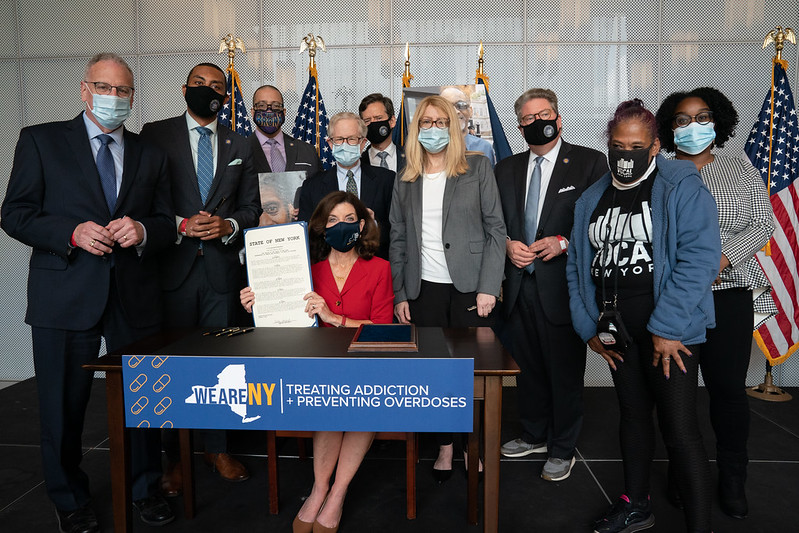 Gov. Hochul signs substance use treatment legislation (photo: Governor's Office)
---
Governor Hochul's veto of the Nonreligious Recovery Options bill is a significant missed opportunity to both improve New York's civil rights record and improve public health outcomes in the midst of an ever-worsening addiction crisis that is claiming the life of a New Yorker every three hours. 
This bill would require New York's courts, prior to specifying a substance use program, to inquire on the record if the defendant objects to a religious element of the program. If such an objection was registered, the bill would then require the court to identify an alternative equivalent program to which the defendant has no religious objection, and confirm the defendant's consent on the record.
This noncontroversial bill passed the Legislature earlier this year, sponsored by the Senate's leading voice on addiction recovery, Senator Pete Harckham, and Assembly Member Harvey Epstein, a powerful criminal justice advocate. It was supported by a broad coalition of First Amendment and recovery groups, including the New York Civil Liberties Union, Friends of Recovery, and SMART Recovery, among others. It is disappointing that the governor disregarded the collective expertise and lived experiences of our coalition and its constituencies. But to justify doing so due to perceived administrative burdens and the potential expansion of civil rights protections is unacceptable. 
It is well-settled law that any individual mandated by a court to attend recovery treatment must be provided with a secular option, and that 12-step programs are religious in nature and therefore cannot be the only option mandated. The governor's veto message acknowledges this, yet fails to recognize that a constitutional right is a right in name only if not enforced by our justice system.
The Nonreligious Recovery Options bill had two purposes: to shift the burden from defendants to the courts to ensure judicial compliance with the Constitution and to improve overall recovery outcomes by providing defendants with multiple paths.  
Regarding the latter, it's about much more than aligning programs with a defendant's values. As was noted in personal testimony provided to the governor's office, some faith-based settings stigmatize individuals using Medication-Assisted Treatment (MAT), a life-saving and evidence-based tool strongly endorsed by the Substance Abuse and Mental Health Services Administration (SAMHSA), a federal agency devoted to substance abuse and mental health issues.
In 2009, SAMHSA issued a "Know Your Rights" document that specifically criticized courts for discriminating against people using MAT. With even SAMHSA acknowledging bias (and outright illegal discrimination) in courts handling substance abuse cases, it's not a stretch to imagine that even well-intentioned judges may not be in full compliance with the law when mandating individuals to attend recovery programs.

Courts nationwide, including in New York, have a bias toward faith-based programs. For many of the criminal justice system's practitioners,12-step programs are ubiquitous and well-known, while alternatives that research proves work just as well are not. There are also cases in which defendants and incarcerated individuals are outright denied a secular option when requested.

This was the case in lawsuits in New York and in dozens of additional cases across the country. The problem is not limited to the court system either — just last year a Buddhist won a case against their employer and collected $305,000 in damages for being denied a secular recovery option.

The defendants who get appropriate recovery treatment are those who know their rights (many do not) and have the resources and courage to go up against the very system that wields power over their individual liberty — as you can imagine, most opt to keep their head down. Governor Hochul callously disregarded this reality when she characterized this bill as "unnecessary." Shockingly, the governor outright rejected the notion that the responsibility to ensure compliance with the Constitution falls to the justice system, putting it squarely on the defendant: "Given that defendants already have the right to request nonreligious treatment, this bill…imposes an overly rigid burden on courts and judges," she stated. 
Perhaps an even more disturbing line of argumentation was her concern that the Legislature could be emboldened to codify the affirmation of other rights. Stating the bill could "invite future selective legislative efforts to inject a similar burden upon judges to inform litigants of their rights to opt out of other court mandates." For the governor to state concern about setting a precedent that could further empower individuals to exercise well-established constitutional rights should be cause for concern for any New Yorker who values individual freedoms.

If personal testimony from individuals who work directly with mandated defendants were not sufficient proof of the problem, one need not look any further than the impassioned testimony of Assemblymember Angelo Morinello. A former judge who served on the bench for 14 years, he opposed this bill. He stated that defendants "need direction and control," should not be given a say in their recovery options, and denied that Alcoholics Anonymous "ever tried to be a religious component to these individuals." He proudly boasted of overseeing 600 addiction cases in which it is clear his "direction and control" involved mandating faith-based recovery options.

Recovery advocates know that multiple paths are necessary to improve recovery outcomes. When the vast majority of New Yorkers, 46% of whom are religiously unaffiliated, are provided with a narrow set of recovery options, the state is undermining its own policy goals.

As Mayor Eric Adams pursues his homelessness and mental illness plans, including more arrests and involuntary hospitalization, this issue will become even more acute. According to the National Coalition for the Homeless, substance abuse disorder is more prevalent among the homeless than the general population.
Homelessness and substance use disorders are overlapping challenges for the state and city, and there is no doubt that if the unhoused are forcibly removed from the streets, many will end up in drug courts. The governor's veto will mean that defendants may only get their constitutional right to a secular recovery option if the officials who happen to be handling their cases are concerned enough about the protection of rights to grant it. And for many individuals, including LGBTQ+ people and others who have suffered trauma in religious settings, they will be forced to attend faith-based programs that may retraumatize them and are not conducive to their recovery.
As an advocate for the rights of nonreligious Americans, this veto is a slap in the face to my community, and calls into question whether Governor Hochul is serious about tackling New York's addiction crisis.
***
Sarah M. Levin is the founder of Secular Strategies. On Twitter @SarahMLevin.
***
Have an op-ed idea or submission for Gotham Gazette? Email This email address is being protected from spambots. You need JavaScript enabled to view it.