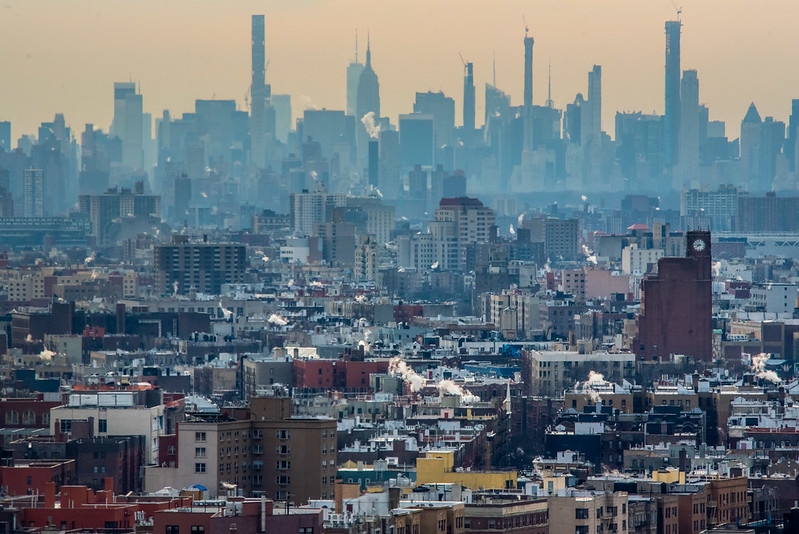 Housing across the city (photo: Michael Appleton/Mayor's Office)
---
I can't say I am optimistic about 2023. Increasingly I am hearing from owners of rent-stabilized apartment buildings that they will not be able to make their mortgage payments this month or soon thereafter. A confluence of "once in a lifetime" events is pushing this much needed housing toward the brink of insolvency.
A well-run rent-stabilized building should have two to three years of cash reserves set aside. This helps the owner keep up with mortgage payments and unexpected costs that pop up. The COVID-19 emergency was one of those unexpected costs, though at an almost unimaginable scale. A massive number of renters lost income and simply could not pay their rent. The state's Emergency Rental Assistance Program (ERAP) helped many. But ERAP only covered a maximum of 15 months rent. It's been 34 months since covid hit, and thousands of renters haven't paid any rent in that time.
Another factor that is dragging down these buildings is the inability to bring outdated rent-stabilized apartments back online. Unfortunately during COVID-19 many elderly or long-term tenants left their apartments or passed away. If the tenant lived in the apartment for more than 20 years, it likely needs very substantial renovations and upgrades to comply with a host of city and state requirements that didn't exist when they moved into the apartment. This work is not optional. It is mandated by government building codes. 
In order for the apartment to be in compliance with Local Law 1 of 2004, the entire apartment must be lead remediated, which means all doors, window frames, and other features need to be completely replaced and possibly the entire walls, floors, and ceilings. In order to comply with Local Law 97 of 2019, the apartment should get insulation improvements, electrical upgrades, and energy efficient windows. In many cases, plumbing upgrades are necessary as well. This is why it usually costs $100,000, or more, to get each of these apartments available to rent again. Any owner who attempts to rent the apartment without doing the work would face significant fines. 
The rents on these apartments already do not cover their operating costs, let alone the renovation cost. Because of this, the only logical option for an owner is to leave the apartment vacant. That is bad housing policy.
The final straw that is forcing these buildings into insolvency is inflation and interest rates. The operating costs on every aspect of housing has gone up, driven by increased property tax assessments, skyrocketing fuel costs, and other increased expenses. Then, in order to combat inflation, the Federal Reserve raised interest rates, making it harder to borrow money. The typical rent-stabilized building needs to refinance every 5 to 7 years. Banks and lenders require this because they want to re-adjust the mortgage on a building to better reflect the changes in the market conditions and regulatory changes that the government has implemented. The process is far different than a typical 30-year home mortgage.
How big is this problem? Hundreds of buildings housing many thousands of renters don't have the cash flow to pay their mortgages or maintenance. The banks and lenders for these buildings are scrambling to find anyone who will take them over. This process is ugly for renters in the building, who suffer most from deferred maintenance. 
My organization, CHIP, is proposing a small and simple change that would help many rent-stabilized buildings be preserved and bring thousands of affordable apartments back online, helping to alleviate the city's severe housing shortage.
Under our proposal, building owners would fully renovate vacant apartments coming off of long-term occupancy, setting an affordable new rent, but leaving the apartment in stabilization. These new apartments would be lead-free and energy efficient, which is vitally important for the long-term health of tenants. In most parts of the city, the new apartments would have rents low enough for voucher holders to access them.  
Every other place in the country with rent regulations has a path for old apartments to be brought back on the market. The new rent would cover the renovation costs and take the pressure off rents in other parts of the building. The government would put in place measures to ensure work is done to code and rents are kept in line with comparable rents in the area. The result would be housing that is safe, clean, updated, and affordable for decades to come.
This simple fix would help house tens of thousands of people and ensure the quality of housing for hundreds of thousands of other renters isn't diminished. It's a win-win for everyone.
***
Jay Martin is Executive Director of CHIP. On Twitter @jaymart222.
***
Have an op-ed idea or submission for Gotham Gazette? Email This email address is being protected from spambots. You need JavaScript enabled to view it.