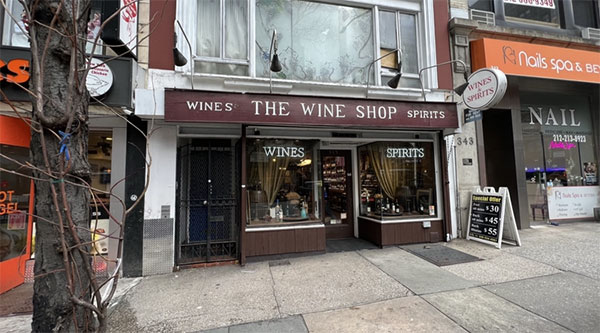 Neighborhood wine and liquor shop in Midtown Manhattan (photo: Claudia Cowley)
---
Get used to seeing more vacant retail space in a neighborhood near you. Like small hardware stores and other mom-and-pop businesses that have disappeared over the years, with the proliferation of big box retailers, small liquor stores will be forced to close too under legislative initiatives underway in New York, and the rest of the country.  
It has taken decades of careful regulation in the liquor industry to create a system that safeguards communities, prohibits the sale of liquor to minors, and establishes a multi-layered sales and distribution network that employs thousands of people in good-paying and in many instances at the wholesaler and distribution level, these are union jobs.  
Now, intensive lobbying efforts led by deep-pocketed self-interests are threatening to destroy that tightly regulated system and put a lot of people out of work. 
Stores like Walmart and Amazon's Whole Foods are among multi-billion-dollar corporations now seeking the right to sell wine and liquor across the state.  
While New York's 3,500 small retailers and liquor store owners are allowed only one single license, multi-billion-dollar supermarket chain and big box store owners want to rewrite the rules and laws to allow them to take over and dominate wine and liquor sales.  
Small businesses can't compete with their tremendous buying power or advertising clout. Small shop owners would be crushed as the whales take over and cannibalize a market that has been very well served by local mom-and-pop liquor retailers for decades. 
This past November, states including Colorado experienced a very hostile and public battle over many of these same rules and laws governing the retail sale of wine and liquor. It is the reason why one Maryland-based big box liquor retailer spent over $13 million to propel a voter referendum, taking place over 1,600 miles away from their corporate headquarters.   
While the average U.S. grocery store is 38,000 square feet, their appetites are more aggressive than Ms. Pacman.   
One study determined that Whole Foods, controlled by billionaire Jeff Bezos and his Amazon.com, had been evaluating further expansion into former Sears department store locations, which should illustrate the enormity of their ambitions.   
At $138 billion in annual sales, national supermarket powerhouse Kroger controls 16 different supermarket chains, and is acquiring even more, while planning Kroger Marketplaces twice the size of the traditional supermarket at 120,000 square feet. 
How would it even be possible for any local wine and liquor store to compete against that?  
Or how about Amazon being enabled to deliver bottles of vodka direct from their regional warehouse to your doorstep? If our State Legislature allows this type of thing to pass, it could be the end of the line for thousands of local stores and the average of ten jobs each store contributes to communities across the state.   
When local merchants on Main Street close, those jobs often disappear forever. Think about how Home Depot killed so many local hardware stores, and Barnes and Noble killed so many local bookstores. Now even Barnes and Noble can no longer compete against the might of Amazon.   
And history shows that when local competition is wiped out, the big box retailers are then free to raise prices or narrow your selection.   
Many small, local liquor store owners, who are second or third generation owners or immigrants, settled in their community to achieve or continue their American Dream of owning and operating a local business. Neighborhood wine and liquor store owners know their patrons, and are established parts of their communities.  
Imagine asking the forklift operator at Sam's Club or BJ's Wholesale to recommend a good chardonnay!  
We need to stand up for local people willing to start a business. We have to support our local merchants. America is a nation of entrepreneurs. We cannot make everything big box and mega corporation. The Walmartization of America diminishes the importance of local businesses, costs jobs, and hurts communities, and it's up to all public officials to acknowledge the positive outcome that years of thoughtful regulation, planning, and fair play have created for this industry. 
***
Michael Correra is Executive Director of the Metro Package Store Association representing 3,500 local wine and liquor retailers across New York State and whose members are fighting a battle for survival vs deep pocketed supermarket and big box retailers.
***
Have an op-ed idea or submission for Gotham Gazette? Email This email address is being protected from spambots. You need JavaScript enabled to view it.