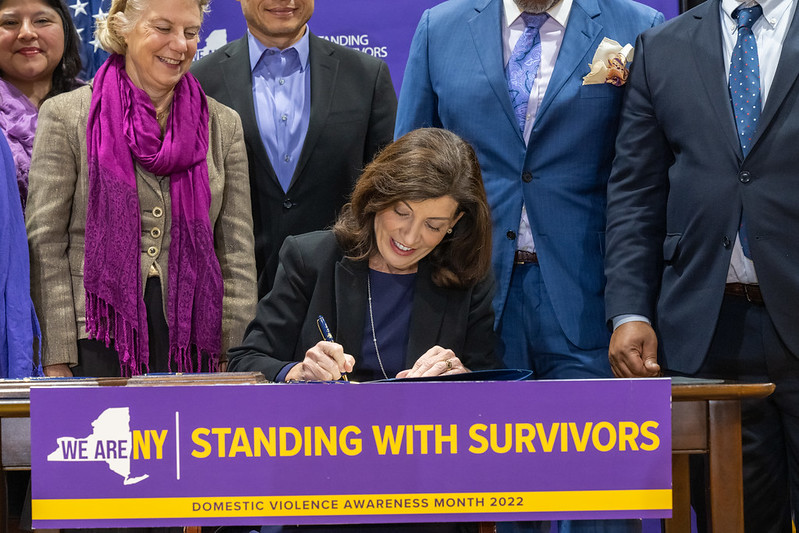 Gov. Hochul signs legislation (photo: Darren McGee/Governor's Office)
---
Everyone wants to feel secure in their own home, but for survivors of domestic violence, safety is an absolute necessity. 
At New Destiny Housing, we have spent nearly two decades building supportive housing for domestic violence survivors, striving to provide the security and support services that our families need to remain safe from violence and begin to rebuild their lives. 
But the chronic underfunding of the contract on which our oldest five buildings rely, the New York State Supportive Housing Program (NYSSHP), has left us choosing between case management or security, and hoping that donations can make up for the shortfall. 
NYSSHP was created in the 1980s, as the state's first supportive housing program, funding social service providers to offer onsite counseling, job training, financial counseling, and community rebuilding programs for individuals and families who had lost everything. But funding levels have hardly changed in 30 years, providing just under $2,700 a year for single adults, and $3,700 for families with children. 
By contrast, the state's more recent supportive housing program, Empire State Supportive Housing Initiative (ESSHI), funds up to $25,000 per unit, and even that is insufficient to meet today's operating and service costs. 
Governor Kathy Hochul clearly recognizes the importance of supportive housing as one of the most powerful tools at the state's disposal to address the myriad challenges the most vulnerable New Yorkers face. Last year, she funded the next five years of the state's 20,000-unit ESSHI commitment. 
The Governor has proposed a plan to address the affordable housing and homelessness crises and build much-needed new units across the state. But we can't keep funding new housing at the expense of leaving our vulnerable families without the most basic of services to stay safe from violence and recover from their trauma. This year we need the Governor to support our old NYSSHP-funded buildings in her Executive Budget proposal.
The Governor has repeatedly made clear that she is deeply devoted to supporting the survivors of domestic violence and has a unique insight into the many challenges survivors face. She has publicly shared the painful story of her grandmother's domestic abuse, and how that spurred her mother to open a transitional domestic violence abuse shelter in her native Western New York, the Kathleen Mary House. 
Those experiences also informed Governor Hochul's own activism, leading her to a life of service, and, more recently, to enact legislation that significantly enhanced housing resources for survivors across the state. She knows better than anyone the dangers that families who have escaped domestic violence face from their abusers — dangers that are especially keen in the time immediately after they leave to try to start a new life. 
Statistics show that the most dangerous time for a woman in an abusive relationship is after she has made the decision to leave. Seventy-five percent of domestic violence-related homicides occur upon a survivor's separation from their abuser. 
That is why security is paramount at supportive housing programs like ours that focus on domestic violence survivors, but also our sister providers that house runaway homeless youth, homeless veterans, and other vulnerable populations. There are 20,000 households supported by NYSSHP programs all over the state, 10,000 of which depend solely on NYSSHP funding. 
The families we serve, who have been through the double trauma of homelessness and abuse, deserve better, as do all the tenants in existing NYSSHP-funded buildings located across New York. If the state fails to invest in these services and bring them into line with ESHHI rates, we will lose units as fast as we build them, if not faster, and the state will merely tread water in its quest to end homelessness. 
We very much hope that the soon-to-be-released Executive Budget includes a major boost for NYSSHP funding to protect the thousands of individuals and families who depend on it for stability – and, in our case, for their very lives. 
***
Nicole Branca is executive director of New Destiny Housing, a New York City nonprofit founded in 1994 to provide housing and services to one of the City's most vulnerable homeless populations – victims of domestic violence and their children. On Twitter @NewDestinyOrg.
***
Have an op-ed idea or submission for Gotham Gazette? Email This email address is being protected from spambots. You need JavaScript enabled to view it.