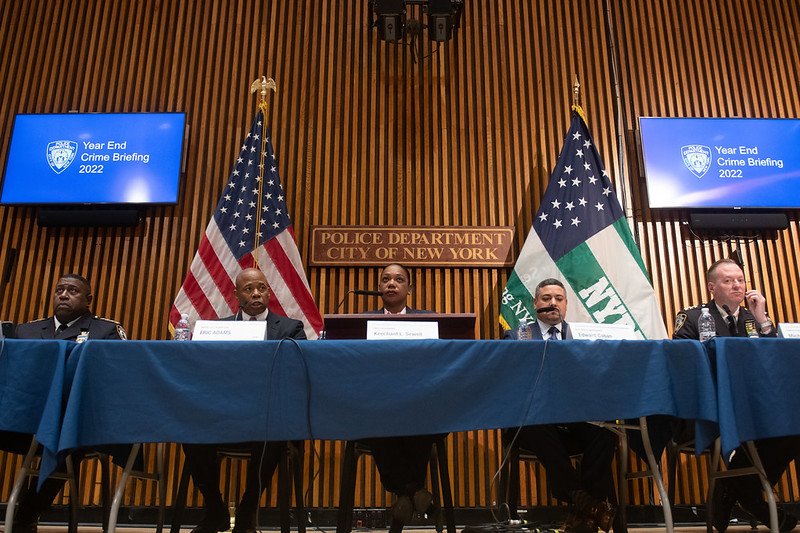 A crime briefing at 1 Police Plaza (photo: Benny Polatseck/Mayoral Photography Office)
---
When thousands of New Yorkers went to see Drake at the Apollo last weekend, the last thing they wanted was to see the NYPD recording them, but that's just what happened on Saturday as they emerged from the historic theater into the view of officers' smartphones. The episode sparked questions from celebrities and everyday New Yorkers alike, wondering just why the NYPD was filming and what exactly they planned to do with the data. In the words of CBS' Gayle King: "I didn't see them videotaping after Harry Styles."
In the end, the NYPD revealed that the filming was part of a self-congratulatory PSA put out by the department to depict its crowd control work as some sort of heroic feat, while conveniently omitting that Drake's second show on Sunday got so raucous that one man fell from the balcony in an unintended crowd surfing episode. Yet even once the final video was published, social media commentators were quick to ask even more questions, such as "So....what happened to the raw footage?"
The public concern shouldn't come as a surprise. Black artists have faced systematic NYPD surveillance for decades. In the '90s, they were called the "hip-hop police." Now, they operate euphemistically as the Enterprise Operations Unit. But no matter what the unit is called, the truth is that Black artists and concertgoers face suspicion and surveillance simply for trying to listen to and perform the music that they love. 
For some it may seem like no big deal to have your image hijacked for a policing PSA, but the incident highlights just how little attention the NYPD pays to New Yorkers' privacy rights. No company could have legally filmed concertgoers for an ad without their notice or consent, so what gives the police the right to use attendees' images? The department may act like it's above the law, but ultimately it has to ask for permission to film just like everyone else.
Of course, the NYPD has the ability to track New Yorkers like no one else. Tens of thousands of cameras crisscross the city, with new surveillance devices being rolled out by the day. Within hours of launching the Drake PSA, officers unveiled their new prototype "robocop" cruiser, with 360-degree camera standard. More and more cameras are capturing all of our lives, but still with almost zero rules controlling who the NYPD can watch and when, and what happens with the footage. 
And the cameras are only becoming more powerful, with facial recognition technology and other forms of biometric surveillance turning our own bodies into tracking devices. A camera system that can simply record what we do is invasive on its own, but when combined with these ever-more-powerful forms of artificial intelligence, the threat is chilling.
With the technology becoming more and more powerful, and police surveillance budgets ballooning, the need for new legislation comes clearly into focus. Right now, it's the NYPD that largely decides what surveillance equipment to buy and how to use it. But there are forms of mass surveillance that it clearly can't be trusted to wield. 
Cameras are one thing, but it's long past time to unplug the NYPD's facial recognition program. The software, which scans thousands of New Yorkers a year, is primed to wrongly put New Yorkers behind bars and increase bias. And with a growing cohort of New Yorkers speaking out against the ways the technology is used (both by police and private companies like Madison Square Garden Entertainment), lawmakers must act to stop the abuses.
Facial recognition is just one of the many forms of mass surveillance that New Yorkers fear, and that's why we worked with lawmakers to introduce a ten-part package of statewide bills to "Ban Big Brother" and make New York a surveillance sanctuary state. But while momentum for these statewide initiatives is growing, the New York City Council must act too. Council Members have called for facial recognition legislation for years now, only to be blocked by both the speaker and central staff. This must be the year when the legislation moves forward, at least giving lawmakers the chance to have an open and honest debate about the tech that continues to spread across our city.

***
Albert Fox Cahn is the Founder and Executive Director of the Surveillance Technology Oversight Project (S.T.O.P.), a New York-based civil rights and privacy group, a TED fellow, and a visiting fellow at Yale Law School's Information Society Project. Will Owen is the Communications Director at S.T.O.P. On Twitter @StopSpyingNY.
***
Have an op-ed idea or submission for Gotham Gazette? Email This email address is being protected from spambots. You need JavaScript enabled to view it.