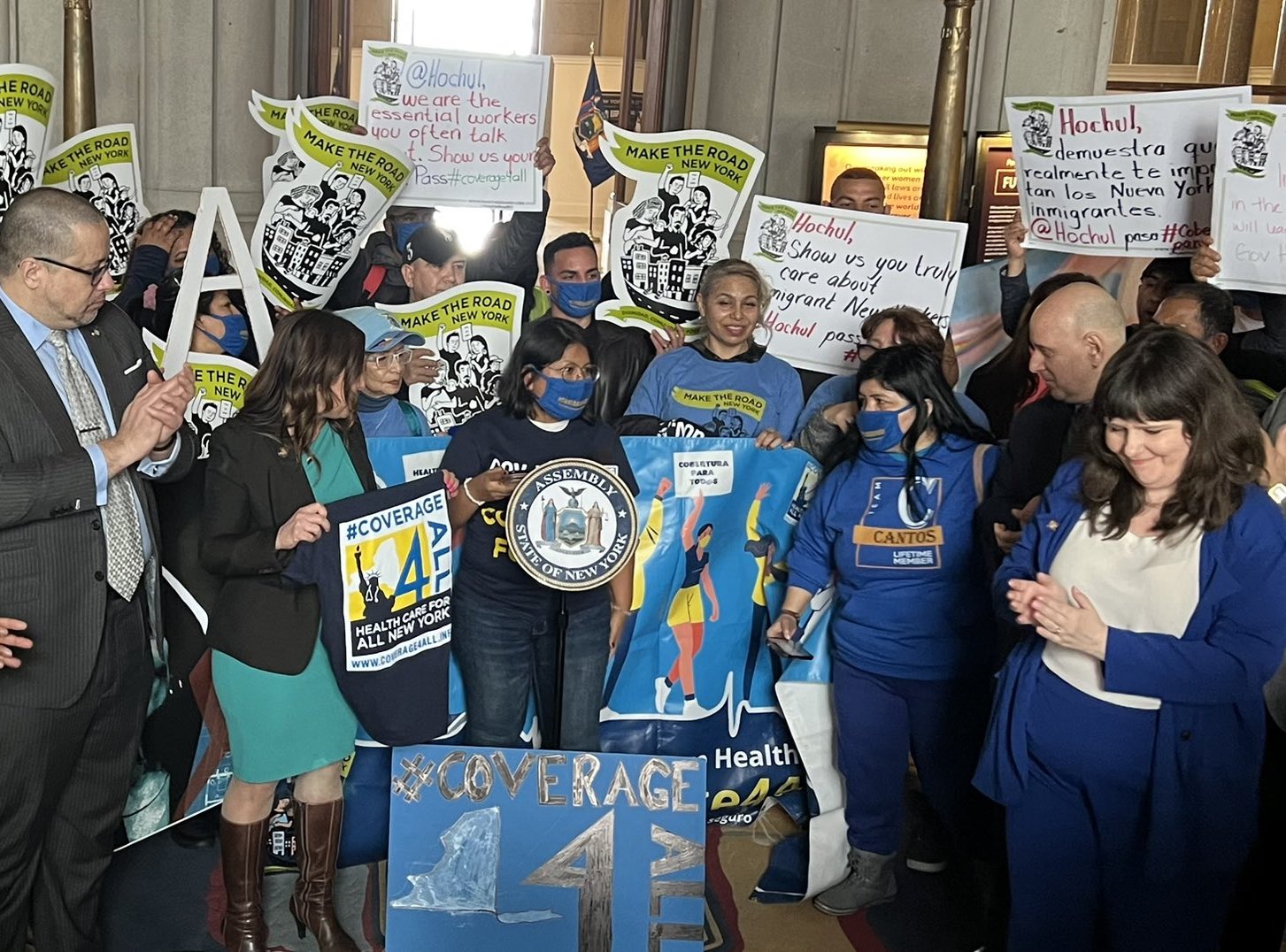 Advocates rally for the Coverage for All bill in Albany (photo: Daniel Altschuler/@altochulo)
---
After the last three years, New York's health care system continues to face an unprecedented crisis – particularly for safety net hospitals located in historically marginalized communities that primarily serve uninsured patients struggling to access care. These are the same low-income neighborhoods that bore the brunt of COVID-19 and have long suffered from the effects of New York's two-tiered health care system. To reduce health inequities, the State must fix the structures that perpetuate them.
In many underserved communities, safety nets are the only hospitals that render care regardless of a patient's financial situation or immigration status. These anchor institutions operate on far fewer resources than other hospitals and against the backdrop of inadequate Medicaid reimbursement rates that haven't been updated since 2008. At the same time, our State's undocumented community has long suffered from our unequal healthcare system, even before the pandemic. We all witnessed what the public health crisis did to our community of immigrant New Yorkers who braved the frontlines to keep New York running.
In the face of rising health care costs and uncertain economic headwinds, the State's current reimbursement model for safety net hospitals is unsustainable, made even more so by Governor Kathy Hochul's proposed budget, which would cut $700 million in funding. Despite near-uniform agreement that these hospitals provide vital resources and necessary care for vulnerable New Yorkers, chronic Medicaid underfunding has left them to grapple with deep negative operating margins and face hard choices about services and capacity, adversely affecting the communities they care for.
Last year, the Governor also promised to access federal funding to extend health insurance to undocumented New Yorkers but has yet to do so. The consequences of inaction for low-income and undocumented communities are dire. Denying safety net hospitals adequate funding puts millions of lives at risk because of poor health outcomes and places a significant financial burden on our already beleaguered health care system. Leaving federal funds on the table that could cover health insurance for immigrant New Yorkers is also a significant lost opportunity. Why would we turn down federal funding that could provide lifesaving coverage at no cost to the State?
New York has long been recognized as the home to some of the nation's premier hospitals and health care facilities. We have produced groundbreaking research and treatments, and we have realized the positive impact that extending health insurance has had on patients and hospitals alike. The challenges posed by our current health care crisis present another opportunity for New York to lead the way by improving coverage and care while creating equitable outcomes.
But there are viable solutions that legislators have introduced to help New York achieve those goals.
First, the Health Equity Stabilization and Transformation Act would allow the State to leverage a larger share of federal Medicaid funds, ensuring that safety net hospitals receive adequate reimbursement rates to finally address the Medicaid gap that has plagued hospitals serving underserved communities. By shoring up the finances of safety net hospitals, we can guarantee they can continue to operate in the short term while strengthening their long-term viability.
Second, the Coverage for All legislation would extend a lifeline to an estimated 255,000 uninsured New Yorkers currently excluded from federally-funded health insurance such as Medicaid and the Essential Plan because of their immigration status. While immigrants comprise 54% of New York's frontline workforce and are invaluable contributors to our economy, many have been deliberately denied access to New York's health care system. If we've learned anything from the pandemic, it's that our communities are stronger and healthier when everyone has equal access to lifesaving health insurance and care.
As both chambers of the Legislature have proposed, the State should include Coverage for All in the Fiscal Year 2024 budget to expand the Essential Plan to all low-income New Yorkers, regardless of immigration status, bringing us one step closer to guaranteeing health coverage for all. By amending the Federal 1332 Waiver request to include all immigrants regardless of immigration status, which would have zero cost to the state, it would enable the State to use the estimated $2 billion "passthrough" surplus to provide comprehensive coverage for all eligible low-income people through the Essential Plan. 
If enacted, these solutions would profoundly impact the health of low-income communities, advance racial equity, and better prepare us for future public health emergencies. If the pandemic has taught us anything, it's that access to quality health care is critically linked to so many aspects of our society. Now more than ever, it is essential that Governor Hochul and State policymakers fully fund our safety net hospitals, expand health insurance to all immigrants, and guarantee everyone in need has access to quality care. Doing so would benefit our fellow New Yorkers' health and well-being and our health care system as a whole.
***
Ramon Rodriguez is the President & CEO of Wyckoff Heights Medical Center in Brooklyn and Co-Chair of the New York Safety Net Hospital Coalition. Theo Oshiro is the Co-Executive Director of Make the Road NY. On Twitter @MaketheRoadNY.
***
Have an op-ed idea or submission for Gotham Gazette? Email This email address is being protected from spambots. You need JavaScript enabled to view it.