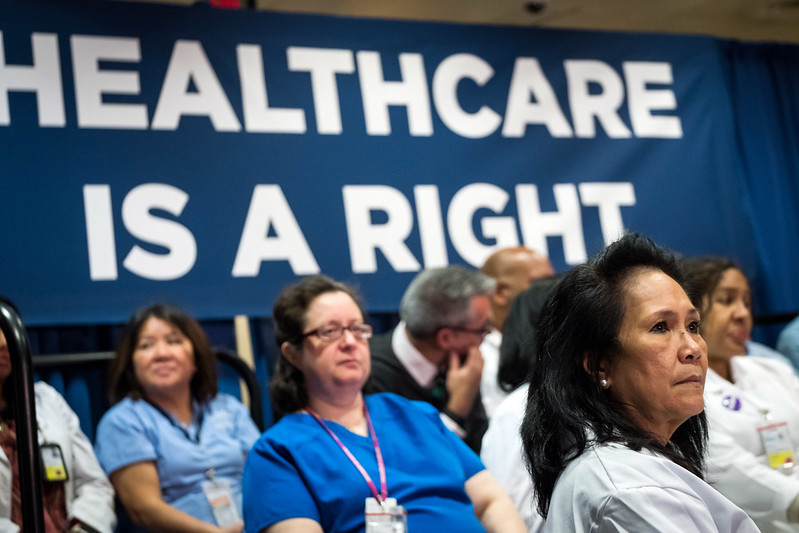 A health care push (photo: Ed Reed/Mayoral Photography Office)
---
Recent estimates suggest that there are approximately 245,000 New Yorkers — our friends, caregivers, laborers, and neighbors who do not have health insurance simply because they do not have a qualifying immigration status. With the three-year mark of the first known COVID-19 case in New York in our rear view, we now know all too well the importance of a strong healthcare delivery system, investments in public and population health, and access to healthcare. 
Because of federal restrictions, individuals without qualifying immigration status are ineligible for insurance coverage options that are federally funded, locking them out of primary and preventive care. New York State currently provides state-funded coverage for income-eligible children and pregnant individuals regardless of immigration status. Further, New York State provides Medicaid and CHIP coverage for qualifying immigrant children and pregnant people. Now New York State could expand      coverage to all low-income people regardless of immigration status.
Currently, the Governor and leaders of the State Senate and Assembly are negotiating the next state budget. The Legislature, in their one-house budget resolutions, modified the Executive's proposal to expand the Essential Plan through a 1332 State Innovation Program waiver, which could secure federal funding to expand eligibility to all New York residents including immigrants currently not eligible for the Essential Plan. Coverage expansion is critical because we know that insurance impacts how individuals access needed care. Disease that might be preventable becomes chronic because of delays in accessing care. And these delays result in more costly and often complex treatments and lead to worse health outcomes. 
Immigrants are part of the bedrock of New York State from Buffalo to Brooklyn, Rochester to Rockland, Staten Island to Syracuse, Potsdam to Poughkeepsie. 
The expansion of the Essential Plan will also lead to savings for New York State. Currently, individuals who are undocumented can access costly emergency Medicaid, but with this Essential Plan expansion, we are investing in the care for these individuals and investing in the entire healthcare delivery system. Today, the costs related to uncompensated care places a burden on our safety net hospitals and community clinics that are a critical component of the healthcare delivery system in New York. 
We all have a responsibility to reduce access and enrollment barriers including language access, education on the American medical system, and addressing legitimate fears to ensure that this population has access to the affordable, high-quality healthcare they deserve.
Our health depends on it. 

***
Dr. Ashwin Vasan is New York City health commissioner. Murad Awawdeh is Executive Director of New York Immigration Coalition. Dr. Talya Schwartz is President and CEO MetroPlusHealth.
***
Have an op-ed idea or submission for Gotham Gazette? Email This email address is being protected from spambots. You need JavaScript enabled to view it.