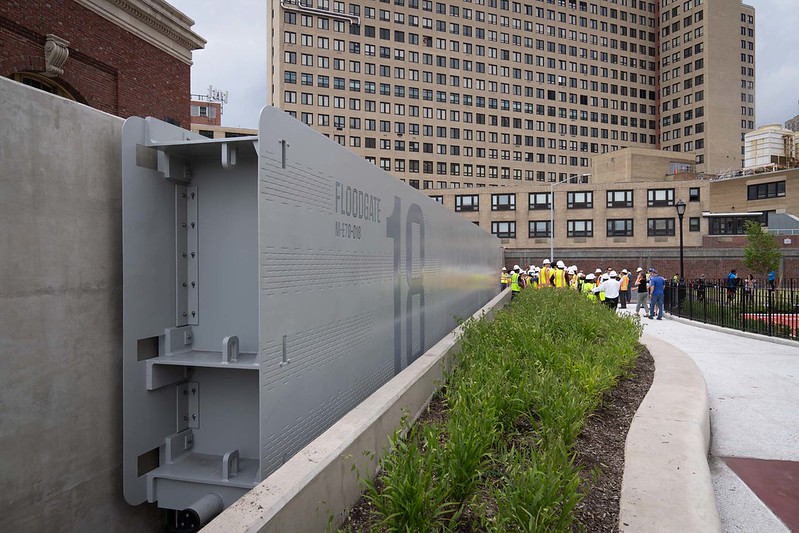 Climate resiliency efforts (photo: Ed Reed/Mayoral Photography Office)
---
Our nation faces a growing and urgent need to enhance our resilience to flooding and other natural disasters, which are becoming increasingly frequent, intense, and costly. For example, since 2000, flood-related disasters in the U.S. have accounted for more than $850 billion in damage and losses. We can no longer afford to delay action to more fully and proactively address the devastating effects of extreme weather events such as these. 
New York City is addressing this on a municipal level – earlier this year Mayor Adams announced the expansion of stormwater management projects in flood-prone communities, which is a step in the right direction of looking to update our existing infrastructure to mitigate the impact of flooding events.
However, it's crucial that all levels of government take action to improve our resilience to these challenges – and we particularly need support on a federal level. As it stands now, the federal government's siloed approach to resilience often creates inefficiencies and challenges for state and local partners. The current approach contributes to wasted taxpayer dollars and missed opportunities to address risk. 
What we need is a piece of federal legislation that can streamline federal resilience operations and help fill the nation's resilience gaps – bolstering the efforts that city and state governments are leading. Key components of any bill of this kind should include: 
Creating a Chief Resilience Officer (CRO) position within the White House to improve the coordination of federal resilience initiatives. 
This position would align resilience efforts across agencies and integrate them with state and local partners. By creating this role, the federal government can embrace a model being adopted by a growing number of states across the country.
Taking stock of federal barriers to building climate resilience and identifying solutions to address them. 
This would involve developing a national resilience strategy that streamlines federal support, leads with science, puts nature to work, and addresses historical inequities. Federal working groups will ensure that the national strategy includes practical and coordinated resilience goals. The strategy will also include incentives to spur local and state adaptation action and prioritize the use of nature-based solutions.
Promoting equity and efficiency. 
Leaders within the federal government's resilience operations, such as the proposed CRO, must regularly report on federal resilience efforts, funding resources available for resilience and barriers to improving resilience, and identify ways to ensure that federal funds are being distributed effectively and equitably. This will help address long-standing concerns of local communities and states that federal programs and assistance to address disaster risks are often disjointed, redundant, and overly complicated. 
And finally, giving a diverse set of stakeholders a seat at the table in developing the national resilience strategy. 
A successful national resilience strategy would account for the values, needs, and expertise of state, local, Tribal, and territorial governments, NGOs, as well as the private sector. This will ensure that actions are equitable and better address the on-the-ground needs of those most vulnerable to climate impacts.
We need the federal government to take this critical step toward improving our nation's resilience to the growing threats of flooding and other disasters. Solutions like this deserve bipartisan support. It is economically and environmentally sustainable to do so. 
We cannot afford to delay action and risk further losses of lives, homes, businesses, and infrastructure. Through these avenues, we can better safeguard the nation – and New York City – from the devastating effects of flooding and other extreme weather events. 
***
Dina Rabiner is VP of Economic Development and Strategic Partnerships at the Brooklyn Chamber of Commerce. On Twitter @brooklynchamber.
***
Have an op-ed idea or submission for Gotham Gazette? Email This email address is being protected from spambots. You need JavaScript enabled to view it.