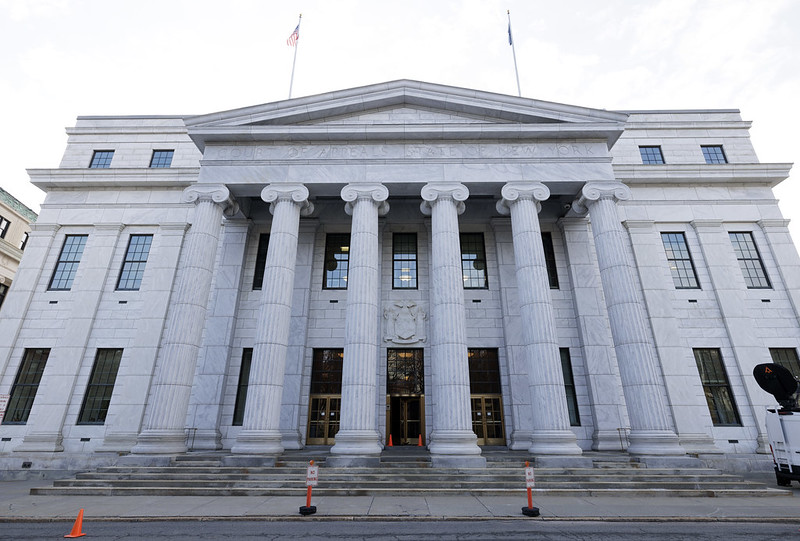 The Court of Appeals (photo: Mike Groll/Governor's Office)
---
Governor Kathy Hochul's appointment of Judge Rowan Wilson to be the new Chief Judge of the New York Court of Appeals was widely praised by practitioners, bar associations, and legal academics, who hailed the selection of a brilliant and respected jurist to be New York's first Black Chief Judge.
But criticism at Wilson's confirmation hearing centered on a recent majority opinion he wrote in People v. Regan, in which the Court of Appeals overturned a rape conviction on speedy trial grounds. While the facts of this case are tragic, this criticism misunderstands the reasons behind the decision, the importance of the constitutional right at stake, and the effect on future prosecutions.
The Regan case turned on the New York Constitution's right to a speedy trial, which protects both individual and societal interests. Speedy trials protect defendants from having an accusation hanging over their head for years while they await their day in court. They are also better for victims, for the truth-seeking functions of criminal courts, and for public confidence in the court system. A long-delayed trial is more likely to result in the wrong verdict, less likely to deter criminal behavior, and less likely to satisfy the demands for justice of those harmed.
The right to a speedy trial exists more in theory than in practice, as Kalief Browder's infamous case illustrates. Browder, a teenager from the Bronx accused of stealing a backpack, spent over three years on Rikers Island awaiting trial, most of it in solitary confinement, before his case was finally dismissed—without a court finding any violation of Browder's right to a speedy trial. Despite some policy changes, New York's speedy trial laws still often fail to ensure timely justice, unless there's proof of egregious negligence by the prosecution.
But egregious negligence is exactly what happened in Regan. After a woman reported she had just been raped by an acquaintance, whom she identified, police administered a rape kit and interviewed the acquaintance, who denied the allegation. Prosecutors then took over three years to obtain a warrant to get DNA from the accused and another year to indict him. For most of that time, by their own admission, prosecutors were doing nothing on this case: not investigating, not interviewing, not even thinking about it. If you've ever reported a crime to police and then sat around waiting while it felt like nothing was happening, that's exactly what happened here—not just for weeks or months, but for years.
New York courts apply a five-factor test to decide when the constitutional speedy trial right has been violated. Applying this test in Regan, four of the six Court of Appeals judges found that the yearslong delay—which the prosecutor's office could not offer any explanation for—violated the state constitution, so the case must be dismissed. Notably, the majority joining Wilson's opinion included the Court's most moderate judge and one member of the three-judge conservative bloc, Judge Anthony Cannataro. Even the District Attorney who lost the case signaled his acceptance of the decision, telling the New York Times, "The facts are so specific and inarguable that I don't know that you're going to run into a situation like this down the line."
Nevertheless, misconceptions about the decision have abounded in recent days. An op-ed in the Daily News described the decision as a break with precedent "requir[ing] courts to give weight to whether the defendant had been prejudiced by delay." In fact, the Court gave weight to that factor but found it outweighed by other factors, particularly the years in which the prosecution did nothing and the lack of any explanation for this inaction.
The op-ed also complains that the Court could tackle the problem of inexcusable delays by police and prosecutors in other ways, like task forces or "reform initiatives." But this was a court presented with a case to decide; it was not an option to say "The Constitution was violated here, but we can just overlook that and set up a task force instead." As Wilson wrote, "Although the constitutional guarantee of a prompt prosecution is not the sharpest instrument by which to address the chronic lackadaisical approach to reports of sexual assaults, affirming the prosecutorial conduct here would establish a precedent—which would apply in every future rape and sexual assault case—that the [prosecution] can delay investigation of a serious crime for years without any explanation or excuse."
The Regan decision should make it easier, not harder, for victims of sexual assault to see their attackers swiftly tried and convicted. Contrary to Republican Senator Steven Rhoads' claim during Wilson's floor vote, if someone walks into a police precinct today to report a rape, it doesn't matter if it occurred last night or 50 years ago: law enforcement can investigate and bring charges. What Regan means is that they actually must do that, and promptly, rather than stick the report in a drawer and forget about it for years. By declining to condone prosecutorial negligence, Wilson's opinion made clear that swift justice isn't just a nice idea but a constitutional requirement. Victims, the accused, and every one of us deserves no less.
***
Sam Feldman is an appellate public defender in New York City. On Twitter @srfeld.
***
Have an op-ed idea or submission for Gotham Gazette? Email This email address is being protected from spambots. You need JavaScript enabled to view it.