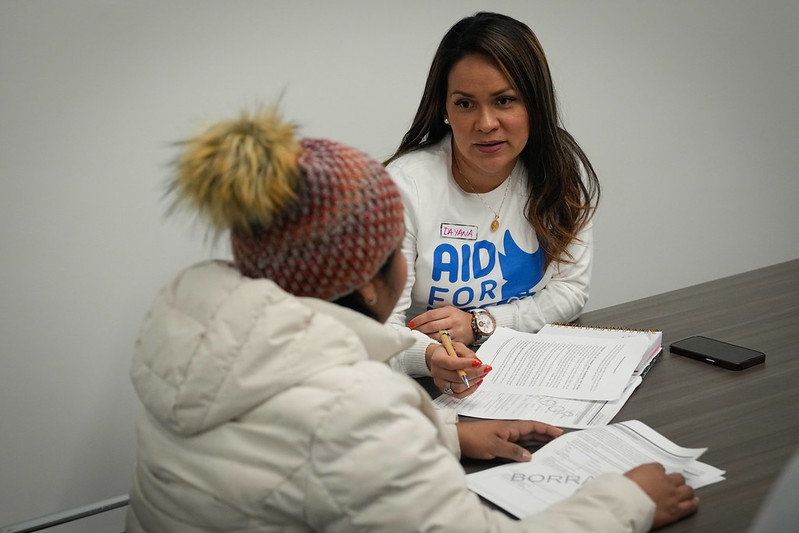 Helping with immigration paperwork (photo: Michael Appleton/Mayoral Photography Office)
---
Imagine if we could fulfill the American Dream for tens of thousands of vulnerable migrants, save vast amounts of money on temporary housing, and add to the city's tax base – all at no cost and with no downside. It's possible: President Biden must give all of New York City's asylum-seekers employment authorization — today — by granting humanitarian parole to our newest New Yorkers.  
New York City is more than $1 billion into a humanitarian disaster not of our making with no end in sight. At least 55,000 migrants from the United States/Mexico border have arrived in the city since April 2023, and more than 34,000 are in the city's care, according to the administration of Mayor Eric Adams. To meet the need, the City has opened 103 emergency shelters and eight massive humanitarian centers.
Tens of thousands of vulnerable migrants in New York City want and need to work, but very few have been approved to do so. No work means no money. No money means no way to afford an apartment or groceries. No apartment or groceries means full dependence on city social services and non-profit organizations. Full dependence on social services and non-profits means a heavy strain on the city budget and the migrants' dignity and mobility. 
Asylum-seekers are eligible to apply for employment authorization 180 days after their first check-in with an immigration judge. The backlog in immigration court is so severe (there are already more than 110,000 pending asylum cases in New York State) that new appointments for initial check-ins are booked until at least 2025. Some appointments are being scheduled as far out as 2029.
In other words, for tens of thousands of New York City's recently-arrived migrants, the 180-day clock won't even start for two to five years.
New York City's legal service providers estimate just 5% of the 55,000 migrants have completed their first appearance. Those who have are still subject to United States Citizen and Immigration Services backlogs: it takes another 8 to 18 months for employment authorization applications to be approved.
The question is, how do we fix this? 
First, the federal government should grant humanitarian parole of at least two years to the migrants who are already in the city. Humanitarian parole provides temporary lawful status in the U.S. while cases are adjudicated and allows migrants to secure work authorization within five to ten months. Humanitarian parole does not take away the requirement to apply for asylum or seek another form of permanent status. It is temporary relief, not a path to citizenship, until additional applications for relief are submitted. 
The Biden administration is already using humanitarian parole for 100,000 Ukrainians and 85,000 Afghans. It is a long-established tool to resettle large numbers of people and start their lives while pursuing immigration status in the United States. Temporary Protective Status (TPS) is another route the federal government could take, but the wait time for work authorization is much longer, approximately two years.
Homeland Security has the discretion to grant humanitarian parole without Congressional action. It is adaptable and immediate. The regulations are broad: parole can be granted for "urgent humanitarian reasons" or "significant public benefit." President Biden should think about what that means in New York City. 
Second, the City must increase funding to legal service providers. There are not enough attorneys to get applications moving and maintain continuity of representation for 55,000 migrants (and counting). The New York Immigration Coalition and Catholic Charities Community Services of New York – two of the organizations spearheading legal services for migrants – estimate an additional $30 million is needed for an initial and effective, sustained response on top of the $31.1 million already allocated by Mayor Adams. 
Next, the City needs to help with pathways to jobs and financial independence. We commend the mayor for calling on Washington to speed up work authorizations, including through the use of humanitarian parole. In the meantime, the city can do more to prepare people for employment.
There should be English language classes at hotels and shelters, including lessons that are tailored to workplace vocabulary and communication. The City should connect even more migrants with job training and certification programs. There should be financial literacy workshops that help migrants obtain an Individual Taxpayer Identification Number (ITIN), which enables payment of income taxes and helps to establish "good character" in the eyes of immigration court judges. These small investments pay dividends.  
Nonprofits are already doing this work. Organizations like the Staten Island-based La Colmena support immigrant workers with a robust list of services such as apprenticeships, resumé writing courses, and legal clinics. Their Occupational Safety and Healthcare Administration (OSHA) and Site Safety Training (SST) courses are in such high demand that there is a 400-person waiting list. 
New York City is perhaps the only city in the nation with the infrastructure, jobs, and generosity to handle this crisis, but we can't sustain it if migrants can't work. Washington must grant humanitarian parole now.
***
City Council Member Gale Brewer represents parts of Manhattan. Murad Awawdeh is executive director of the New York Immigration Coalition. On Twitter @galeabrewer & @HeyItsMurad.
***
Have an op-ed idea or submission for Gotham Gazette? Email This email address is being protected from spambots. You need JavaScript enabled to view it.