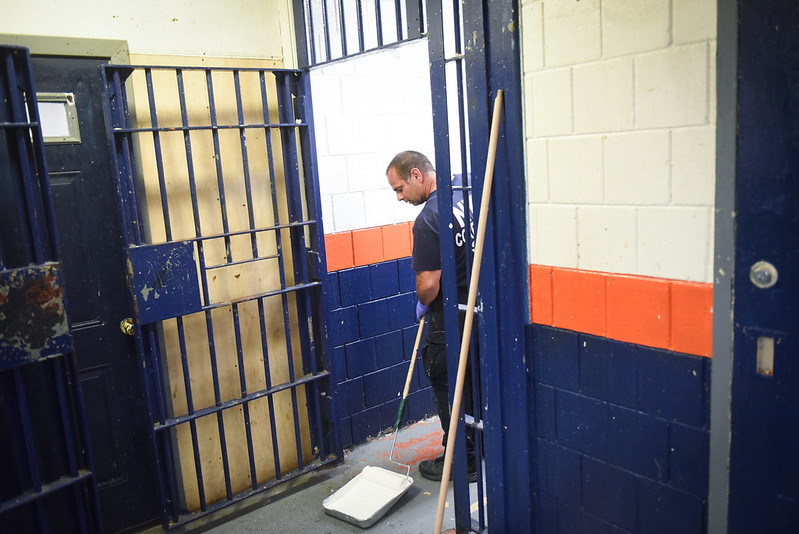 On the inside (photo: Michael Appleton/Mayoral Photography Office)
---
Even if he were younger than his age of 80, Diego's health condition would be dire. A heart attack has left him with a weakened heartbeat. He cannot walk very far, and a physician has recommended that he not climb stairs and should only perform sedentary activities. He was recently rushed to the hospital because his ailing heart could not pump properly, and his lungs filled with fluid. It will likely happen again – if his heart does not completely give out in the meantime.
People with heart failure, like Diego, have poor odds of living for very long.
Diego is also a New York State prisoner. He has been incarcerated for 40 years. He will likely perish in prison despite a law allowing him to die at home, as his request for medical parole, like that of countless others, was summarily denied. This despite the existence in many jurisdictions of what is often referred to as compassionate release mechanisms ostensibly enacted to allow people to die surrounded by family and with some small measure of comfort and dignity. (We changed Diego's real name to protect his privacy.)
In 1992, New York State adopted a medical parole statute in recognition that incarcerated individuals suffering from terminal disease spent their final days far from their families and at a significant cost to the state. In 2009, the law was expanded to grant incarcerated individuals release if they suffer from a non-terminal condition that renders them so debilitated, mentally or physically, as to be severely restricted in their ability to self-ambulate or to perform significant normal activities of daily living. As stated in the New York Board of Parole's 2020 legislative report, the medical parole law represents a "compassionate and practical response to dying incarcerated individuals."
The implementation has been neither compassionate nor practical.
In our experience, the application of the law is rarely compassionate. Despite the humane and moral impetus for the laws, from 2016 to 2020, only 60 people were released pursuant to medical parole. Meanwhile, a study from Columbia University's Center for Justice found that nearly 1,300 people died inside New York State prisons from 2010 to 2020. Thus, a person dies behind the walls every three days. Surely, many of the 1,300 met the statutory requirements for medical parole. After all, numerous New York prisons have their own hospice units, and there are several Regional Medical Units (RMU) for the severely ill.
When someone submits a request for medical parole, the opaque process of eligibility often leads to unsubstantiated denials. Not long ago, we began working with Frank (not his real name), a middle-aged man with stage four pancreatic cancer. His cancer was incurable, and death was imminent.
Despite his grave illness, he received a three-sentence denial stating that he was not an "appropriate candidate" for medical parole. The bureaucratic official rejection letter he received was originally for someone else, had that person's name crossed out, with Frank's name scrawled in its place. Frank died in a New York prison several weeks later.
In the case of Diego, an independent physician provided a detailed report outlining how his conditions qualified him for medical parole. The physician was a volunteer with the Medical Justice Alliance (MJA), a network of over 200 medical professionals in 24 states who volunteer their time and medical expertise to protect the constitutional rights of those in carceral facilities. The New York Department of Corrections' chief medical officer denied the request for medical parole without any written explanation of the reasons. The MJA volunteer reached out to better understand the medical basis for their decision. Two months later, he has yet to receive any response.
Neither has the implementation of the medical parole law been practical. Even if a person is deemed eligible for medical parole, the length of the process means that they often die in prison before they are released. People must complete a parole interview, which can take weeks to schedule. Furthermore, the process of testifying before the New York parole board significantly taxes people who are near death. One person we know was interviewed despite being unable to speak more than a few words before having to stop and gather his breath with the aid of an oxygen tank.
We agree with the parole board in seeking a "compassionate and practical response to dying incarcerated individuals." However, the current failed implementation has allowed over a thousand people to perish in New York prisons despite many who should qualify for release under the law.
We advocate for simple reforms to improve implementation of the New York law – regularly referring people who qualify for hospice or RMUs; utilizing independent physicians to evaluate whether persons qualify for medical parole; increasing transparency by providing detailed explanations when a request for medical parole is denied; abandoning the parole board interview in favor of a brief review of the medical facts, release plan, and any public safety concerns; and studying every case where a person perishes in prison to determine why they were not granted release pursuant to medical parole. Such reforms would reduce the heavy emotional and financial burdens of keeping incarcerated those people near death.
***
By William Weber, MD, MPH, Medical Justice Alliance; Brooks Walsh, MD, Yale-New Haven Health System; and Steven Zeidman, Professor, CUNY School of Law.
***
Have an op-ed idea or submission for Gotham Gazette? Email This email address is being protected from spambots. You need JavaScript enabled to view it.