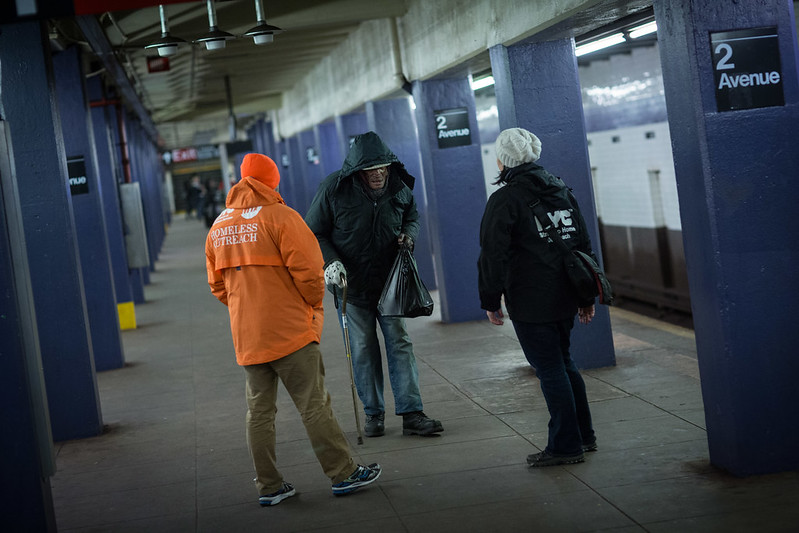 Subway outreach (photo: Michael Appleton/Mayoral Photography Office)
---
The recent death of Jordan Neely, an unhoused New Yorker living with mental illness, is a tragic reminder of the vulnerability of those living on the streets. It also raises critical questions for each of us to consider about our responsibility to our fellow New Yorkers. Homelessness is a policy failure, not a personal one. It's time we base our societal response around that fact.
For years, unhoused New Yorkers have been subject to stigmatization and criminalization by elected officials, the public, and the press. This portrayal of a marginalized community does not reflect reality. According to a study by the National Coalition for the Homeless, people living on the streets are much more likely to be victims of violent crime than they are to commit such crimes.
As advocates, there are concrete steps we can take to help.
First, it is time that we recognize people experiencing homelessness as a protected class and treat them as such. In New York State, there is pending legislation — The Homeless Protection Act (A2191,S6081) — which is being promoted by advocates with the lived experience of homelessness who want to be protected from acts of violence by those who hold malice against them and to end the stigma against people in their situation. Passing this law would mean an attack against a person experiencing homelessness motivated by bias could be treated as a hate crime.
Second, New York City government must provide adequate resources to social service providers that work with individuals in need.
As prices continue to rise, the Adams administration has chosen not to increase the funding it provides to a wide range of nonprofit organizations. Currently, the administration allocates $5.6 billion to support 4,600 human services contracts, which help people in various ways, including assistance for unhoused individuals. Unfortunately, instead of receiving additional financial resources to maintain their essential work in these challenging times, these nonprofits are being asked to cut their budgets, potentially making it more difficult for them to serve the communities that rely on their assistance effectively. 
Organizations that provide emergency shelters, safe havens, and homeless outreach are among those being told they must cut their budgets by 2.5%.
At the same time, Mayor Adams neglected to provide a cost-of-living adjustment in his Executive Budget for the dramatically underpaid workforce that serves the New Yorkers with the highest needs.
This lack of financial support directly impacts the quality and effectiveness of services for people experiencing homelessness. With an already stretched-thin workforce, the absence of a cost-of-living adjustment exacerbates the homelessness crisis by reducing the capacity of service providers to address the needs of unhoused individuals.
This is the wrong time to cut costs and perpetuate underfunding for critical services; our neighbors and communities deserve better. 
In memory of Mr. Neely and in solidarity with all unhoused New Yorkers, we must take decisive action to transform the way we address homelessness.
We must disrupt the culture that poses unhoused people as a threat. Passing the Homeless Protection Act is an essential step toward recognizing the dignity and rights of unhoused individuals.
We must urge the reversal of the detrimental budget cuts that will decimate vital services and outreach programs for those in need. A fully funded social safety net is crucial in building an inclusive, compassionate city we can all be proud of.
Let's call upon our leaders to stand up for change: create a culture of compassion, advocate for the Homeless Protection Act, and demand necessary funding.
***
Frederick Shack, LMSW, is CEO of Urban Pathways. On Twitter @UrbanPathwaysNY.
***
Have an op-ed idea or submission for Gotham Gazette? Email This email address is being protected from spambots. You need JavaScript enabled to view it.