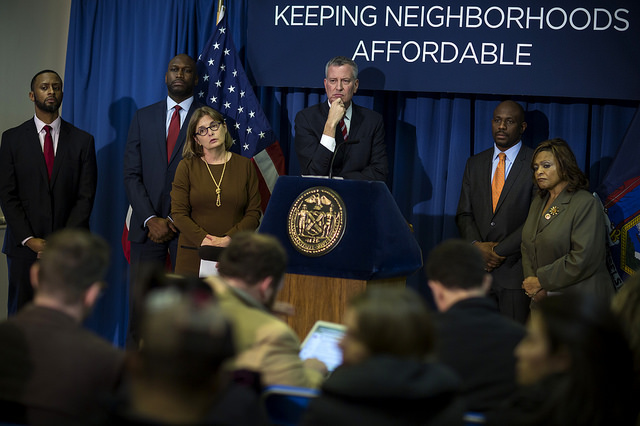 Mayor de Blasio (photo: Ed Reed/Mayoral Photography Office)
---
In February at Mayor de Blasio's State of the City address, we heard plans to make New York City "the fairest big city in America." During his speech, the mayor talked about affordable housing, universal pre-K, and even global warming. But who was forgotten in his speech? The more than 64,000 homeless New Yorkers who face discrimination every day in their search for housing and stability.
I am one of the 64,000 people living in a shelter in this "fair" city. I've been homeless for over a year. I was first given the Special Exit and Prevention Supplement (SEPS) voucher last July. SEPS is a program that is supposed to help me secure housing and pay a portion of my rent—but I've been unable to find a landlord who will accept it, even though refusing vouchers is illegal in New York City. My story is not unique. Thousands of homeless New Yorkers like me can pay rent but can't find housing due to rampant source-of-income discrimination by landlords and brokers. This isn't just plain wrong, it's against the law.
In fact, in 2008, Mayor de Blasio himself (then a City Council member) wrote legislation amending the Human Rights Law to include protections from source-of-income discrimination, and celebrated this victory as making New York City one of the strongest anti-discrimination cities in the country.
I work four days a week, go to school on Fridays, and in my few free moments, I search for housing. I see a housing specialist, I call brokers who who post ads for apartments, and I fill out applications for the affordable housing lottery. I have conversation after conversation at my church, in my workplace, and at school, to find out if anyone has a new lead for housing. This process has exhausted me, tested my mental and physical health, and above all, has made me angry that anyone could call this city "fair" or on the way to "fairest."
The mayor began his first term promising to "end the tale of two cities," and began his second with the "fairest big city" goal. Meanwhile, he's created so little deeply affordable housing and not nearly enough support for the thousands of us who are without a home. Without real action, a slogan of "fairness" is a slap in the face to New Yorkers who are homeless and discriminated against.
Now, I hear Mayor de Blasio is proposing to cut $1.7 million from the city's Commission on Human Rights (CCHR)—the agency in charge of helping people who face discrimination. I know that these rental assistance programs are riddled with problems, and they are not the perfect solution to homelessness. But right now, they are the most immediate ticket out of this struggle, and their use must be protected.
Homeless New Yorkers and advocates rallied at City Hall recently to protest Mayor de Blasio's proposed budget cuts to the CCHR. The administration's response angered me more: we were made to feel like our demands were unreasonable and were told that the cuts would not impact the source-of-income discrimination work at the CCHR. We heard that all five people who currently make up that unit won't be impacted at all. Even so -- five people to protect tens of thousands' right to housing!
Any money cut to the commission renders its work less effective, period. Any cut signals to New Yorkers that the mayor simply does not consider the anti-discrimination work of the commission a priority. And most of all, allowing the CCHR to exist without adequate resources represents Mayor de Blasio's fragmented and flawed approach to solving homelessness.
If Mayor de Blasio wants to make New York City "the fairest big city in America," he can start by doing everything in his power to make sure the city's most vulnerable people are protected by the law and can find permanent housing.
***
Georgia Morgan is a member of VOCAL-NY, a grassroots organization that builds power among low-income people impacted by homelessness, HIV/AIDS, drug use, and mass incarceration. On Twitter @VOCALNewYork.
***
Have an op-ed idea or submission for Gotham Gazette? Email This email address is being protected from spambots. You need JavaScript enabled to view it.