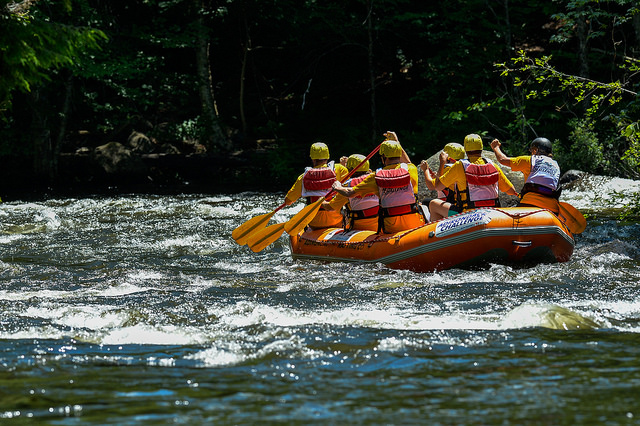 (photo via the Governor's Office)
---
The summer season is in full swing, with New Yorkers flocking to weekend getaways across the state, from Coney Island to Long Island beaches to the Catskills and beyond. But it is critical that we remain vigilant as good stewards of our shared natural treasures. With environmental protections under siege from the current federal administration's Environmental Protection Agency (EPA), it is imperative that New Yorkers understand and exercise their civil justice rights to protect their communities and hold polluters accountable.
For years, our ability to enjoy and access New York's natural treasures has been made possible in part by the environmental advocacy fostered by many committed individuals and the state's civil justice system, which allows victims to hold negligent polluters financially accountable for adverse health impacts, drinking water contamination, and property damage.
From the Gowanus Canal to sports fields in Red Hook and the ongoing public health crisis in Hoosick Falls, we must remain strong in standing up to bad actors and polluters by protecting and exercising our civil justice rights, particularly in the absence of effective federal oversight.
New York State's civil justice system provides people with the ability to hold companies and industries responsible when their actions put the public at risk. In a court of law, people injured by negligence and reckless endangerment have been able to address corporate transgressions and hold bad actors accountable.
For communities and residents up against powerful entities with overwhelming resources, the civil justice system often is the only way to get big, influential interests to do the right thing. Ordinary, hardworking New Yorkers are no match for a well-funded public relations campaign and a skilled team of professional lobbyists.
And for victims of dangerous, debilitating diseases and conditions caused by reckless pollution, the civil justice system serves as a mechanism to account for onerous and often overwhelming medical costs. It often spurs meaningful legislative action and oversight as well, to prevent further harm.
Over the past century, the civil court system has shaped environmental reform and delivered justice to communities time and time again. In the 1940s and 1950s, Hooker Chemical Company used a property in Niagara Falls known as Love Canal as a dumpsite for toxic chemical waste and contaminants.
Two decades after the town of Niagara Falls took over the land and developed it for residential purposes, homeowners noticed a suspicious black fluid flowing out of the canal, leading to widespread discovery of its use as a dumpsite, as well as the pollution's harmful health effects on the community, including higher rates of miscarriage, birth defects, and leukemia.
Activists and residents were outraged at the company's failure to consider the impacts of their actions or even to bother informing the community years later of what was done. Executives were never jailed or held accountable in a criminal court – but they were forced to pay hundreds of millions of dollars in settlements with the EPA and affected residents.
The Love Canal calamity is widely viewed as a catalyst for stricter federal regulations that were subsequently put in place to protect the environment and our communities.
Fast forward to today, in Hoosick Falls, an effort is in motion to hold Saint-Gobain Performance Plastics and Honeywell International, Inc., accountable for dangerous contamination of the water supply—an important step toward bringing justice to this community and its residents.
There should be no question that any companies that pollute our communities and poison our children will be identified, held accountable, and forced to right their wrongs. We must always be vigilant.
Our communities, the health of our neighbors and loved ones, and our prized state environmental treasures must be protected. In an era of federal inaction, a strong civil justice system remains the cornerstone of an active and engaged public and empowers all of us to look out for and protect one another.
***
Matt Funk is president of the New York State Trial Lawyers Association. On Twitter @_mattfunk.
***
Have an op-ed idea or submission for Gotham Gazette? Email This email address is being protected from spambots. You need JavaScript enabled to view it.