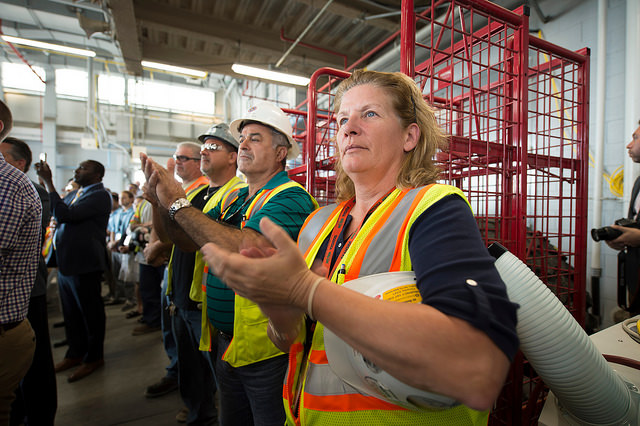 (photo: governor's office)
---
A lot has been made of the disagreement between open shop contractors and union trades over decisions by owners of private projects to supplement select trades. But where others get lost in conflict, I see opportunity.
In many cases, open shop labor, machine operation, and some carpentry services are integrated to perform certain work, including safety and general condition services. But for many owners and construction managers, the reality is that most of the work on open shop projects is actually performed by union trades – and that is a problem. We have seen certain "progressive" trades using work rules and wage concessions to their benefit. As a result, these trades often have an advantage in being awarded construction contracts. And in this one-sided system, certain unions have been able to maintain and in some cases expand their market share.
Despite the odds stacked against us, open shop companies have been able to preserve a competitive advantage in a small number of trades, including labor, where the cost of doing business with a union shop is double. Due to issues including multi-trade and minimum manning requirements, union companies charge a whopping 20% more for services such as superstructure concrete. And to that end, broad-banding -- a classification system based on certifications and skill levels -- has made open shop contractors more competitive, while giving their employees an opportunity to learn a wide range of skills.
While the rules are written to work against the open shop model, the current construction landscape provides a substantial opportunity for open shop workers should industry and government choose to realize it.
For one, the construction trades and government must start working together to provide and promote extensive safety and trade training -- to increase the technical capacity of the open shop workers. Partnering with community-based organizations will not only provide a trained workforce but a recruitment tool that is ready to provide a steady stream of good-paying jobs to a city-dwelling and diverse population in an industry that desperately needs it.
With a labor market in desperate need of skills training, it's time for our partners in government to protect their constituents by fostering growth of the market, providing the right environment for open shop contractors to develop career ladders for their employees, and promoting open shop apprenticeship programs through the removal of roadblocks and red tape. This call to action doesn't apply to laborers alone -- once these individuals complete their apprenticeships, basic labor tradesmen can be offered a path to train in the technical trades, for example as plumbers or electricians. By building on their pre-existing knowledge of construction and the construction process, skilled workers will have more opportunity to succeed in a wide array of trades.
Moreover, living wage and basic benefit programs must continue to be improved to ensure that workers are paid equitably, while "second chance" programs should be expanded and made accessible to ensure that when an individual has repaid their debt to society, they're able to get back on their feet in an industry that offers them a path to employment instead of incarceration.
We've all heard the term "pale, male, and stale," and the construction industry has a long way to go before we can shake that label, which is why a focus on diversity will be critical to the industry going forward. Our workforce should be every bit as diverse as the communities we serve.
It's past time that we as an industry seize this opportunity. The construction industry has historically been the economic sector to narrow wage disparity and give immigrant and forgotten Americans an opportunity to seize the American dream. Let's work together and continue to give all our workers the ability to reach it.
***
Ron Lattanzio is President of TradeOff Construction Services.
***
Have an op-ed idea or submission for Gotham Gazette? Email This email address is being protected from spambots. You need JavaScript enabled to view it.