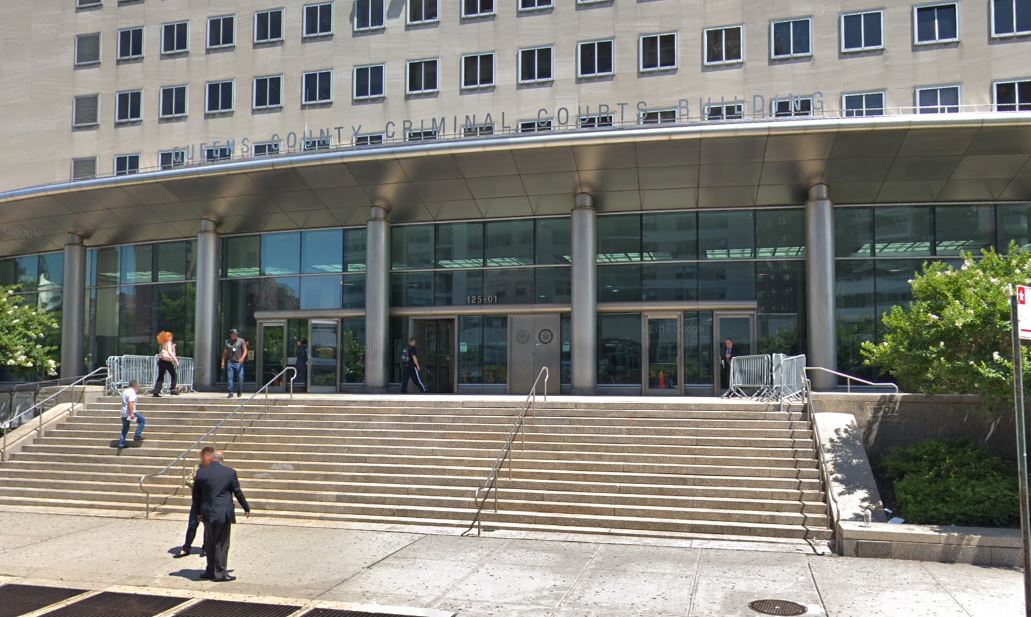 (photo: map data ©2019 Google)
---
As the Queens District Attorney race begins to take shape, the most controversial case the borough has seen in recent years will return to the headlines. Jury selection is slated to begin Tuesday in the retrial of Chanel Lewis for the 2016 murder of Howard Beach jogger Karina Vetrano.
A new set of jurors will thus consider the same evidence presented by prosecutors in the first trial. At least one crucial component of the prosecution's case raises an important question for the seven candidates vying to replace outgoing Queens DA Richard Brown.
This past November, jurors deliberated for only 13 hours before a mistrial for Lewis was declared by Judge Michael Aloise, who was perceived to be sympathetic to the prosecution and Vetrano's family. Foremost among the evidence from the trial that the jurors asked to review was the videotape of the confession that Lewis gave at the 107th Precinct in Flushing.
Lewis, then 20, was held overnight at the police station before giving his confession. According to his lead attorney, Robert Moeller of the Legal Aid Society, this was the first time that Lewis—who had attended a high school for students with learning disabilities—had ever spent the night away from home.
Around 6 a.m. on February 5, 2017, Lewis told a pair of detectives that he had committed the murder (although he adamantly denied sexually assaulting Vetrano). After speaking with detectives, a few hours later Lewis met with a pair of prosecutors from the Queens DA's office. Lewis apparently thought that one of the ADA's questioning him was his own defense lawyer.
Prior to giving the two statements, Lewis indeed had not yet met with counsel. And while the DA's office under Brown readily accepted his confession prior to such a conference, it's a matter of prosecutorial discretion whether to do so.
I thus posed the following question to Brown's prospective successors: As DA, would you accept a videotaped confession in a serious felony case in which the defendant had not yet met with a defense attorney?
The only one of the seven candidates who did not respond was Greg Lasak, a former Queens Supreme Court judge and former prosecutor under Brown. Before retiring last summer to run for DA, Judge Lasak made initial evidentiary rulings in the case, including allowing Lewis' confession.
Mina Malik, a prosecutor in Brown's office from 1999-2014, did not commit to creating a new rule regarding which confessions she would accept. But she did say that "evidence deemed legally permissible may still undermine the public's trust in the process, and it is important that a DA deeply understands all aspects of a case."
Jose Nieves, a former Brooklyn prosecutor, views the issue as a matter of oversight. "As a general rule," he says, "I'm going to make sure that when the NYPD takes statements, they should be overseen by ADAs trained to protect the rights of the accused."
A public defender in Manhattan for the last seven years, Tiffany Cabán would treat the issue on a case-by-case basis. As DA, Cabán vows that she "will not accept videotaped confession where no lawyer was present under traumatizing circumstances."
Queens Borough President Melinda Katz, meanwhile, holds a similar position. Katz says that "All confessions must be evaluated for the circumstances under which they were given, especially when defense counsel is not present."
The only one of the candidates to promise to create a blanket rule is Betty Lugo, a veteran civil lawyer. "I would not accept a videotaped confession in a serious felony case in which the defendant had not yet met with a defense attorney." In Lugo's view, the police "should have advised Lewis of his Miranda rights and waited for an attorney to be present before questioning him."
Queens City Council Member Rory Lancman opted not to comment.
Steve Zeidman, director of the Criminal Defense Clinic at the CUNY School of Law, sees the issue as a matter of balancing the scales of justice. In Zeidman's view, "a progressive DA would agree with Justices Marshall and Brennan (in Moran v. Burbine) who said there should be no effort to interrogate unless an attorney has first been provided."
The next Queens DA indeed has the opportunity to turn the talk of equality into action. "After all," as Zeidman reminds us, "a rich person already has a lawyer and can more readily invoke the right to counsel."
***
Theodore Hamm is chair of journalism and new media studies at St. Joseph's College in Brooklyn. On Twitter @HammerDaily.
***
Have an op-ed idea or submission for Gotham Gazette? Email This email address is being protected from spambots. You need JavaScript enabled to view it.