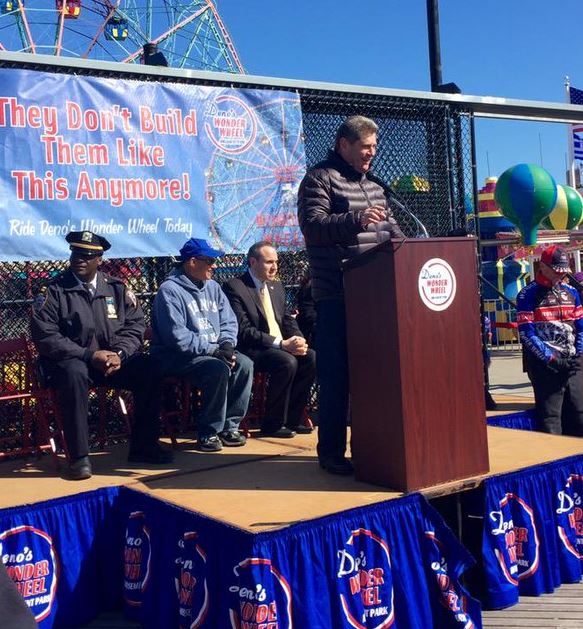 Alec Brook-Krasny (photo: @AlecBrookKrasny)
---
Twenty years ago, when I first ran for office, I was not like most other candidates. Democracy was not something I was born into. Instead, I left the country where I grew up and traveled across the world to trade the oppression of the Soviet Union for the freedom of the United States. As a result, when I asked my neighbors to elect me to the New York State Assembly, it was because I wanted to give back to the community and country that had welcomed me with open arms and helped me to achieve the American Dream.
Twenty years later, as I now announce my candidacy for the New York City Council, I am still not like most other candidates. But what sets me apart is not just that I had to fight to find freedom. Now, what sets me apart is that I have had to fight to hold onto my freedom.
In 2017, I was falsely accused of crimes I did not commit.
It was easy, at first, to feel lost. Overwhelmed. Even defeated. After years of dedicating myself to the community and public service, my life had become synonymous with a lie. No matter how strongly I maintained my innocence, no matter how much evidence my lawyers and I turned over showing that I had done nothing wrong, it seemed like everyone else, especially the prosecutors, refused to listen.
But once the shock wore off, and the reality of the situation sunk in, I knew I had to stand my ground. Innocence must not compromise. Baseless as the charges against me were, I knew that once a jury heard my case—once my peers sat in judgment—the facts would carry the day.
Three years since, after being fully exonerated, I feel lucky. Not lucky to have won—I always believed that the truth would succeed—but lucky to have been in a position to win. Lucky that I found great lawyers—lawyers who never wavered in defending me and never suggested I plead guilty to crimes I did not commit. Lucky that I had resources—mounting a defense costs huge amounts of time and money, and for me, even when I ran out of money, my lawyers still stuck by me, so great was their belief in my case. Lucky that I had support—friends, family, my community, and many more all stood strongly behind me.
Most of all, I am lucky to have been the exception, not the rule.
Countless others will never have the chance to properly defend themselves. Without access to top lawyers, without resources, without a support system, anyone can fall through the cracks. For those people, the overlooked, ignored, forgotten, I will fight. I will ensure that our justice system provides the necessary tools to help people not need luck. Laws like the expanded right to counsel, discovery reform, eliminating cash bail, and increased funding for alternatives to incarceration are all positive steps towards a justice system that is equal and bent toward compassion for all it serves.
Twenty years ago, when I first ran for office, I asked my neighbors to give me the privilege of representing them. During my time in the Assembly, we achieved so much. We increased financial support for public schools, Coney Island Hospital, and subsidized housing. We enacted anti-violence programs that made our communities safer, especially for seniors. And we worked together to recover, rebuild, and revitalize after Superstorm Sandy. After all that, leaving the Assembly was one of the hardest decisions I ever made, but it was the only way for me to provide for my family.
Today, however, I am forced to ask myself: what good is providing for your family if our institutions fail to protect them? Whether by rebuilding our criminal justice system or fixing public transportation, lifting up struggling schools or supporting workers and small businesses, I am running for City Council to answer that question head-on. I am ready to stand for Bensonhurst, Coney Island, Gravesend, Sea Gate, and beyond, to make sure that the future is as bright for our children as it ought to be.
***
Alec Brook-Krasny is a former Assemblymember and candidate for City Council in the 47th District. On Twitter @AlecBrookKrasny.
***
Have an op-ed idea or submission for Gotham Gazette? Email This email address is being protected from spambots. You need JavaScript enabled to view it.