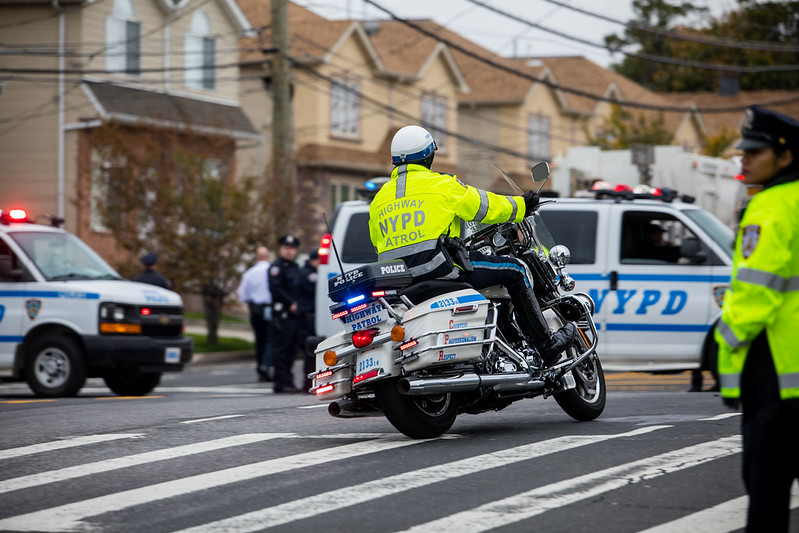 NYPD officers on the scene (photo: Benjamin Kanter/Mayoral Photo Office)
---
Watching racial injustice at the forefront of our national conversation in recent weeks has inspired millions of people across the nation to leave their homes and get involved in our democracy — some for the first time ever. Together, people in New York City from Brooklyn to the Upper East Side to Jackson Heights have all said enough is enough. It is time for city leadership to stand up and respond.
I am running for the New York City Council because I know we can do better than the system we have. The Council's recent budget vote was a superficial attempt at change that missed the mark. We need real leadership on policing issues, not performative gestures and accounting gimmicks aimed at mollifying people seeking genuine progress. My plan aims to change the relationship between communities and policing, with the goal of engendering actual public safety, not a militarized city.
First, I will create a public safety task force for my district, which includes parts of the Upper East Side, East Midtown, East Harlem and Roosevelt Island, that is made up of community leaders and experts in policing. I will meet with these resident advisors on a monthly basis to develop immediate strategies for policing in the community, and create a long-term vision of what policing should look like in the City of New York.
Additionally, I will introduce legislation to create a five-year moratorium on the hiring of any new law enforcement officers by the city — that includes the NYPD, Corrections, and any other agency that has in-house policing. We are not going to solve the problem of over-policing in our communities while still adding to the payrolls of law enforcement agencies.
To further reduce these payrolls, we can offer early retirement incentives for people who are eligible, or near eligible, to retire, also saving the city's deficit-ridden balance sheet. We also cannot balance the NYPD's payroll on the backs of its non-law enforcement civilian workforce, which is largely lower-income, people of color who are not sworn officers. Changing our policing will not be accomplished with accounting gimmicks that target civilian, administrative staff.
I'll also advocate for consistent budget cuts to the NYPD and other policing entities. The New York City budget is a statement of values as much as it is a financial document. Our community needs funding for senior services, affordable and public housing, transportation upgrades and accessibility, to name just a few important examples. I will advocate for equitable budgets that prioritize social services and defund over-spending on police.
Next, I will introduce a ban on any new law enforcement equipment acquired from the U.S. Department of Defense and mandate the city's law enforcement agencies return any non-protective equipment (allowing agencies to keep basic materials like bulletproof vests or gloves).
Ending policing in our schools will be one of the toughest mountains to climb. In the era of school shootings we tragically live in, schools may need some level of security. However, students should not be subject to policing that could negatively impact them for years to come. We need to put a stronger focus on identifying students who are at risk of a mental health crisis before it ever becomes violent. We do need to prevent strangers from coming into school buildings and to address issues where non-custodial parents may seek to remove children from schools. But we must eliminate the school safety officers as we now know them. Students in schools should be safe from threats; they are not a threat. Law enforcement in schools in its current iteration must end.
This is not the end of the conversation or the work, but just the beginning. Billions of dollars need to come out of the city's police budget and be invested in the tools that build stronger communities: education, the social safety net, good jobs and quality, affordable housing. We cannot lose sight of the need for policing to make communities safer, not menace the people who live there. Much needs to be done to create healing in our communities for people to feel truly safe. Let's organize together to build the future New York we want to see.
***
Rebecca Lamorte is a Democratic candidate for New York City Council in Manhattan's 5th District. On Twitter @RebeccaLamorte.
***
Have an op-ed idea or submission for Gotham Gazette? Email This email address is being protected from spambots. You need JavaScript enabled to view it.