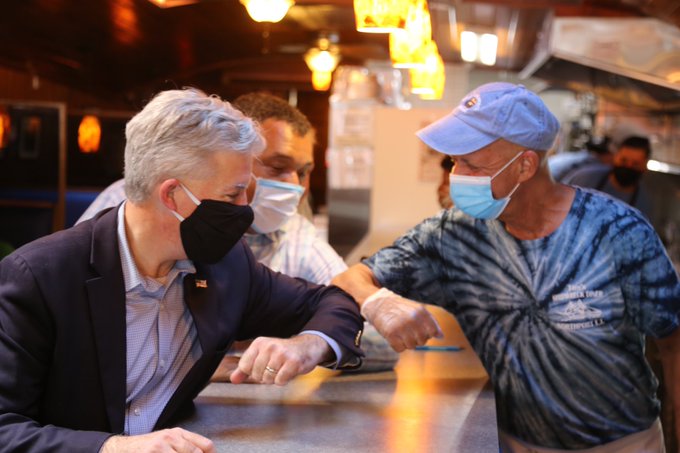 Steve Bellone, the author/left, at a local business (photo: @SteveBellone)
---
To say that 2020 has been a rough year for New Yorkers would be the understatement of the century. COVID-19 hit us like a mack truck, with the greater New York City metropolitan area suffering the worst.
Working with Governor Cuomo, we quickly sprang into action to flatten the curve and save lives with a shutdown. But it did not come without a steep toll on our economy and small businesses. After months of strict shutdown rules, New Yorkers finally began to see a light at the end of the tunnel when many of our businesses that had been previously shut down were allowed to open their doors once again.
In Suffolk County, we worked tirelessly to give our businesses both large and small support and guidance to allow them to safely reopen. As a bedroom community of New York City whose economy is inextricably linked to the five boroughs, I was encouraged when the city turned a corner and clear progress was being made to return toward a sense of normalcy, albeit a new normal. Employers were given confidence that they could begin planning again for the future.
Now, as we head into a second covid wave, compounded by the winter months and flu season, we must stay laser-focused on curbing the spread. In what is a small silver lining of this entire ordeal, we can confidently say that we have learned a lot over these last eight months and are more equipped than ever to keep New Yorkers safe, while also protecting their livelihoods and the economy that we rely on to fund our critical services.
Governor Cuomo's micro-cluster approach is a sound one that will help nip spikes in the bud before they become unmanageable, and will allow us to avoid the devastation of another blanket shutdown. The governor was right when he initially acknowledged that the business community isn't contributing to the spread of the virus. Businesses, and the retail industry in particular, have taken a lead in enacting safety protocols to protect both consumers and employees. Even before many governments across the country required it, indoor retail locations took proactive steps to require masks on their premises, implement stringent cleaning protocols, and prominently place social distancing guidelines throughout stores. These are responsible solutions that have been proven to work and effectively curb the spread of the virus.

The effects of another blanket shutdown in New York City would be felt across our entire region. Businesses across the five boroughs not only impact the city, but our entire metropolitan region and the whole state, helping to provide tax revenue and employment to millions of New Yorkers. At a time when many jobs have been slow to return to New York, indoor shopping malls, retail stores, and other businesses provide a critical source of income for struggling families.

Additionally, the decisions around what businesses can remain open should be based on the safety protocols they have in place, not what items they sell. We learned over the course of the shutdown months that the distinctions of "essential" and "nonessential" businesses are artificial, as New Yorkers should be the deciders of what is essential for their family, and every single job and business matters to the people who rely on them. We must prioritize the notion that all work is essential and do everything in our power to allow people to work safely.
Whether it's a retail store, your neighborhood restaurant, or any other service industry, all of our businesses contribute to the fabric of our society and employ our fellow New Yorkers. It's incumbent on us as leaders to keep New Yorkers safe while ensuring that our economy can stay open and afloat.
New York City's success is critical to all of our success, and it is my hope that Mayor de Blasio and Governor Cuomo can work together on a plan to stamp down covid spikes and avoid a blanket shutdown until we can get a vaccine distributed. Both Governor Cuomo and Mayor de Blasio have an immense opportunity to spearhead New York City's economic revival and they would be right to take it.
***
Steve Bellone is the Suffolk County Executive. On Twitter @SteveBellone.
***
Have an op-ed idea or submission for Gotham Gazette? Email This email address is being protected from spambots. You need JavaScript enabled to view it.