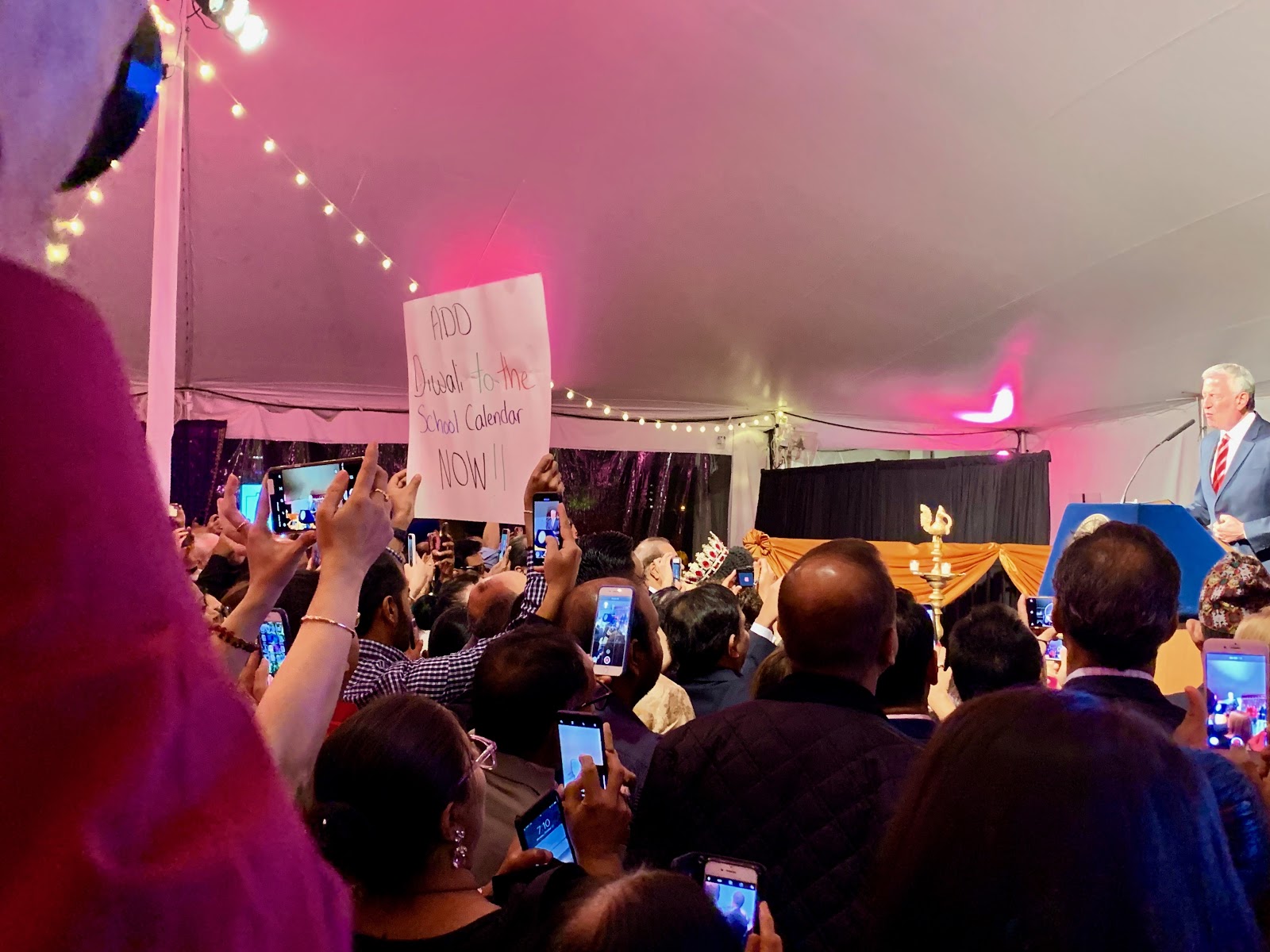 2019 Diwali at Gracie Mansion; Ramdat Singh's sign: "Add Diwali to the School calendar NOW!!!"
---
Each year, thousands of Indo-Caribbean and South Asian immigrant families celebrate Diwali in New York City. Also known as Deepavali, or the Festival of Lights, Diwali is an ancient holiday celebrated by multiple faiths, including Hindus, Sikhs, Jains, and some Buddhists, dating back more than 2,500 years. Through migration, immigrants have abundantly permeated this spiritual triumph of "good over evil, light over darkness, and knowledge over ignorance" in the United States.
However, in New York City, students, teachers, and administrators within the Department of Education are often forced to choose between their faith on one hand and their education and jobs on the other to observe Diwali at home with their family. This is because the mayor and Department of Education have refused to make Diwali a school holiday.
There are approximately 330,000 South Asians living in New York City, representing 4% of the city's population. In The Newest New Yorkers (2013 edition) from the city Department of Planning, it states that "three of the top 10 countries from which foreign-born New Yorkers trace their birth recognize Diwali as a national holiday: Guyana, Trinidad and Tobago and India," said Richard David.
Among the ongoing and colliding struggles of the Black Lives Matter movement and faith communities for equitable recognition through protest and resistance in the most culturally diverse city, this also directly impacts low-income and working-class documented and undocumented immigrant families, people in interfaith relationships, multi-racial families, and the diverse composition of the LGBTQ+ community.
Diwali is celebrated around the world, and its observance remains alive in spite of colonization, indentureship, and immigration. Surviving decades of displacement, class struggles, ancestral traumas, and harm, the Indian diaspora have used their bodies, voices, music, and other interdisciplinary mediums to preserve religious traditions and culture, including Diwali.
For Hindus, Diwali is the biggest holiday on the calendar; think of it as the "Christmas for Hindus." While it holds different meanings depending on the region of the Indian Subcontinent, Diwali, a lunar holiday, is celebrated in the United States every year around the end of October or the beginning of November. Many Hindus recognize Diwali as a day celebrating the return of Lord Ram of Ayodhya, his wife Sita, and his brother Lakshman after 14 years of exile. Ram is viewed as an incarnation of Lord Vishnu, the protector of the universe. Sita is considered to be an incarnation of Lakshmi, the goddess of light and prosperity. For Hindus of Western and Southern India and the diaspora, Diwali symbolizes Lord Krishna's defeat of the demon Narakasura, freeing 16,000 imprisoned girls.
According to Sikh history, Bandi Chhor Divas commemorates Guru Hargobind's release from prison by the Mughal Emperor Jahangir and his return to Amritstar. Identical to Diwali, the Bandi Chhor Divas observance includes the lighting of homes and Gurdwaras, gift exchange, sweets, and family time. "In Jainism, Diwali commemorates the anniversary of Lord Mahavir's attainment of moksha, or freedom from the cycle of reincarnation, in 527 B.C.E. Lord Mahavir was the 24th and last Thirtankar of Jainism and revitalized the religion as it is today," said Nikhil Bumb.
For some Buddhists, Diwali, also known as Ashok VijayaDashami, honors Emperor Ashoka's conversion to Buddhism. From fighting for social justice and gender equity to ending trafficking, incarceration, and bigotry, Diwali represents the fight against oppression we've experienced in 2020 and the victory of light over darkness, coincidentally an ode to the healing our country and city desperately needs right now.
Since the early 2000s, advocates, faith leaders, and community organizers throughout New York City have navigated the complex political landscape to demand Diwali be adopted to the Department of Education's school calendar. Another year and another Diwali celebration has just passed. Still, advocates are mobilizing and renewing the call for the New York City Council to affirm its support for a Diwali school holiday by passing a resolution and the mayor to declare Diwali a public school holiday in the city.
This year, Diwali was on November 14, and the de Blasio administration was silent on this issue. Amidst the global COVD-19 pandemic and the Trump administration's relentless attacks on Black and brown immigrants, New York City has proven to be a sanctuary city for all. Throughout the city, Diwali celebrations went virtual to keep marginalized communities safe and to stop the spread of the coronavirus. However, these celebrations have also mirrored the disappointment knowing elected officials have refused to acknowledge this 20-year call to action, an act which in of itself can be deemed discriminatory and anti-immigrant.
In 2018, Resolution 0146 was introduced to the New York City Council by Council Member Daniel Dromm to "call upon the New York City Department of Education to establish Diwali as an official holiday for NYC public school students." On February 26, 2020, the City Council's Education Committee adopted the Resolution, but it remains stalled for passage by the entire Council. The Resolution has a supermajority co-sponsorship with 37 members of the 51-seat chamber. Council Speaker Corey Johnson and Council Members Ydanis Rodriguez, Bill Perkins, Mark Gjonaj, Vanessa Gibson, Mathieu Eugene, Farrah Louis, Alan Maisel, Chaim Deutsh, Steven Matteo, and Joseph Borrelli have not signaled support for the Resolution. However, Public Advocate Jumanne Williams, a former Council member, is a proud co-sponsor for the Resolution and has always been an advocate for inclusivity in New York City.
Speaker Johnson, as an openly-gay, HIV-positive person, has built a political career based on equality and respect. This is why we are calling on him to reaffirm those values by bringing Resolution 146 to a vote before the end of the year.
New York City is home to both the largest South Asian and Indo-Caribbean (Guyanese, Trinidadian, Jamaican, Surinamese, etc.) diasporic populations, a contributor to the city's economy, and language and cultural diversity, and a growing political power machine as seen with the recent elections of Zohran Mamdani and Jenifer Rajkumar to the State Assembly. In New York City, Diwali celebrations have emerged for decades throughout the five boroughs. In the Bronx, the Vishnu Mandir, which was established in 1996, creates spaces for Hindu devotees in the Bronx to take refuge in spiritual consciousness and participate in Diwali celebrations. Since 2013, the South Asian community has organized the annual "Diwali in Times Square" to convene the South Asian Hindu city diaspora. In Richmond Hill, Queens, the holiday season is kicked off with the Diwali Motorcade - a tradition that began in Guyana, migrated to New York City by Indo-Caribbeans, and sustained by the Divya Jyoti Association.
The New York City Council typically hosts an annual Diwali event, with cultural performances and proclamations, in the Council Chambers at City Hall. Respectively, the Bronx, Brooklyn, and Queens Borough Presidents host their observance, with prayers, diya lighting, music, and dance. Stepping up to affirm inclusivity in the Bronx, Bronx Borough President Ruben Diaz Jr. issued a proclamation on November 14, designating "Diwali Week in the Bronx."
Since Bill de Blasio became Mayor, he has hosted an annual Diwali event at Gracie mansion. At the 2019 Diwali event at Gracie Mansion, the Mayor proclaimed that "this is about respect for one of the great faiths of this Earth." The program included live entertainment, an opening prayer by an Indo-Caribbean Hindu Priest, and honoring the accomplishments of 30 Rock actor Malik Pancholy.
While the Mayor delivered his remarks, he did not expect to be greeted by Ramdat Singh, an educator and Hindu Bronx resident, who proudly held a sign silently, protesting the mayor's inaction on Diwali as a school holiday. Security quickly aborted Singh's civil disobedience and they escorted him out of Gracie Mansion. The queer political organizer and public school teacher regularly chooses between practicing his religion and ensuring his students get a quality education. To be transparent, Singh faithfully takes a religious observance day, but this means his students lose a day of instruction.
The mayor and City Council members avidly reaffirm to New Yorkers that the city's legislative priorities are rooted in equity for all. Yet, only certain major religions get a school holiday for their main cultural festivals. Currently, the school calendar includes observance for Rosh Hashanah, Yom Kippur, Passover, Christmas, Easter, Eid al Adha, Eid al Fitr, and the Lunar New Year. Students and teachers of Hinduism, Sikhism, Jainism, and Buddhism faiths should not have to choose between practicing their religion and getting an education.
Since the formation of the Caribbean Equality Project (CEP) in 2015, the immigrant rights Caribbean LGBTQ organization has relentlessly advocated for inclusive and affirming religious spaces in New York City. From breaking barriers at the historic 2015 Diwali Motorcade and becoming the first Caribbean-oriented LGBTQ organization to wave the rainbow flag at the 2016 28th Annual Phagwah Parade in Queens to co-hosting the annual Brooklyn Diwali celebration at Brooklyn Borough Hall, CEP's transnational culture-shifting activism is building on the legacy of grassroots organizations leading collective liberation movements in New York City. Joining a growing coalition of community organizers, faith-based institutions, and community-based organizations, CEP's mobilization around the Diwali City Council Resolution 146 adds a queer lens to intersectional demand for the Council and mayor to end its cycle of performativity and tokenization of Diwali for political gain.
In New York City, queer and trans people of various nationalities, ethnicities, and faiths celebrate Diwali, a neglected nuance within LGBTQ and immigrant rights movements, especially as racial injustice and police brutality were amplified amid the pandemic. As thousands of homes lit up to celebrate Diwali, this spiritual significance of "victory of light over darkness" is symbolized by the transition of our new President-elect Joe Biden and Vice President-elect Kamala Devi Harris, a daughter of Indian and Jamaican immigrants. In many ways, the Hindu, Sikh, Jain, and Buddhist communities are asking the elected officials in New York City for one simple thing: to spend Diwali at home in prayer and celebration with their family.
If you agree with us that Diwali should become a school holiday in New York City and our communities receive the recognition they deserve, please contact the City Council speaker and the mayor. Diwali represents liberation, and together, we can liberate those who celebrate this special holiday for so many New Yorkers. Together, we can light the way to a Diwali holiday in New York City.
***
Mohamed Q. Amin is a queer Indo-Caribbean and Muslim immigrant and LGBTQ rights activist in New York City, and the Founder and Executive Director of the Caribbean Equality Project. @MohamedQAmin @CaribEquality
Ramdat Singh is a queer, Hindu, Guyanese, public school teacher living in the Bronx, a UFT member, and Director of Civic Engagement for the Caribbean Equality Project and a citywide Political Organizer. @RamdatSinghNYC
Pratima Doobay is a queer, Guyanese, Hindu Pandita living in Brooklyn, and facilitates faith-based discussions and mediations through Shridevi Arts. @KuShriDoobs
***
Have an op-ed idea or submission for Gotham Gazette? Email This email address is being protected from spambots. You need JavaScript enabled to view it.