Crouching Tigers, Hidden Voters
By Margaret Fung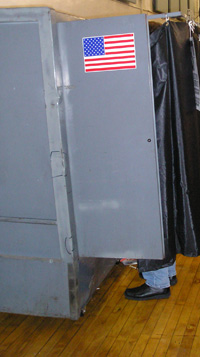 With the prospect of the first Asian American being elected to the New York City Council this year, Asian American political participation will likely soar in the September 11th primary election and bring forth the hidden voters who want a voice in the political process. The signs of this are everywhere -- and so are the brochures: You can see voter registration tables in any Asian neighborhood, from the corner of Mott and Canal Streets in Manhattan's Chinatown to Lippmann Plaza in Flushing.
According to the 2000 United States census, one out of 10 New Yorkers is Asian American, with a total population numbering over 800,000. It is estimated that more than 125,000 of these are voters. In a close election, their participation could be decisive.
But many of these voters are foreign-born, having immigrated to this country without speaking English, and though naturalized United States citizens are required to possess a rudimentary knowledge of the English language, it is still difficult for some of them to read the election ballot. This is especially true when there is a complicated referendum. Federal law is now clear that this should make no difference -- that all citizens have a constitutional right to vote, regardless of their English-language proficiency. Nevertheless, it has taken a long time to convince the Board of Elections to allow these Asian-American New Yorkers this constitutional right.
EXPANDING BILINGUAL VOTING ASSISTANCE
When Congress enacted the Voting Rights Act in 1965, it removed many barriers to minority voter participation by banning racially discriminatory practices, such as the use of literacy tests. This federal law was amended in 1975 to require bilingual ballots, bilingual voter registration forms, interpreters, and other language assistance programs--a provision that primarily benefited Latino voters.
It was not until 1992, with the passage of the Voting Rights Language Assistance Act, that large Asian American communities across the nation were covered under these minority language provisions of the Voting Rights Act. Passed with broad bipartisan support, the amendments to section 203 now require bilingual ballots and voting assistance in all local jurisdictions where five percent of the citizens are not proficient in English.
In New York City, three counties--New York, Kings (Brooklyn) and Queens--are under a federal mandate to provide Chinese-language ballots, voter registration forms, notices, and interpreters. We expect that when the 2000 Census data on English language ability is released next year, Queens County will be required to provide bilingual materials and assistance in Korean as well.
TAKING ON THE ELECTION BUREAUCRACY
A decade ago, it was an uphill battle to get the New York City Board of Elections to recognize its new legal obligations under the Voting Rights Act. We at the Asian American Legal Defense and Education Fund met repeatedly with the board's executive director, Danny DeFrancesco, who conceded the need to translate ballots into Chinese. He was receptive to greater Asian American voter involvement and regaled us with anecdotes about how Italian immigrants formed political clubs, registered voters, waged campaigns and won elective office. He saw that Asian Americans, like earlier immigrant groups, also wanted to flex their political muscle. But when we pressed for a comprehensive program, his staff told us every reason why it could not be done.
One key issue was putting Chinese-language ballots in the voting machines, so Asian Americans could vote just like everyone else, rather than having to fill out paper ballots. We also insisted that candidates' names be transliterated into Chinese, since this was the single most important piece of information to the voter. The board's response was - again -- that it could not be done. According to board bureaucrats, the old mechanical lever machines did not have enough space for ballots in Chinese.
The board's communications director, Naomi Bernstein, urged the Chinese American community to be patient and wait until new electronic voting machines were purchased. She claimed that these new machines could include several languages and would be phased in soon. Fortunately, we did not fall for her public relations ploy, because the contract for these electronic machines was cancelled.
We asked a graphic designer and printer to produce a mock bilingual ballot according to the current voting machine's precise measurements. Our sample facsimile ballot showed conclusively that a fully translated Chinese-language ballot would fit in the voting machines. But that was still not enough to convince the Board of Elections.
As the Board of Elections stubbornly continued to resist our modest suggestions, we filed a complaint with the U.S. Justice Department. The Justice Department ruled in 1993 that the Board of Elections had violated section 203 of the Voting Rights Act and directed the board to revamp its Chinese Language Assistance Program.
At first, nothing happened, so we stepped up our advocacy campaign and launched a campaign to flood the Board of Elections with postcards and petitions demanding full compliance with the Voting Rights Act. Asian Americans packed the hearing room during one meeting of the Board of Elections commissioners, carrying banners and Chinese-language posters and demanding their rights to bilingual ballots. After a short recess, the Commissioners finally agreed to hear our presentations. A New York Times reporter who was at this meeting wrote an article on August 14, 1994, revealing the board's inaction in dealing with the Asian American community.
Five days later, the Times editorial board delivered a scathing rebuke to the Board of Elections and its "foot-dragging bureaucratic arguments that have been raised all over America at one time or another against giving minorities their rights."
Within a matter of weeks, the Board of Elections reversed its policy and agreed to provide translated ballots with candidates' names in Chinese for the first time in a New York City election.
THE 2000 ELECTION
In recent years, the Board of Elections has made some progress in meeting its obligations under the Voting Rights Act. What was once called "impossible" has now become part of the board's routine Election Day operations, as it should be.
But despite this apparent change of attitude, the Board of Elections was unable to avert a bilingual ballot fiasco in the November 2000 elections. There were major errors and problems. In one case, the Chinese translations for "Democrat" and "Republican" were reversed in several local Queens races. Throughout the city, an insufficient number of Chinese interpreters contributed to long lines at polling places, and some Asian Americans who could not get bilingual assistance left before voting. A Times editorial entitled "Bungled Ballots in Chinatown," blasted the Board of Elections for its "incompetence, meager resources and neglect" and "a history of poor planning and inadequate staffing in predominantly Asian-American precincts."
Since then, we have met with the board commissioners and staff, helped to recruit bilingual workers, and offered our assistance to ensure that language assistance is provided to all voters who need it.
PREPARING FOR THE 2001 ELECTION
For the September 11th primary, the board has prepared a list of 149 targeted sites with large Chinese American populations and assigned 339 interpreters to cover these sites throughout Manhattan, Brooklyn and Queens. In addition to providing the Chinese-language assistance required by law, the board has also agreed to place 18 Korean interpreters at several sites in Queens. After an intense lobbying effort by the members of the newly-formed Citywide Coalition for Voter Participation, the city approved new budget lines for the Board of Elections to hire two Chinese-speaking and two Korean-speaking full-time staff and, just last month, increased the stipends of election day workers.
But we cannot leave it up to the Board of Elections. On primary day, we will dispatch more than 100 volunteers to observe whether polling sites are in full compliance with the Voting Rights Act and to conduct an exit poll of Asian American voters. (In the November 2000 elections, we surveyed over 5,000 Asian American voters, the largest multilingual poll of its kind in the nation.) We have also asked the Justice Department to send federal observers, as they have done in the past. In these important primary elections, we are doing what we can to ensure that Asian American New Yorkers are not yet again denied their right to vote.
Margaret Fung is executive director of the Asian American Legal Defense and Education Fund..
###
Check out the Feature Archives!



$app = JFactory::getApplication(); $menu = $app->getMenu(); $menu_items = $menu->getItems('menutype', 'mainmenu'); var_dump($menu_items); * */ ?>