Don't Mourn, Monitor
By Gene Russianoff and Dave Palmer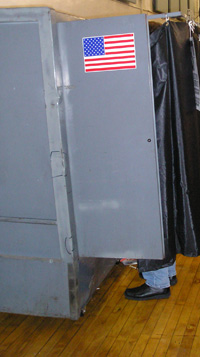 Tragically, tens of thousands of the New Yorkers who go to the polls on Tuesday, September 11 will be unable to vote, victims of an antiquated and underfunded election system that has all the flaws--if not the fame--of Florida's. Far too many will have to cope with long lines, broken and vote-losing voting machines, inadequately trained poll workers, chaotic poll sites, a lack of qualified interpreters for voters who speak languages other than English, insufficient help for voters with disabilities, and jammed voter help phone lines.
This year, however, New York City voters will have a chance to do something about this sorry state of affairs. They can join in the most ambitious effort in the nation to document how voters are treated at the polls.
WORSE THAN FLORIDA
Amazingly, New York City had more uncounted, unmarked and spoiled ballots than Florida in last presidential election, according to the recent CalTech/MIT study on voting in America.
In the Bronx, the rate of lost votes was a shocking 4.7 percent of all votes cast; that is compared to Florida's 2.9 percent. The undercount in the Greenpoint-Williamsburg sections of Brooklyn was three times the national average!
Why? Our 40-year-old lever machines not only break down too often, but they are also unforgiving. If you do not know exactly how to use them, you can lose your vote. In addition, our hyper-technical election law can make voting by absentee or paper ballot a risky proposition.
And that is not all. Many voters must cope with having their names inexplicably missing from the computerized registration roles; with absentee ballots arriving late in the mails; with being unable to get through to the Board's help line--866-VOTE-NYC--on Election Day.
All this is compounded by a civic culture that provides little or no voter education. It is so New York: The burden is totally on citizens to figure out how to use our complicated voting machines or how to get registered. Myths about voting abound, and often serve to disenfranchise New Yorkers.
FOUR MYTHS ABOUT VOTING
1. If you've moved, you can't vote unless you've registered.
That is the way it was before 1993, when Congress passed the National Voter Registration Act. Now, if you move from one place to another in New York City, you can vote without having to re-register. If you moved within the same election district, you can even vote on the machine! Many voters do not know; the same goes for some poll workers. Now you simply go to the new polling site, which you can find by calling (212) VOTE-NYC. Your name may not be in the poll book, so you will need to insist on your right to vote on a paper "affidavit ballot." If you have questions, ask the poll worker for a voting rights flyer.
2. You need to have identification to vote.
You do not have to show any I.D. to vote or proof of citizenship. Some voters mistakenly think they cannot vote unless they received a card from the Board of Elections in the mail. As a voter, all you have to do is sign your name in the poll book. If you are challenged, you sign an oath. Again, no identification is required.
3. You cannot bring anything or anyone into the booth to help.
This year presents a record number of candidates from among which to choose. It feels more like a Scholastic Aptitude Test than an election! You may take any information in to the polls with you, including the non-partisan red, white and blue Voter Guide you should receive in the mail shortly before Election Day from the non-partisan Campaign Finance Board. And anyone may come into the booth with you, except your union representative or employer.
4. Everyone knows how to use the voting machine.
Some New Yorkers do not know. Others forget to return to race that they skipped. It is not their fault. It is so New York; you are just supposed to know without any training. Our voting machines used to have a device to prevent voters from mistakenly failing to cast their votes. But it was disconnected more than 20 years ago for reasons no one can remember. In Albany, where this sensor still works, there are far fewer lost votes.
For more information on your voting rights, visit the Board of Election's web site.
NOW SOMETHING CAN BE DONE
For some voters, poor elections are like bad weather. They feel they cannot do anything but complain.
But this year is different. The spotlight has been switched on because of Florida. Civic groups have been vigorously organizing and lobbying for more resources for city elections, along with better management at the New York City Board of Elections. The campaign started in the spring when a coalition issued a "Four Point Program for Better Elections."
Already, the effort has paid dividends. This summer, Mayor Rudy Giuliani has taken serious steps to improve the elections, such as raising the pay for poll workers from $130 to $200 for each election. Other steps are in the making, including more voter help lines courtesy of the city's Office of Emergency Management; more foreign language staff; and reducing the time it takes to repair broken voting machines by giving mechanics a police escort on Election Day.
THE ELECTION DAY MONITORING PROJECT
This primary Election Day on September 11th, there is also something that individual voters can do to improve the situation.
They can stop mourning bad elections, and start monitoring them--by joining the most ambitious non-partisan poll watching operation in the United States this year in the wake of the Florida presidential recount. It is being run by the Citywide Coalition for Voter Participation and includes a wide range of civic-minded groups from the New York Immigration Coalition to the Joint Policy Action Committee for Older Adults to Citizens Union.
The Election Day Monitoring Project plans to have thousands of voters survey conditions at hundreds of poll sites on September 11th, with Metro Industrial Area Foundation churches and community-based organizations in the lead pledging to recruit 3,800 volunteers. Volunteers will need to be a citizen, a registered voter and enrolled in a political party to conduct the survey. And they will need to attend a half-hour briefing session on how to complete the survey, which, when it is finished will give a picture of how well voters are treated on Election Day,, from waiting times to whether machines were working to how well the polling site is managed. This is a chance to explode the most dangerous election myth of all: that voters don't care.
Gene Russianoff is senior attorney and Dave Palmer, government reform advocate for New York Public Interest Research Group.
###
Check out the Feature Archives!



$app = JFactory::getApplication(); $menu = $app->getMenu(); $menu_items = $menu->getItems('menutype', 'mainmenu'); var_dump($menu_items); * */ ?>