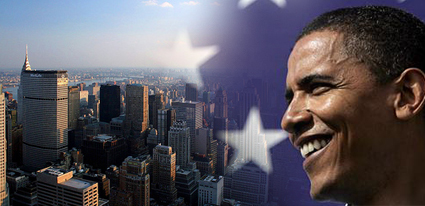 As Barack Obama takes office today, many New Yorkers have high hopes that change has come -- and it will be change for the better. Much of that hope springs from excitement surrounding the first African American president ever and the first one in decades with urban connections. And in this overwhelmingly Democratic city, where Obama beat Republican John McCain by a four-to-one margin, there is a palpable hunger for new ideas and attitudes.
Like most Americans, New Yorkers want action too -- particularly on the economy. The recession has hit New York, the home of Wall Street, hard, with rising unemployment, job losses and slowdowns in all types of businesses. As a result, the state faces a $15 billion deficit over the next 15 months and the latest projections show the city government, thought to be on firmer ground, peering into a $4.3 billion abyss.
City and state leaders, along with fiscal experts and ordinary New Yorkers, hope Obama can help. At his State of the City last week, Mayor Michael Bloomberg rolled off a number of initiatives that called for some federal dollars, including a proposal to revamp the city's air traffic control system and a pilot program that offers jobs to struggling students if they stay in school. (For more on the mayor's State of the City, see A Recovery Package From Bloomberg.)
Highest on the city's wish list may be federal dollars for infrastructure. "Our cities have to be a central focus of any recovery plan," Bloomberg said recently. Any federal funding should first go to our urban environments, Bloomberg added, especially for bridges, roads, trains and tunnels.
Other New Yorkers have their own ideas. Here several experts offer their views about the proposed economic stimulus package and what the new administration can do to help lift New York -- and the nation -- out of the economic crisis.
Paying Attention to Cities By Jonathan Bowles
After years of federal policies neglecting urban areas, Barack Obama has sent some encouraging signals that he understands their importance. Certainly, New York could use a helping hand. The director of the Center for the Urban Future lays out some ideas for what the president could do to aid New York.

An $825 Billion First Step By James Parrott
The stimulus package proposed by Congress is key to halting the economy's downward spiral but it will not solve all our problems. Economist James Parrott of the Fiscal Policy Institute looks at what the package would do -- and what more needs to be done.

Using the Crisis to Prevent the Next One By J. Mijin Cha
The current turmoil can help us reduce our dependence on Wall Street and create good "green collar" jobs that help fuel a resurgence of the middle class. The director of campaign research at the Urban Agenda explains how.

Infrastructure Investments that Make Sense By Carter Craft
As big as the stimulus package may be, the country has to invest the money wisely. An urban planner offers some novel ideas for New York projects -- from recycling grease to ferries for freight.

From Gas-Guzzling Cars to Clean Buses By Charles Stone
Simply lending funds to struggling auto companies won't spur economic growth. Instead, an economist suggests, the government should create a voucher program to deploy the resources of the auto companies, spur investment -- and help the environment.

Previous Articles
A Federal Stimulus for City Parks By Anne Schwartz
Advocates hope that President Obama and Congress will recognize that funding parks would not only improve the quality of life and the environment but also spur investment and raise real estate values.

Stimulus Money: The Downturn's Silver Lining? By Graham Beck
The stimulus package could offer more federal funds for transportation projects. The MTA is making its list, but there are sure to be lots of restrictions -- and competition