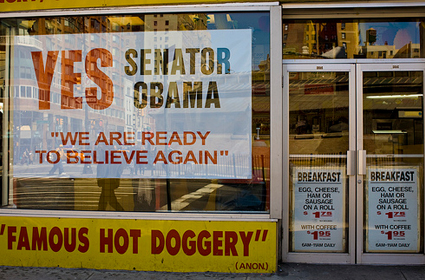 As Barack Obama assumes office, New York immigrants have lost jobs and seen their incomes drop. With the recession reverberating throughout the economy, immigrants have reduced the amount of money they send to their country of origin -- and some even consider whether to go back themselves.
In the midst of such tough times, many immigrants place less importance than they once did on immigration issues. A national survey taken recently found that most Latinos think the economy is the most important issue facing the new president, followed by education, healthcare and national security. Only 31 percent of Latinos rated immigration as an "extremely important" issue for Obama to address immediately.
During his campaign, Obama said little about immigration. There are, though, indications that the new administration might take somewhat different stands on some immigration issues than its predecessor. At her confirmation hearing for secretary of homeland security, for example, Janet Napolitano said that, under her leadership, the department would focus more on what she termed "unscrupulous employers" than on raids targeting undocumented workers.
Some advocates are looking to the new administration to reverse a last minute decision by outgoing Attorney General Michael Mukasey that immigrants facing deportation do not have a constitutional right to counsel in their hearings or the right to go to federal court on the grounds that their lawyer acted poorly or improperly.
Beyond specific policies, many immigrants see Obama as offering a new sense of hope. Colombian immigrant Nora Chaves has said she thought that, with Obama's election, "immigrants have a chance to really build America and to build dignifying lives in this country."
Locally, violence against immigrants continued to raise concern, with some fearing that the faltering economy could produce a new wave of anti-immigrant bigotry. On Staten Island, three men were charged with assaulting black people, including a Liberian immigrant, on the night of Obama's election. Police, though, still have made no arrests in the fatal beating of Jose Sucuzhanay, an immigrant from Ecuador, on a Brooklyn street last month. Not far from the city, investigations by journalists revealed a pattern of attacks on Latinos in Patchogue, a town on Long Island. Late last year, Marcelo Lucero, an Ecuadorian immigrant, was fatally stabbed by teenagers who reportedly regularly beat up Latinos. The U.S. Justice Department is investigating, with an eye toward examining the Suffolk County Police Department's handling of such crimes.
Back in the city, the mayor's office issued and then recalled a report on whether to establish hiring centers for day laborers. The report was pulled back after critics on the commission writing it complained that the report did not offer any specific proposals.

These and other stories on the economy and other issues, from the Chinese, Korean, Polish, and Bangladeshi language press via our partner, Voices That Must Be Heard
---
City Issues, Then Recalls Report on Day Laborers (El Diario /La Prensa)
Hours after the mayor's office finally released the report by a commission studying the possibility of establishing day laborer hiring centers in the city, the administration withdrew it. The move was a response to pressure from members of the commission who were disturbed that the report did not include specific proposals for establishing the centers.
More Chinese in New York Lose Jobs (World Journal)
The number of job seekers coming to Chinatown's employment services has increased noticeably in recent weeks.
Unemployed Chinese Immigrants Wonder Whether to Stay or Go (World Journal)
Many immigrants unable to find work here think of returning to China but worry their situation there would not be any better.
Recession Affects Bangladeshi Immigrants (Bangla Patrika)
New York Bangladeshis, from busboys to executives, have lost their jobs or seen their incomes decline. "Has the land of opportunity turned to an irony of fate?"
Declining Exchange Rate Squeezes Korean Students (Korea Times New York)
The Korean currency is weaker against the American dollar than it's been in 11 years, bringing despair to many Koreans studying in New York.
Many Poles Join Ranks of the Unemployed (Nowy Dziennik / Polish Daily News)
Emilia Sroczynska, owner of Emilia Agency in Greenpoint, Brooklyn, says she had seen a sharp increase in the number of Poles applying for unemployment benefits.
Livery Drivers Seek to Organize (El Taxista News)
A group of taxi drivers have formed a committee to consider forming an Association of Independent Livery Drivers in New York.
Korean Churches Seek Japanese Converts (Korea Times New York)
Korean Christian churches in the New York area hope to spread the gospel to Japanese people, who have been largely resistant to Christian evangelism.
Food Vendors Seek Changes in City Rules (El Correo de Queens)
With thousands of vendors unable to sell their wares because of city red tape, food cart operators hope the City Council will pass a law to speed licensing procedures.
Greenpoint Residents Produce Cuts in Funds to Protect Tenants (Nowy Dziennik / Polish Daily News)
Poles gathered at City Hall to protest the Bloomberg administration's decision to cut funds for a program to protect tenants in Greenpoint from the effects of gentrification.