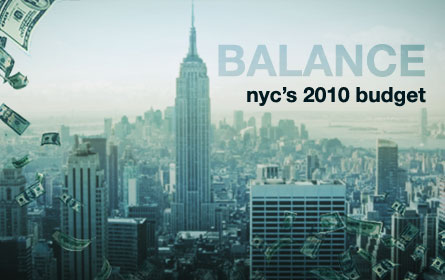 No one ever said you needed to start a multi-billion dollar company or get an MBA to set the city's finances straight.
With Gotham Gazette's help, you can increase spending for education or reinstate the commuter tax from the comfort of your own laptop.
Last month, Mayor Michael Bloomberg proposed a $58.8 billion budget that could slash $1 billion from city spending, increase the sales tax by .25 percent (not to mention broaden it to include clothing, hair cuts and more) and seriously lean on Albany and Washington to pitch in billions of additional funding.
So that's his plan. But what would you do?
Bloomberg overturned the city's term limit so he could have a chance to lead the city through this ever-more dreary recession. With our new budget game, BALANCE, you can bypass the City Council entirely and fix our fiscal woes on your own.
Would you increase spending and raise taxes? How about the personal income tax or tolling the East River crossings? Which departmental cuts do you think are the most severe and should be reversed?
Take the reins, but make sure you end balanced or with a surplus. We're not Washington -- we can't run a deficit.
Once you're done, send us the results and we'll report back on how Gotham Gazette readers would balance the fiscal year 2010 budget.
Keep your home page set here, and we'll continue to update you on how the city's real fiscal plan unfolds between now and when our budget must be approved in June.
Play BALANCE now.