A Lesson They Haven't Learned
By Jill Chaifetz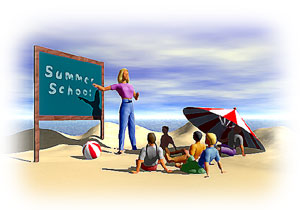 In my office, where we help families whose children are having problems in public school, we've been getting a lot of calls in the past few weeks from parents upset because their children may be held back a grade.
One call came from the mother of an eighth-grader in a school in Forest Hills, whose daughter had come home from school crying hysterically: When she went to pay for the prom, which was to be held in three days, she was told she couldn't go. She couldn't go to the graduation ceremony either.
The reason was that she was going to have to go to summer school. She had been doing poorly in science class and had scored low on the standard math test. And if she didn't pass a test at the end of summer school, she had been told, she was going to be left back.
What made this worse was that the family had not received anything in the mail. It did not get the warning letters that the school was supposed to send out in November and then in January, nor the final letter sent out this month to more than 130,000 middle school and elementary school students, ordering them to summer school.
Her school may have been particularly incompetent in failing to send the required letters, and unusually hardhearted in refusing to allow her to attend her prom with her friends. But this student's horror story was not really much different from at least 130,000 other students being forced to go to summer school next week--and threatened, if they don't pass a test, with being left back next year. They are all the victims of a new policy to "end social promotion" by holding back children who don't meet "the new standards."
What's most remarkable about this new program to meet the new standards is that it's not new at all. This is the same program the city school system had ten years ago--and that the city abandoned because it was a failure.
HOLDING KIDS BACK DID NOT WORK THEN, WILL NOT WORK NOW
The Promotional Gates program, implemented in the early 1980s in NYC, held children back in grades 4 and 7 who weren't passing citywide tests. But in 1991 the Board of Education ended the program, after evaluators and auditors such as education professor Ernest House found that the retained students were no better off than similar low-achieving students who had been promoted. Indeed, they found that retained students were much more likely to drop out later on.
These findings may seem to go against common sense. But over twenty-five years worth of educational data demonstrates that holding children back does not help them learn more; it only harms them. This was also the conclusion of a report released last year by the National Research Council, an organization which Congress had charged to look into the efficacy of high-stakes tests and retention policies. After reviewing the many controlled studies spanning decades, the Council determined that retention results in poorer academic and social performance. "Students who have been held back typically do not catch up," said the chair of the study, Prof. Robert Hauser. "In fact, low-performing students learn more if they are promoted--even without remedial help--than if they are held back." An advocacy group called the National Organization for Fair and Open Testing, or FairTest, also makes the case against both retention and high-stakes testing--tests that can change a student's future.
CHICAGO AND NEW YORK TRY AGAIN, BUT WHY?
Despite the clear conclusions of all these studies, Chicago has recently gone down the same road of retaining students. Why? School officials there discounted the negative research, and asserted that the Chicago program was different from previous retention efforts (the same arguments New York City is making now). But evaluators of the Chicago program, in a report released last December, reached the same conclusion as had those of the New York program nearly ten years before: it didn't work. Again, retained students did worse than low-achieving students who had been promoted, and there was evidence that the program might be increasing the number of dropouts.
Yet, New York is still going forward with the largest retention program in the United States, poised to repeat its own history of failure. They have expanded greatly the number of students they are forcing into summer school, though last year's pilot program did not improve test scores, according to several reports. (See "Promotion Policy, Instructional Report)
The Board of Education has tried to put on a good face of the program last year with some success stories, but it cannot ignore its own statistics: As the Daily News reported, education officials have discovered that "nearly three of four students who took and passed summer school last year so they could be promoted are in danger of being left back again this year."
AN EXPENSIVE MISTAKE
I can't imagine having this happen in another professional realm; would a hospital system go forward with the full-scale implementation of a medical treatment program that rigorous testing has shown to be ineffective?
And it's not only ineffective; it's expensive. Spending for summer school this year has already surpassed the projected cost of $74 million. The City is putting in $151 million to wire and install air-conditioning in 7,100 classrooms. Chancellor Levy is looking to the state for an extra $21 million to bus summer students. This is only the beginning: if 50,000 children Were held back by the end of the summer (a conservative estimate), the cost To the city would be approximately 500 million dollars for the extra year of schooling that will result.
WHAT DOES WORK
There are alternatives to this error, programs that have been shown to work:
Intensive, ongoing assistance to at-risk school children
Smaller class sizes, particularly in the early years to assure academic success
Smaller schools where each teacher knows every child's name
Universal pre-kindergarten to ensure that children will excel
Physical plants that are safe and healthy for students
Certified teachers who are given ongoing training and support to stay in New York City.
All of these programs have been shown to improve students' performance across the country.
The retention policy, by contrast, shifts the blame from the system--which has not properly prepared these children for the new standards--to the children themselves. Worse, it doesn't provide any guarantees of help beyond a summer school program lasting four to six weeks. The new retention policy actually eliminates some of the extra services that were available to students at risk. The new promotion policy penalizes the student for a school's failure to offer help during the year.
Every day, we are getting calls from unhappy parents who receive "promotion in doubt" letters with no offer of help attached.
They are not the only ones who need help in learning their lessons.
Jill Chaifetz is executive director of Advocates for Children www.advocatesforchildren.org
###
Check out the Commentary Archives!


$app = JFactory::getApplication(); $menu = $app->getMenu(); $menu_items = $menu->getItems('menutype', 'mainmenu'); var_dump($menu_items); * */ ?>