Flying Blind
By Gail Robinson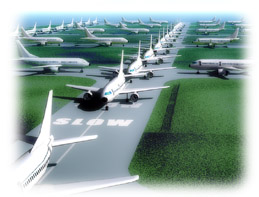 "Everyone knows the New York airports stink compared to those we all fly to," John S. Dyson, chairman of the Mayor's Council of Economic Advisers, has complained.
In an effort to try to solve the problem, Mayor Giuliani has been considering wresting control of the airports from the Port Authority of New York and New Jersey.
On Friday, the Federal Aviation Administration announced that 20 percent of all flights at LaGuardia were delayed in August, up from about 8 percent in August 1999. The increase was blamed largely on the sheer number of planes flying in and out of the field.
Meanwhile, faced with ever worsening delays at LaGuardia, the Port Authority seems on the verge of a showdown with the federal government over how many flights can safely fly into and out of LaGuardia.
Congestion, on the ground and in the sky, exacerbated by old and often antiquated terminals, has created what a New York Times editorial aptly termed a conundrum: "New York City's airports are already strained beyond their limits and crying out for more flights to enhance their competition."
Against this backdrop, the Center for an Urban Future, a Manhattan think tank that focuses on economic development, this week will release a report that paints a grim picture of conditions in and around John F. Kennedy International and LaGuardia airports. Some steps are already being taken, but unless more is done, the report concludes, the aging of New York's airports could have a dire effect on the city's economy.
KEEPING UP WITH MIAMI
The problem is not that traffic into and out of the Queens airports has dropped but that it has not increased as much as at other airports, such as Newark, Miami International Airport and Atlanta Hartsfield International Airport. For example, in eight years, Kennedy has fallen from being the seventh busiest passenger airport to the country's 14th most active, the report says. In the same period, LaGuardia has dropped from 15th to 20th. Up until 10 years ago, Kennedy handled more cargo than any other airport in the world. Now, it is fifth.
Some of this, says the Center for an Urban Future's report, "On a Wing and a Prayer," which was written by research director Jonathan Bowles, is due to technological changes. Smaller aircraft can now fly longer distances, allowing airports such as Chicago O'Hare International, Miami, Atlanta and Newark to compete with JFK for international business.
But there have been political failures, too. In the center's view "Many of the airports' problems could have been averted if airport managers and local government officials had aggressively planned for the airports' future growth."
For his part, Mayor Giuliani charges that the Port Authority of New York and New Jersey, whose contract to run the airports goes until 2015, has used the money generated by New York's airports to upgrade facilities at Newark. The administration would like the Port Authority to vacate the lease and has reportedly been negotiating with BAA, the London company that runs Heathrow and Gatwick airports.
WHAT'S IN THE AIR
Much is at stake here. Some 47,000 people work at the two airports, and another 270,000 jobs throughout the city are airport-related. Overall, according to the center, "the airports' combined impact on the region is estimated to be $30.1 billion."
FIGHTING THE TRAFFIC
Key to all this is what the center calls "probably the least accessible airport in the U.S.": Kennedy International. With the roads the only way to get there, passengers must gamble on a drive from Manhattan that can take as little as 30 minutes or as much as two hours. The trip is worse for cargo, since trucks, barred from the Belt Parkway, must travel the jammed Van Wyck Expressway.
David Plavin, president of the Airports Council International-North America, has said that whether Kennedy can grow as a cargo airport will "depend on whether or not trucks can get in and out of the airport more easily than they can right now."
In an effort to alleviate the traffic, the Port Authority is building the $1.9 billion Airtrain. By 2001, it should take passengers from Manhattan's Penn Station to JFK in 45 minutes. The Airtrain will loop around the passenger terminals and then go to Jamaica where people will be able to switch to the subway or the Long Island Railroad.
But, the Center for an Urban Future says, "The ultimate goal must be a one-seat [no-transfer] ride between JFK and Midtown.
That, though, would require either building new tunnels under the East River or using the existing A subway line, which the Metropolitan Transit Authority has rejected.
TERMINAL PROBLEMS
Efforts are also being made to improve Kennedy's passenger facilities. A new 634,000 square foot Terminal 1 opened in May 1998, and another new terminal, which will replace the old International Arrivals Building, is scheduled to be finished in January.
But the problems surrounding freight facilities seem more intractable. Of JFK's 35 cargo building, 21 are at least 28 years old. Despite this, cargo carriers pay $25 to $30 a square foot for space at JFK as opposed to about $14 a square foot at the Miami and Atlanta airports. This has forced some small businesses to relocate warehouses to nearby Springfield Gardens, Queens, or to look far further afield.
Polar Air Cargo, a major all-freight carrier, recently gave up trying to find space at Kennedy and announced it would build its new maintenance hangar in Scotland. "The process for building things at Kennedy is a nightmare," a Polar official said. "In Scotland, the government got involved to support our development."
The city's Economic Development Corp. has selected a developer to build four new 170,000 square-foot cargo warehouses on a city-owned site adjacent to Springfield Gardens and near the airport.
But this does not address the need for more facilities at the airport where there is empty land and where, the center says, there are many vacant buildings that could be razed and replaced with new ones.
A BIRD, A PLANE, A TRAFFIC JAM
Air traffic delays in the U.S. rose 29 percent between August 1999 and August 2000. According to the Federal Aviation Administration, "One reason is the significant increase in flights at LaGuardia." Some 200 new flight have recently been added at the airport and airlines have been seeking hundreds more. In the wake of the recent figures about delays at LaGuardia, however, the airlines reportedly agreed not to add any additional flights until the Port Authority, and federal agencies, along with the passenger carriers, could come up with a solution to the congestion problem.
In its report, the Center for an Urban Future calls for modernization of the air traffic control system and recommends that Congress provide the Federal Aviation Administration with enough money to hire more and to better train air traffic controllers. But such measures, however laudable they may be, seem unlikely to be able to address the problem of millions of people all trying to get in and out of New York in a hurry.
BACK TO NEWARK
In the late 1930s, passengers flying into New York had to land at Newark. This so incensed Mayor Fiorello LaGuardia, who had a ticket marked "New York," that he refused to deplane--and began work on what is now LaGuardia Airport. It is ironic that 61 years after he dedicated that airport, many New York-bound travelers are, once again, landing across the river.
###
Check out the Commentary Archives!


$app = JFactory::getApplication(); $menu = $app->getMenu(); $menu_items = $menu->getItems('menutype', 'mainmenu'); var_dump($menu_items); * */ ?>