Waiting for the Cable Guy
By David Allyn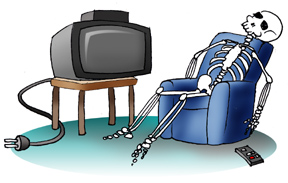 Something funny happened to television sets when cable came along back in the 1980's. They stopped working. I spent three hundred dollars for a new set last week. It's a beautiful objet d'art that takes up a good portion of my living room. The salesman persuaded me that it was far, far better than the other, cheaper set for some reason I can no longer remember. But when I plugged it in I got only snow. Ninety-nine preprogrammed channels of gray, fuzzy snow.
I called my local cable provider to "augment my service," or as we used to say when I was a kid, adjust the reception.
Alas, the cable company, like the telephone and electric company, is a utility, which is a fancy word for monopoly. I was informed that I would have to stay at home between the hours of 2 and 4 on a Tuesday to wait for the installation technician.
We live in the age of 24 hour a day delivery companies like urbanfetch and kozmo.com but utility executives still expect people to stay at home between 2 and 4 on a work-day.
I waited from 2 to 4. I watched out my window; I sat on my stoop. No customer service representative came anywhere near my apartment.
"He was there," said the operator on the other end of the line. "It's in the log."
"That's great," I said, "just what am I supposed to do now?"
Another technician would be sent. I would simply have to be at home between the hours of 12 and 4 on a Friday.
I think I'm going to start making plans with my friends as if I were a utility company. "Yeah, let's go out to dinner. I'll meet you at the restaurant between 6 and 11. If I don't show, just call this automated customer service line and follow the instructions."
I suppose utility company executives have wives who stay at home all day long waiting for the service representatives of other utility companies. Or perhaps they have maids. I'd get a maid if my boss gave me a raise. Unfortunately he resents the fact that I spend so much time at home waiting for customer service representatives.
(Forget Social Security and health care reform, somebody should run on a platform of requiring utilities to make evening appointments.)
Luckily, the appointed installation day turned out to be Yom Kippur, so I was able to sit in silent penance as I waited for my television to be blessed with a cable "box." (A $2.00 a month "box," no less, not to mention the $1.50 a month specialized remote). And lo, when the cable installer arrived, there was light.
Of course, I suddenly had many, many channels, two remotes, and a "box," but nothing worth watching.
Eventually I pared down my service to the most basic option: the four networks and my local PBS affiliate. So I now only have to pay $13 a month to watch channels that were once free.
A few nights ago I was walking down the street and found an old, black-and-white set left out with the trash. Not nearly as heavy as the colossus in my living room, it fit right under my arm. I carried it home and gave it a spot in my kitchen. When I plugged it in, the reception was colorless but otherwise perfect. I could even pick up a few UHF stations. Maybe cable company executives don't have stay at home wives or maids; maybe they just have TV sets that don't need cable.
###
Check out the Feature Archives!



$app = JFactory::getApplication(); $menu = $app->getMenu(); $menu_items = $menu->getItems('menutype', 'mainmenu'); var_dump($menu_items); * */ ?>