Graduating to Higher Standards at City University
by Herman Badillo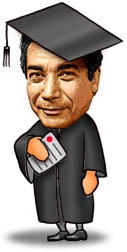 When I was in the U.S. House of Representatives, I found that we have a very conservative country. We could not get through Congress a bill to provide full employment for everyone or to provide housing for everyone. We could not get through Congress a bill to provide health care for everyone. But the one area where everyone agrees government has a function is education. The answer to the problems of poverty and inability to compete is education.
But in June 1999, the Mayor's Advisory Task Force on City University issued a report calling the university "an institution adrift." Since then, CUNY has become a university on the move, a vital and dynamic system serving the people of New York. More, though, remains to be done to help CUNY fulfill its mission to provide educational opportunity of the highest quality to all New Yorkers.
I graduated City College at a time when there were very high standards. I had come here from Puerto Rico when I was about 12 years old and I couldn't speak the language. City College opened new vistas for me and gave me the chance to move ahead. City University should be doing the same thing for today's generation of immigrants and young people.
Students look to City University for a quality education so they can compete with people who graduate from the other universities.
Colin Powell, a kid from the South Bronx, graduated from City College, served in the military at the highest levels with extraordinary ability and now has been nominated to become the secretary of state. Jonas Salk, a graduate of City College, discovered the Salk polio vaccine, saving millions of lives.
There are numerous other examples of alumni who made enormous contributions to their city and county. They were all kids who were poor, who had to work, but who received an education that prepared them for their accomplishments in later life.
The only difference today is that the overwhelming majority of students are black, Latino and Asian. The idea that we have to lower standards in order to accommodate today's student body is racist and outrageous. As a Puerto Rican, I think we can meet the same standards that everybody else met. We run complete societies in Puerto Rico and Latin America. There's no reason to believe we become dumber when we take a plane to New York.
Before I became chairman of the CUNY board, there were very severe problems at the City University. For example, Hostos Community College was going to graduate students who couldn't read or write English. Some senior colleges had students who were graduating with degrees that did not prepare them adequately for their fields.
In education, substantial numbers of graduates could not pass the teachers exam. Jim Traub, a New York Times reporter, sat in on remedial classes at City College and found that the professor passed everybody in the class because he felt sorry for them.
That kind of situation doesn't help the students. They don't go to City University to get a meaningless education. They want to get a good, marketable degree.
To accomplish this, we are now implementing many reforms. For the first time in three decades, CUNY has established an exit test for remediation. Our campuses are enjoying a dramatic facelift as a $1 billion five-year construction and renovation plan moves ahead.
I have established a leadership council of business executives, chaired by Association for a Better New York chairman Lewis Rudin, to make sure that students get from the City University what they need in the City of New York today.
Another one of my new initiatives was the establishment of a core curriculum for the City University. Like me, many of the people who go to the City University are immigrants from poor families who do not have the benefit of a rich cultural background. In many cases, they do not know much about the United States because they were not born here. Therefore, American history should be a required course. I also cannot understand how anyone can have a good college education today if they do not take some courses in economics or computer literacy.
Many of the problems that we had at CUNY and that we still have arose because of poor education in our elementary and secondary schools. We have developed a program known as "College Now" where CUNY professors work with the students while they are in high school. This year, Chancellor Harold Levy agreed to expand "College Now" to include students in the 9th grade, and we are implementing the program.
I would like us to work with students in junior high school as well in order to insure that every student in New York City graduates from high school and then can come to the City University. They would then not only be qualified to get a job but will also be able to have a meaningful life experience.
We want more funds from the state and the city so that we have more tenured professors who will be dedicated to teaching and scholarship and to working with the students to inspire them to stay in school. Right now, half of CUNY's teaching sections are taught by adjunct professors. CUNY needs a full-time to part-time staff ratio of 70 percent to 30 percent.
Now that we have higher standards it's easier to get support from the governor and the state legislature and the mayor and from the City Council. They feel that the City University is moving up and it's worth investing more money in it. For the first time in five years, our senior and community colleges have had substantial increases in the number of first-time freshmen enrolled.
The City University of New York used to be the Harvard of the poor. That's what we should continue to be. We are New York, the city of opportunity for immigrants, and the City University is the university of opportunity for immigrants.
Herman Badillo is chairman of the Board of Trustees of City University of New York.
###
Check out the Feature Archives!



$app = JFactory::getApplication(); $menu = $app->getMenu(); $menu_items = $menu->getItems('menutype', 'mainmenu'); var_dump($menu_items); * */ ?>