Cuts in Services, Threats to Civil Liberties?
by Jerrold Nadler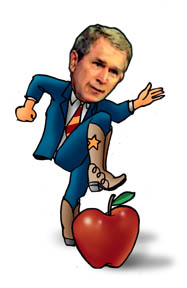 President George W. Bush has a distinct opportunity to truly govern across party lines, if that really is his desire. While I certainly am willing to give him a chance to come to Congress with proposals that will reflect a respect for all the people in America, including places that didn't vote for him, like New York City, I will not be holding my breath, either.
There is a very real possibility that our budget surplus could be squandered away on an elimination of taxes on those most able to pay it, such as the so-called Marriage Tax, the Estate Tax for the extremely wealthy, and the Capital Gains Tax, not to mention his across the board tax cut that is heavily weighed towards giving money to the richest Americans. And while those taxes are cut, we could see draconian cuts in programs that aid low-income Americans, such as legal services, and affordable housing programs that so many of the working poor rely on. In New York City, these programs are absolutely critical. Anyone in the City knows that we are in the midst of a crisis in affordable housing. In past Congresses, I have been moderately successful in obtaining funding for affordable housing programs in New York City. But that was because I had a White House and HUD Secretary Andrew Cuomo willing to work with me on those issues when the Republican Congress refused to. There is now both a Republican White House and a Republican Congress -- the first Republican Administration to enjoy a Republican-controlled Congress since Eisenhower. And although I will wait to see what President Bush proposes, I fear that, despite my best efforts, housing programs for traditionally Democratic urban areas could be the first thing to be cut.
In addition, I doubt it will be a priority of this Congress or President to implement even the most basic help for those on the bottom of the economic ladder, many of whom are in our cities all across America. President Clinton made a higher minimum wage and increases in the Earned Income Tax Credit a priority. These were nowhere to be found in President Bush's campaign proposals, and I would be surprised if he fought for them as President.
But, just as important as these economic issues, are issues that go to the very core of our civil rights and liberties. New York is one of the most diverse cities in the world, in terms of race, religion, and sexual-orientation. Equal protection under law, therefore, is one of the most preeminent concerns to New Yorkers. And it is in this that I see the most difference between the past administration and the current one. President Bush will need to make crucial decisions on these issues throughout his Presidency. He will need to decide whether to pay back those on the radical right who backed his campaign, or govern across the political spectrum, with a respect for our differences.
On the issue of choice, President Bush will be making key decisions on a ban on Partial Birth Abortion, severely decreased funding for international family planning, and the Child Custody Protection act, which will severely limit a woman's right to choose by making it criminal to take a minor to a state where there are no parental notification laws if she lives in a state that has such laws.
We could very well see Bush and the Republican Congress take up a School Prayer Amendment, or at the very least, mandate that public places post the Ten Commandments.
Representing one of the most active and vibrant gay and lesbian communities in the world, I know how important equal rights for gays and lesbians is to the City of New York. Equally, I know how dismal the record of the Republican party is on these issues, and how even more pathetic is the record of President Bush's cabinet on these issues. Meaningful Hate Crimes legislation could move through this Congress with the Senate now split 50-50. This legislation would provide much-needed Federal resources to investigate and prosecute violent crimes that target people based on race, religion, or sexual orientation. The legislation, polling has shown, is supported by a majority of Americans, and certainly by an overwhelming majority of New Yorkers. The record has shown that then-Gov. George W. Bush vetoed similar legislation in Texas. Many on his cabinet - including John Ashcroft - oppose it. I fear that on this, and other issues of importance to our gay and lesbian community, we will lose.
Less publicized, but equally important, is where this Administration will stand on counting the census. In the past, the sampling method used has woefully undercounted people, which has not only pulled extraordinary amounts of social spending from New York City, but has also skewed how people are represented across America. Unfortunately, it is the minority community that has been hurt the most, and continues to be under-represented in the democratic bodies in this nation. President Clinton was dedicated to having a non-partisan panel review methods of gathering more correct statistics for the census so that we could fix the problem of the undercount. However, the incoming Secretary of Commerce, Don Evans, who would advise Bush on this issue, has voiced opposition to even studying the problem. Should there be no study of the problem with census counting, it will be impossible to come up with a fair solution. Then, minorities in New York will continue to be under-represented.
The list goes on and on. From school vouchers that would pull funding from the already underfunded New York City public schools to massive cuts in unemployment benefits to the end of the Social Security guarantee that so many of our current and future seniors depend on, there are many ways that a Bush Presidency and Republican Congress can hurt New York City.
However, this is pure speculation. It does not have to be the end result. We can head many of these policy proposals and budget cuts off at the pass. It will take Democrats in Congress holding firm to our traditional ideals. It will take those Representatives from the city, and Senators Schumer and Clinton sticking together in safeguarding New York against many of these cuts and policy changes. And, most important, it will take you, the citizens of New York, speaking out loudly and visibly on the issues you care about most.
Jerrold Nadler is a member of the House of Representatives, representing the Eighth Congressional District in New York City.
###
Check out the Feature Archives!



$app = JFactory::getApplication(); $menu = $app->getMenu(); $menu_items = $menu->getItems('menutype', 'mainmenu'); var_dump($menu_items); * */ ?>