A President for New York
by Robert Straniere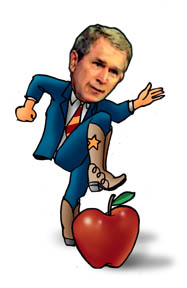 The Presidency of George W. Bush will benefit the State and City of New York. His tenure will not reek of illegitimacy, and there will be no more partisan legislative gridlock than usual. The strengths he has shown will surely be put to the test - his ability to unite people in order to get things done. But it is my belief that he will work with both parties, ignoring the rhetoric, and see through to what counts.
So how will he be of service to New York? Four words: federal assistance, local control. Decisions about New York will be made in New York. One of President Bush's defining political beliefs and a key component of Republicanism is the idea that states and localities understand their needs and concerns better than the federal government ever could. Control should be de-centralized, de-federalized. The role of government is not to decide, but to support. The needs of our city and state differ in every conceivable way from the other states in this country. Who better to decide for us, than us?
The Bush Cabinet appointees are beneficial for New York. Secretary of State Designee Colin Powell is a New Yorker. His military service and commitment will prove invaluable as he navigates the difficult terrain of international relations. Environmental Protection Agency Director Nominee Christie Whitman has a keen understanding of the environmental issues facing the tri-state area, while keeping the best interests of the economy in mind. Native New Yorker George Tenet was appointed by President Clinton to head the C.I.A. in 1997 and President Bush is keeping him at that post. He is now the number one intelligence officer in the United States Government with a seat on the National Security Council and control of the US intelligence community whose budget is estimated at 30 Billion dollars a year.
President Bush has focused on education, and the problems facing American schools today. The appointment of Rod Paige as Education Secretary proves his understanding of what it is going to take to turn it around. Mr. Paige has done in Houston what no one has been able to do in New York City, get attendance and test scores up, while pushing violence down. Public schools can perform at a higher level when accountability exists, when talented teachers come and stay in schools, and when the children are motivated, challenged, and kept under control.
The best baseline for judging policy is one's bottom line. Economic downturn looks like a possibility, and in a city where finance is the name of the game, we want to know what is coming next. The tax cut planned by the Bush administration seeks to lessen the effect of a slowing economy. More money in your pocket means consumer spending stays up, consumer spending means jobs need to be filled, and a healthy employment rate means more people with more money in their pocket. In addition, the goals of eliminating the Marriage Penalty and action to reduce the Estate Tax have obvious benefits for New Yorkers.
An ardent belief in the sovereignty of states. A cabinet with strong New York ties. A commitment to education. A plan to continue the growth of an economy into the 22nd Century. A firm belief that New York should govern itself. The Bush Administration will benefit New York.
Assemblyman Robert Straniere, a Republican, represents the 61st Assembly District, the South Shore of Staten Island.
###
Check out the Feature Archives!



$app = JFactory::getApplication(); $menu = $app->getMenu(); $menu_items = $menu->getItems('menutype', 'mainmenu'); var_dump($menu_items); * */ ?>