Keeping Our Economy Strong, for Everyone
by Alan Hevesi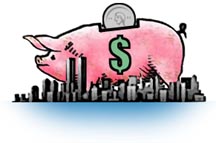 As Comptroller, it's my job to ask what's next for New York City's economy. The local economy has been a very strong job-creating machine, growing at an exceptionally high 5.4 percent rate in 2000. As of November 2000, the city had 3.7 million jobs, three percent more than the peak before the last recession, which ended in 1992. However, at the end of 2000, job growth slowed, partly in response to stock market declines and rising interest rates.
At the national level, the Federal Reserve is cutting interest rates to keep the national economy growing. Interest rate cuts reduce the cost of borrowing and thus encourage businesses to invest in new buildings and equipment and encourage consumers to spend on housing, cars and other items. But the city itself can and should take steps to encourage economic growth and reduce the impact of national and international ups and downs.
When it comes to our economy, city government faces two challenges -- instituting policies that make growth permanent to keep our economy producing more jobs, and ensuring that all New Yorkers have the opportunity to participate in that growth.
TAX CUTS FOR BUSINESSES
To encourage continued job growth, the city should take steps such as targeted tax cuts, removing barriers to the development of new industries and improving all forms of transportation.
Targeted business tax cuts, especially taxes that are unique to New York City, were one factor in helping encourage growth here. There are more cuts that should be made.
Only in New York City do businesses pay a tax on the rent they pay. This tax has been abolished except for large companies in Manhattan. Now, we should get rid of it completely.
A special type of small company called a subchapter S corporation is appropriately not taxed by either the state or federal governments. But these companies are taxed by the city. That just pushes such companies to locate elsewhere.
We should level the playing field among industries, ending the differences in tax rates. For example, bank income is taxed at a different rate than income of other corporations. Utilities are taxed on gross receipts and not income. Measures that reduce the cost of electricity and communications are especially important for keeping and attracting high tech companies.
Now, large manufacturing companies pay taxes to the city government based on the number of employees they have in the city, the amount of capital invested in the city and sales generated in the city. Taxing jobs and investment discourages these companies from growing in New York. Instead the City should tax them only on sales.
KEEPING AND ATTRACTING MANUFACTURING, SOFTWARE, FILM
New York City has 300,000 manufacturing jobs and we should work to keep them and attract the high-value-added and time sensitive manufacturing that makes sense in this area. One key step is reviewing zoning laws to preserve affordable space for manufacturing that can compete in New York.
We also should study the needs of new industries and make sure that we remove barriers that keep them from coming and growing here. My office did a study of the software industry and cooperated on one on the film industry. We found that both industries have a bigger impact on New York City's economy than previously thought and we developed concrete suggestions for making New York even more attractive to them. Steps have also been taken to draw the biotech industry to the City and more must be done.
THE 'CRIME TAX' AND THE 'CONGESTION TAX'
Reducing crime has helped business in many ways, making New York a more attractive place to live, work and visit. The result is a cut in the "crime tax," the additional costs that crime imposes on businesses. Now it is time to cut the "congestion tax," the additional costs resulting from the fact that it is difficult and slow to move people and goods around the metropolitan area. That includes expanding and creating better links between existing mass transit, improving mass transit to all the area airports, improving the airports themselves and finding better ways to move freight. We ought to create a regional pact between state, county and municipal governments in the New York Metropolitan area to solve common problems, such as extending mass transportation and making much-needed infrastructure repairs.
SHARING THE BENEFITS
Just as important as ensuring continued growth is ensuring that all New Yorkers share in the benefits. The City has had enormous job growth over the last eight years, but sadly, too many were excluded. Though the unemployment rate has come down from the peak of more than 11 percent, it is now the second highest among major American cities. We must ensure that job growth benefits all New Yorkers.
Education is the key route to economic opportunity in New York City where our key industries are based on brainpower and creativity. Massive reforms are needed to make our City's public schools the best urban education system in the country and help prepare our students for the workforce. There should be links between schools and companies, like the one created by Cisco to train students in the latest technology, so that curriculum can be tailored to the needs of the job market. Links should also be established between community colleges and industries so students learn the latest skills.
Creating more affordable housing is also important. Many companies say they have trouble recruiting topnotch workers because it is difficult for employees to find a place to live.
Other goals must include encouraging more entry-level jobs such as in large retail stores, providing more childcare, making reverse commuting easier to open suburban jobs to City workers, and continuing to make the City attractive to immigrants who keep the economy vital and growing.
If we implement these and other creative policies that combine efficiency with equity, we can look forward with some confidence to a City economy that will continue to outperform the nation's, and continue it's reign as the leader of the global economy.
###
Check out the Feature Archives!



$app = JFactory::getApplication(); $menu = $app->getMenu(); $menu_items = $menu->getItems('menutype', 'mainmenu'); var_dump($menu_items); * */ ?>