Making Room for Arts
by Richard E. Mooney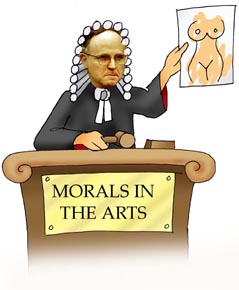 Play It By Ear, which styles itself as "an improvizational opera company," is looking for performance space to share. A.R.T./New York, an alliance of more than 400 non-profit theatrical companies, may be able to help.
The needs of small groups like Play It By Ear, and the services of established networks like A.R.T./New York came face-to-face last Wednesday evening at a forum sponsored by the Arts & Business Council entitled "2001: A Space Crisis?" The premise was that the proliferation of small theatrical companies and soaring rents for commercial space are forcing small theater and dance companies to shut down, or at least curtail their activity.
"The theater arts will create theater anywhere they can, because it's an impulse," said Virginia Louloudes, executive director of A.R.T./New York and a forum panelist. They won't be stopped by high rents or, she added, "decency commissions" -- a mild jab at Mayor Rudolph Giuliani's latest idea for stamping out art he finds offensive.
Nonetheless, Gary Steuer, president of the council, said that space problems are falling disproportionately on small groups, and noted that the council's own office rent in Manhattan had tripled in the past few years. He pointed out that performers are affected personally. Apartment rents are high and rising, out of reach for many young actors and dancers who want to come to New York. And, for those already here, as soon as they move into and revitalize a low-rent neighborhood it becomes gentrified and unaffordable.
Well over 100 groups were represented at the forum, held in the new Graduate Center of the City University - the old B. Altman's Fifth Avenue - and sponsored by the Metropolitan Life Foundation. It offered information and ideas for reducing the space crisis, if not resolving it - for example, free listings for groups like Play It By Ear in A.R.T./New York's biweekly newsletter for members, where it posts notice of spaces available and spaces needed. The non-profit Coordinating Committee for New York City compiles a similar listing.
At several levels panelists observed the lack of constructive city policy supporting the arts. Kinshasha Holman Conwill, former head of the Studio Museum in Harlem heads a project putting together "A Cultural Blueprint for New York City." It will outline the city's artistic potential and show "the benefits of having arts around," she said, for the particular edification of the new mayor and mostly new City Council members to be elected in November. Paul G. Wolf, a real estate consultant steeped in experience with non-profits, suggested tax abatement for buildings that provide space for a non-profit group's office. Also mentioned was the concept of official city zoning to establish cultural districts with incentives for siting cultural institutions - a powerful idea, but still a dream.
Meanwhile, the BAM Local Development Corp. is trying to launch such a district on its own. Organized in 1999 by Harvey Lichtenstein, when he retired after 32 years as president of the Brooklyn Academy of Music, the corporation aims to transform the Fort Greene area around the Academy of Music unofficially. It has already helped Twyla Tharp establish new quarters in the neighborhood for her famed dance company. Lichtenstein said the development group is thinking of building a dance center in the neighborhood; the new rehearsal space on West 42nd Street "doesn't touch the problem," he said.
The existence of a cultural district beyond the bulging precincts of Manhattan "really extends New York," Lichtenstein said. He hopes the BAM district will serve as a model for other areas; he mentioned Harlem in Upper Manhattan and Long Island City in Queens. But, counter-productively, non-profits are not eligible for the city's Real Estate Assistance Program (REAP), which awards companies that move from midtown and lower Manhattan to Harlem or the other four boroughs.
A.R.T./New York - the acronym stands for Alliance of Resident Theaters - has also launched a Brooklyn extension, also in Fort Greene. The alliance recently purchased a five-story building there to house 20 small theater companies in subsidized quarters with shared copying and fax machines, common coffee makers, gallery space and, also at subsidized rates, three rehearsal studios.
###
Check out the Feature Archives!



$app = JFactory::getApplication(); $menu = $app->getMenu(); $menu_items = $menu->getItems('menutype', 'mainmenu'); var_dump($menu_items); * */ ?>