Balancing Development And The Environment In The South Bronx
by Majora Carter March 19, 2001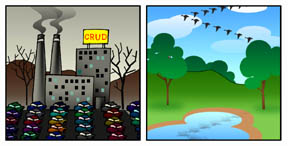 When one thinks of the South Bronx, pastoral shades of green are not the first thing to come to mind. It is more common to think in shades of brown.
The South Bronx is a community of color. We are predominately Latino and Black and extremely poor. Often, the combination of being poor and of color in our society can lead people to believe that they are powerless and voiceless. So much so, that we mistakenly believe that there is nothing we can do or say to prevent being targeted to bear the environmental burdens that wealthier and whiter communities have the political clout to avoid.
For years in the South Bronx, we have watched as waste transfer stations (the places where the garbage trucks bring the garbage) were allowed to move into our neighborhood as if they owned it. We watched as diesel trucks idled on our corners and barreled down residential streets as if they were interstate highways. We watched as our children developed one of the highest asthma rates in the world. Eventually, we got tired of watching and decided it was time to plan.
There is a saying, "A community does not plan to fail, it fails to plan." In that sense, our work has just begun.
I was not surprised when the mayor recently announced a plan to move the Fulton Fish Market from Lower Manhattan to Hunts Point. Imagine all of the high-end development that will be built in Lower Manhattan where the fish market once was. However, it is just another example of the city moving something deemed undesirable out of sight and out of mind and into a poor neighborhood of color.
When the City and State of New York decided to close the Fresh Kills landfill, officials proposed the South Bronx as the site for more than 40 percent of the city's municipal waste. But our community has its own plans for the South Bronx. They include mixed-use developments, an ecology center, a cafe, canoeing, and greenways.
This is bound to happen again and again. That is why I have launched a new project called the Sustainable South Bronx to ensure that the needs and concerns of those who live here are part of the planning process.
GROWING UP IN AN ENVIRONMENTAL JUSTICE COMMUNITY
I was born and raised in Hunts Point, a peninsula in the south easternmost section of the South Bronx. I did not mind living in a poor neighborhood. When I was young it was a very close-knit community, I had "extended family" on every other block. I loved the fact that almost everyone in the neighborhood was either Black or Puerto Rican; it seemed to me that there was a deep bond that existed between the two cultures.
But in the late 1970's and early 1980's, I watched as my neighborhood burned down around me. Arson seemed as commonplace as stickball games. Businesses divested from the community and property owners abandoned their buildings. Many of the families that were once the most important part of the beauty of my community were uprooted, or left for safer pastures.
Though I never feared for my personal safety, I was aware of the hostility and sickness that wandered the streets around me. I knew that "crack was king," that teenage single motherhood was epidemic, that many of the young men that I grew up with would spend time in a correctional facility. My parents, especially my mother, were extremely protective of me; they had no intention of their bookish daughter becoming a "statistic." They encouraged me to "be somebody" and to respect the legacy of the Black American struggle. I had visions of what life would be like for me when I grew up —– and got out of the South Bronx. I tried to create a path that would take me and keep me far, far away from the South Bronx.
It never occurred to me that almost thirty years after watching the apartment buildings on my block burn down, I would return to help to transform the community that I had been determined to leave.
The South Bronx is one of the poorest areas in the country, half of the people who live there, live at or below the poverty line. We are constantly fighting for a breath of fresh air, because major concentrations of industries such as the Hunts Point Market, the world's largest food distribution site, are located in our community. Diesel emissions from trucks have been shown to aggravate many upper respiratory illnesses, especially asthma. One out of every three of our children have been diagnosed with asthma, and the childhood asthma hospitalization rate in our area is 12 times the national average.
The South Bronx is also home to more than thirty waste transfer stations, handling approximately 40 percent of New York City commercial waste, and to sewage treatment plants that assault our air quality with odors and windblown debris.
GREENING THE BRONX
We are also one of the areas in New York City most severely in need of the air-cleansing benefits of green open space and trees. The city's own guidelines recommend 2.5 acres of open space per thousand residents, yet the South Bronx has less than half an acre per thousand people and much of that open space is asphalt or concrete.
Out of the six miles of waterfront that surround the South Bronx, less than three hundred feet is publicly accessible. Antiquated zoning regulations have traditionally been used to justify the burden placed on our tiny community. Our community has shouldered more than its fair share of environmental burdens that resulted in little if any environmental benefits for the community itself.
Since 1997, I have worked for The Point Community Development Corporation, a not-for-profit neighborhood organization dedicated to youth development and the cultural and economic revitalization of the Hunts Point community in the South Bronx. We have been at the forefront of a campaign for open space and waterfront development, and against the proposed privatization of municipal waste.
We knew that our battle in the garbage wars would require assistance from everyone in our community, self-declared environmentalists or not.
It was a frightening period for us. It seemed as though the governing powers of our fair city had no desire to acknowledge, let alone investigate, the lack of equity that our neighborhood had experienced, even though the Environmental Protection Agency accepted our formal complaint that we had been disproportionately and negatively impacted by the proliferation of waste transfer stations in our area.
Fortunately, we realized that we were not alone.
NEIGHBORHOODS WORKING TOGETHER
We joined in solidarity with the few other areas like Red Hook, Sunset Park, Williamsburg, and Greenpoint that were struggling with the same issues.
Each area had two things in common. First, we were all predominately poor communities. Second, we realized by working together, we were able to encourage the city and state to reconsider their solid waste management plans to include a more equitable approach to waste handling, which called for each borough to become self-sufficient.
Through a collaboration with community groups and our elected officials, we were able to convince the administrative law judge who presided over the hearing that building waste transfer stations in Hunts Point would have major negative impacts on the community. Unfortunately, last month, former New York State Department of Environmental Conservation Commissioner John Cahill issued an "interim" overrule of the judge's decision. We are now investigating our options.
From fighting in the garbage wars, we learned how to react effectively in an openly hostile environment. We learned about a provision in the City Charter Revision, known as the 197a plan, that allows people from a community to have a say in the future development of their own neighborhoods. We realized we could and should propose our own development projects. And in my neighborhood, these projects would be connected to the restoration of the Bronx River, which is the only freshwater river in the city. And it flows right in front of us!
THE FUTURE OF THE BRONX RIVER
With seed money from the Parks Department, The Point spearheaded the transformation of an abandoned street end into the Hunts Point Riverside Park on the Bronx River.
It was the first waterfront park in our neighborhood in sixty years.
By teaching our neighbors basic water safety, plant identification, paddling and rowing, and a host of other skills, we aim both to create and to nurture our future urban forest.
Since a good portion of the South Bronx and most of its waterfront is brownfield land, The Point is a member of the Brownfield Coalition. The coalition is a community development approach to brownfields and Superfund reform in New York State. We proposed a mixed used waterfront development project, called City River, designed to bring businesses to the table with the residential community to explore how we could bring environmentally friendly development to Hunts Point.
City River has a farmers market stocked with produce from the Hunts Point Market, a bike rental shop, an ecology center, a cafe, a canoe rental shop, and linkages via a proposed waterfront greenway that would connect the South Bronx to Randall's Island, one of the largest parks in the city.
Late last year, The Point helped form The Southern Bronx River Watershed Alliance with a half dozen other groups, from We Stay/Nos Quedamos to the Pratt Institute Center for Community and Environmental Development. We hope to address environmental discrimination and to help promote the rebirth, economically and socially, of the Bronx River.
But unless there is a clearly articulated vision, the planning process will become little more than a hopeful anecdote in the history of the community.
That is why the Watershed Alliance identified a practical project to tackle. We call it the Cement Plant Project.
This former cement plant lies rusting and fallow along the western shore of the Bronx River. The site, which takes up ten acres, has been derelict for years . But the city owns part of it, and last year, a portion of it was transferred to the Parks Department.
Next to the cement plant is one of the oddest highways in America, the Sheridan Expressway. It was never finished, and is rarely used. Its main function seems to be to block pedestrian access to the Bronx River. The Sheridan Expressway is 28 acres of land that, if closed as a roadway (or "decommissioned") could be added to the ten acres of the cement plant. Whether these 28 acres will be used for housing, or businesses, or a park, or a mix, the community of the South Bronx, my community, will not fail to make plans for this land, and the Sheridan Expressway will finally take us somewhere.
Majora Carter, a native of the South Bronx who graduated from Wesleyan University, works for The Point.
###
$app = JFactory::getApplication(); $menu = $app->getMenu(); $menu_items = $menu->getItems('menutype', 'mainmenu'); var_dump($menu_items); * */ ?>