Should We Miss Them?
by Lenore Chester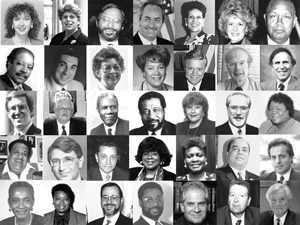 New Yorkers have been warned over and over by term-limited members of the City Council that the November 2001 election will usher in a period of political chaos. Newly elected legislators will be woefully ignorant of legislative history; institutional memory will be a thing of the past. The executive bureaucracy and staff (including the Council's own staff) will gain in influence. Oversight of mayoral agencies will suffer. The big loser will be the people of New York.
Do the facts support that scenario?
Not exactly.
For one thing, 16 members of the City Council were elected after 1993. None of them will be term-limited out of office and most will be seeking reelection this year. They are a diverse group racially, ethnically and politically. When they were first elected, they themselves were left to more or less shift for themselves. They were forced to learn on the job, and they did so. True, they may have been uninformed about the Uniform Land Use Review Process, the intricacies of budget modifications, or even how to set up a district office, but they soon found their footing. Most of them had, after all, resumes that included time spent as legislative aides, community activists, and members of local school and community boards.
A preliminary review of candidates in the November 2001 election similarly includes many with extensive legislative and community experience. Al Vann (running for election in the 36th Council district), for example, is an experienced, incumbent member of the state Assembly. On the downside, it appears that the major qualification for other candidates expected to run in the September primary is their familial relationship to current members of the Council. We can anticipate, therefore, that the class of 2002 will include: a goodly number of qualified and thoughtful members; a few shouters who use an aggressive stance to cover up for a lack of confidence and/or fresh ideas; some who will wander quietly and intermittently in City Hall having decided to spend much of their time in their districts on constituent service or on their second jobs; and a small number of absolute clunkers. In other words, they will be much like the current City Council, and like myriad others throughout the United States.
So can we expect chaos when 35 new members are seated in 2002?
Early confusion definitely; chaos probably not. Much depends on how well the transition is managed. Since most races will be decided in the September Democratic Party primary, there will be at least three months to prepare the freshmen for office.
Will the staff take over?
It already operates more behind the scenes than incumbents care to admit. Who do you think prepares all the briefing papers, researches issues, writes the legislation, and organizes the hearings right now?
Will there be a loss of institutional memory?
Yes, but that can be mitigated by a well-planned and organized transition. Besides, there is much to commend a fresh and new look at issues that have bedeviled the Council for decades.
Will some Council members forced out by term limits be missed?
Yes! A precious few. But no one is truly indispensable in the Council (or elsewhere for that matter).
Will the executive branch overpower a legislative branch weakened by term limits?
We don't really know, although some checks and balances were written into the charter by the 1989 Charter Revision Commission. The Council, for example, was given greater responsibility over budget and land use than it had earlier. And much may depend on who is elected mayor in November. The Democratic-majority City Council rarely disagreed with the last Democratic mayor but fought his Republican successor tooth and nail over many issues - and often won by successfully overriding mayoral vetoes. Changes in the campaign finance law and in the way homeless shelters were administered (Local Law 57 - 1998) were accomplished in this way.
To help readers decide for themselves just how traumatic the transition to a largely inexperienced City Council may be in January 2002, it is perhaps useful to review the work of the term-limited members now in office.
One traditional way to evaluate legislators is to check their voting records. How did they vote on the budget? On controversial land use issues? On welfare reform? On taxes? But in the New York City Council, bills are passed by lopsided majorities. There is rarely any dissent since the Speaker does not permit any Intro to come up for a vote unless he knows the outcome in advance. Most recently, for example, Speaker Vallone postponed a vote on the override of the mayor's veto of the 4 to 1 public campaign financing bill because he feared he did not have the votes. Two weeks later, with lots of arm-twisting, the override passed by a vote of 40 to 6, with two abstentions and three absentees.
It is also difficult to evaluate legislators on the work they do in their districts when viewed from the balcony in the Council chamber. Members of the Council invariably point to the vast amount of time they devote to constituent service. There is little reason to doubt their claims since constituent service provides the photo ops essential to re-election. Whether the time spent translates into better service delivery for the residents of the district, is something else again.
We can, however, judge incumbents on their performance in the committee rooms and in the Council chamber at City Hall. Take attendance! It is rare for all 51 members of the Council to be present at Stated Meetings, which occur about twice a month. At committee hearings where the legislative and oversight work of the Council takes place, attendance too, can be a sometime thing. Heavy reliance of committee members on the expertise of the committee chair and/or its staff enable some to pop in for a few minutes, ask a poorly timed question (generally staff generated), get their attendance taken and move on. Some appear oblivious to the notion that legislators have responsibilities to the larger civic community - the borough and the city - and rarely get involved in any debate or discussion on that level. While politically connected in their own communities (they do get re-elected after all), they are often silent at City Hall.
Time spent in the district and on their second jobs clearly takes its toll.
What follows is a personal and subjective district by district evaluation of those members of the Council who will be forced out of office on January 1, 2002. Whether their leaving will result in the chaos promised by opponents of term limits is for you to decide.
District 1. Kathryn E. Freed has a solid record of working hard and successfully for her constituents in this very diverse district. In the Council, however, she often appears somewhat removed and unfocused despite being chair of the important contracts committee.
District 6. Ronnie M. Eldridge, one of the Council's smartest and most liberal members, spent many years fighting the leadership, much to the detriment of her own position (she was once removed as a committee chair) and possibly that of her district.
District 7. Stanley E. Michels is a font of institutional memory and a hard-working chair of the committee on environmental protection. He is very much a conciliator and worked well with the different constituencies in the watershed communities during the difficult negotiations leading up to the watershed agreement.
District 10. Guillermo Linares, the first Dominican-American member of the Council to represent that Washington Heights community, is an engaged member of the Council. His questions and comments at committee hearings indicate a broad interest in city affairs - well beyond those that just affect his district.
District 11. June M. Eisland is chair of the powerful land use committee and a member of the Council's "leadership." Although the land use subcommittees appear to function fairly independently, one can be sure that final determinations of difficult land use decisions heard by the full committee are well vetted by Eisland and Speaker Vallone.
District 12. Lawrence A. Warden is quiet, dignified, and well-spoken on the very few occasions at which he contributes to any discussions or debate. He has recently been made chair of a relatively new committee, though, and so may participate more.
District 16. Wendell Foster, a minister of a Bronx church, can be an eloquent speaker, but he generally reserves his comments for issues regarding civil and human rights. He seldom participates fully in committee hearings other than the ones he chairs: parks, recreation, cultural affairs and international intergroup relations.
District 18. Lucy Cruz' attendance at either Stated Meetings or committee hearings is very much hit or miss - mostly miss. When she does appear in City Hall, she speaks up loudly and clearly; thoughtfulness is not her strong suit.
District 19. Michael J. Abel, in his early years as a legislator, was a thoughtful, generally conservative, and involved member of the Council. More recently, he has quieted down, asks fewer questions and offers fewer comments. Time spent as a member of the Republican minority and, even there, as the odd man out, must be wearying.
District 20. Julia Harrison has long been out of touch with her constituents. She never came to terms with the demographic changes that made her district largely Asian. Only the power of incumbency and the fact that so many of her constituents are not yet citizens and cannot vote has saved her career.
District 21. Helen M. Marshall's long legislative experience in the Assembly and in the Council shows. She is smart, knowledgeable and almost always worth listening to.
District 22. Peter F. Vallone, the Speaker, is indeed the star of the Council. He had the vision and toughness to bring the Council from its early pre-Charter revision weak and "rubber stamp" state to a body closer to "equal partner with the mayor" status. He has never hesitated to squash independent-minded Council members by withholding top committee assignments and/or dollars for their districts.
District 23. Sheldon S. Leffler knows his stuff and is one of the Council's smartest committee chairs and members. He can be independent-minded but until very recently rarely voted against the leadership. As soon as he did, his public safety committee was stripped of some of its responsibilities.
District 24. Morton Povman, the senior member of the Council, appears disengaged from the Council's day to day operations. Still, he does attend almost all Stated Meetings, is around when he has to be, and runs an efficient district office.
District 25. John D. Sabini, energetic, intelligent and often willing to shake up the Council's traditional thinking on issues, is a distinguished and refreshingly independent member of the Council.
District 26. Walter L. McCaffrey is hard-working, highly articulate, and a knowledgeable chair of the land use subcommittee on zoning and franchises. His comments in debate or at committee hearings are generally substantive and to the point.
District 27. Archie Spigner, outwardly unflappable, smart and pragmatic, knows how to get things done in the 51 member Council. His talents as a conciliator and negotiator, however, have led some to charge he has not been tough enough on the builders and developers he deals with as chair of the committee on housing and buildings.
District 28. Thomas White, Jr. runs large drug treatment centers when not working as a legislator. This may explain his general lack of involvement at City Hall. Being a member of the Council is, for him, very much a part-time job.
District 29. Karen Koslowitz may be effective in her district, but is a lackluster member of the Council and chair of the consumer affairs committee.
District 30. Thomas V. Ognibene speaks for the Republican minority, often in defense of mayoral policies with which almost everyone else in the Council chamber disagrees. He is intelligent, articulate and often eloquent, and appears to relish his run-ins with his more liberal colleagues.
District 31. Juanita E. Watkins is an experienced, thoughtful advocate for her district. She often offers useful and pragmatic ideas about what is needed for both her constituents and other lower middle class communities in the city.
District 32. Al Stabile, a member of the Republican minority, would probably describe himself as a "compassionate conservative." Not a naturally articulate debater, he can be counted on to rise to the defense of working people, especially the uniformed services.
District 33. Kenneth K. Fisher's political pedigree has long marked him for distinction in the Council. He is smart, runs the youth services committee with imagination and sensitivity, and has a broad ranging interest in city affairs.
District 34. Victor L. Robles, energetic, tenacious and a real presence in City Hall, is a member of the Council's "leadership." While often tough on commissioners who appear before his committee (now health; youth services in the past), he makes a real effort to learn about the agencies over which he has oversight.
District 35. Mary Pinkett, sometimes pugnacious, can be tough on administration officials as well as on members of her own governmental operations committee. A major opponent of term limits, she loses few opportunities to remind observers of its downside.
District 36. Annette M. Robinson, intelligent, articulate and often angry, could have been more effective at City Hall with a broader vision of her mandate as a member of the Council. She works hard for her constituents and appears to see that as her major responsibility as a legislator.
District 37. Martin Malave-Dilan, all too often silent at committee hearings and Stated Meetings, appears to lack the energy that could have made him a more effective member of the Council. He is nevertheless well known and politically connected in his community and we must presume that's where his true interests lie.
District 39. Stephen DiBrienza is a long-time chair of the general welfare committee and a passionate opponent of almost all of the mayor's initiatives on welfare, AIDS and homeless services. He has been the bane of the Giuliani administration. Few know more about the city's welfare programs than he does.
District 40. Una Clarke impressed observers early on as an energetic, articulate and intelligent advocate for her largely Caribbean district. She has been less attentive recently as she has sought higher elective office and other career opportunities.
District 42. Priscilla A. Wooten is chair of the education committee which has been less aggressive in its oversight of the Board of Education and the education lobby than it could have been. She has angered some because of her relatively close relationship with the mayor; others see her action as benefiting her district.
District 44. Noach Dear can be a rough and tumble politician and often lacks the subtlety and imagination required of a legislator in the complex area of transportation over which he has responsibility.
District 45. Lloyd Henry, highly regarded in his district, is a quiet but only marginally involved presence in the Council chamber and at committee hearings. He also serves as a minister of a large congregation in Brooklyn.
District 46. Herbert E. Berman, chair of the all important finance committee, Mr. Berman is one of the Council's most knowledgeable and experienced members. He is conscientious in his City Hall duties and a natural negotiator.
District 47. Howard L. Lasher, a former member of the state Assembly, maintains a fairly low profile in the Council. He is a subdued participant in the committee hearings he attends and, despite his legislative experience, offers few comments and/or fresh ideas.
District 49. Jerome X. O'Donovan, a credible if uninspired chair of the economic development committee, works hard with other Staten Island legislators to represent the interests of that borough in City Hall.
Lenore Chester, the retired associate director of Citizens Union, created Searchlight on the City Council and edited it for more than a decade. The views she expresses are her own.
###
Check out the Feature Archives!



$app = JFactory::getApplication(); $menu = $app->getMenu(); $menu_items = $menu->getItems('menutype', 'mainmenu'); var_dump($menu_items); * */ ?>