Not All Black And White
by Howard Jordan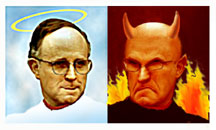 To some New Yorkers, Rudy Giuliani is viewed as the mayor who saved the City of New York. Gone are the race riots against Hasidic Jews, the aggressive panhandling by squeegee operators, and the visible presence of low-level drug offenders, the homeless, and welfare cheats. Crime is down and the economy is booming. What more could anyone want?
But people living in communities that include Harlem, Bedford-Stuyvesant, the South Bronx, Jamaica and South Ozone Park see a different legacy. Giuliani is the conservative without compassion. In a whole range of issues, he has targeted New York's poor and its citizens of color, and made life more difficult for us.
THE POLICE STATE
Rudy Giuliani has worsened racial relations in the city of New York, and nowhere more obviously than in his policies and pronouncements regarding the police. He has defended police abuse, police harassment, and in some cases even police murder as somehow a necessary tradeoff for the lowering of crime.
The U.S. Attorney General found the New York Police Department under the Giuliani administration to have engaged in "racial profiling," unjustifiably stopping and frisking citizens of color. According to the 2000 annual report of the Civilian Complaint Review Board, cops were more likely to use physical force or pull a gun on blacks during stop-and-frisks than on whites. Police allegedly used force to detain 45 percent of the blacks who complained during stops, the report said, compared to 25 percent of whites. Blacks also lodged 63 percent of the civilian complaints about such street pat downs even though they constitute just a quarter of the city's population.
The New York Police Department's policy of regularly strip searching people arrested on misdemeanor charges cost the city $50 million four months ago to settle a class action lawsuit involving 63,000 people illegally searched in Manhattan and Queens.
Even more troubling is the proliferation of incidents of police violence and deadly force targeting African Americans and Latinos. The Giuliani police force has made household names out of Amadou Diallo, Patrick Dorismond, and Anthony Baez, all innocent New Yorkers killed by police.
These are the famous names. How many more have there been that have gone unnoticed? The truth is, no one knows. While the police department argues that the number of incidents involving deadly force has gone down, it is almost impossible to get an accurate count of African Americans and Latinos unjustifiably killed by police. This is certainly true on a national level, according to the New York Times: "Despite widespread public interest and a provision in the 1994 Crime Control Act requiring the Attorney General to collect the data and publish an annual report on them, statistics on police shootings and use of nondeadly force continue to be piecemeal products of spotty collection, and are dependent on the cooperation of local police departments. No comprehensive accounting for all of the nation's 17,000 police department exists." Locally, Giuliani actually has gone into federal court to block attempts by the U.S. attorney's office to obtain data on police searches.
Even police organizations of color, which you would think would be natural allies of a law and order mayor, have actually been suing the Giuliani administration. In one case, for example, a judge found that the city wrongly barred uniformed members of the Latino Officers Association from marching in parades.
For more than 25 years, the department has been unable to integrate a significantly larger proportion of black men into its ranks. In 1974 male black officers made up 7.7 percent of the ranks. The proportion is now just 9.2 percent, an increase dwarfed by the advances of Hispanics and women. Throughout much of this period, the department's leadership has said that diversifying the ranks is a priority, and that doing so can improve the force, deepen public trust and ease the persistent tension between black men on the streets and officers on the job. But they have not done enough to make this happen. One clue to what they need to do is evident in a survey by The New York Times and Quinnipiac University, where 64 percent of young blacks said that if they considered joining the department their friends would disapprove. For whites, the number was 43 percent.
CRIMINALIZATION OF POVERTY
Under the theory of broken windows that Mayor Giuliani likes so much, the police must crack down on smaller crimes, since if they do not, those people with a criminal bent will inevitably participate in more serious crime. So, from 1991 through 1999, the number of felony arrests fell by 17 percent (in large part because serious crimes dwindled) but during the same period, the number of misdemeanor arrests rose by 64 percent. This year, marijuana-related arrests have increased by 39 percent and Criminal Court summonses for offenses like public drinking and loitering are up 16 percent.
Officers were forced to pursue with such vigor so-called quality-of-life offenses such as panhandling that it has amounted to discrimination against poor people - and most poor people are people of color. Even Police Commissioner Bernard Kerik has acknowledged his officers feel pressured into taking actions that alienate many New Yorkers, especially African Americans and Latinos.
EDUCATION
The mayor pushed to get minority parents to accept the takeover of failing public schools by the private company Edison Schools, saying that this was for their sake and that of their children. But when the parents rejected this proposed privatizing, the mayor declared he would place the Edison schools in the budget anyway. Who is it who said "the people have spoken, damn them"?
The mayor has exacerbated problems of our schools - overcrowded classrooms, uncertified teachers, crumbling buildings -- by attacking the United Federation of Teachers and denying comparable salaries to our teachers.
He has also moved against bilingual education, in a city that has undergone a profound demographic shift. Hispanics now slightly outnumber blacks in New York, 27 to 26 percent. Asians constitute 10 percent of the population. About 35 percent of New Yorkers overall are foreign-born. Yet, using a Commission On Bilingual Education headed by his former Deputy Mayor Randy Maestro, he proposed the elimination of mandatory bilingual education programs, an "opt out" program designed to decimate the bilingual education program in our schools. The sink-or-swim approach could harm student performance in other subjects and would drastically reduce enrollment in bilingual classes. As Daily columnist Juan Gonzalez has pointed out, whether it has critics or not, bilingual education has been a success.
At the college level, Giuliani tried to eliminate remediation programs of the majority-minority City University of New York, denying students of color a chance to even the educational playing field.
WELFARE
Under the name of workfare, thousands of poor people have been kicked off welfare with the promise that the city would help them get "real jobs." Instead they were given thankless jobs for minimum wage, and displaced workers in the labor movement doing the same jobs for a decent wage. One such workfare recipient, Laura Morales, was forced to labor outdoors, despite a serious asthma condition. Because welfare roll-reduction policies create "an atmosphere of fear" inhibiting people from missing work to see a doctor when needed, Laura Morales died - a direct victim of the new policies.
In a July 1997 report titled "From Welfare to Work: Getting Lost Along the Way." Public Advocate Mark Green rightfully argued against the Giuliani policy of forcing poor people to "dance for their supper," and creating hurdles designed to trip up the poor, such as requiring repeated appointments with eligibility screeners and job-search counselors, often at different addresses and even before an application for welfare has been approved.
One of the worse effects of all this is to stigmatize the 500,000 welfare recipients, about two-thirds of whom, poverty experts say, are children
But while attacking black and Latino mothers on welfare Giuliani's Human Resources administration was not above giving "welfare" to his "for profit" patronage buddies like Maximus. At the same time, they denied contracts to deserving groups like Housing Works simply because they had been at odds with the city, protesting administration policies.
HEALTH
Experts estimate about 1.8 million mostly minority New Yorkers lack health insurance, twice the national rate, and an increase of about half a million from the situation under the Dinkins administration. Many of the uninsured are actually eligible for government funds.
Giuliani's welfare initiatives contributed to the problem by aggressively screening applicants for social services. In addition, in 1995, Giuliani urged the state Legislature to cut Medicaid funding. And the mayor sought to privatize many major New York City hospitals, which would virtually guarantee that the uninsured or partially insured would be unable to go to them for essential medical services.
While accepting credit for the decline in HIV cases in the city Giuliani did little to stem the increase among African-American adults. According to Health Department figures, 60 percent of recently diagnosed women and 47 percent of recently diagnosed men were black.
AFFIRMATIVE ACTION
Along with getting rid of the practice of appointing city liaisons to the black, Hispanic and Jewish communities, and reducing a commitment to hiring African Americans and Latinos in middle managerial positions in city government, Mayor Giuliani eliminated affirmative action programs for minority businesses. Under Dinkins, to paraphrase an old saying, if "white was right," at least "black and brown were still around."
But now that the new U.S. Census reports that less than 20 percent of the eight million residents in New York City are white males, the fire department is still 92 percent white and male. Only three percent of this heroic force is African American in a city where African Americans are more than one-quarter of the population.
All four major Democratic mayoral candidate have criticized Giuliani's elimination of affirmative action programs, which had increased the participation in city contracts of minority and women-owned businesses from four percent to 17 percent, before the program was eliminated.
Many would argue that despite this, African Americans and Latinos have been the beneficiaries of the city's economic boom. Look at the figures, though, and it is clear that most of what has happened is that now the poor are safer to watch the rich spend money. The city's poverty rate remains at 22 percent, what it was during the recession of the early 1990's, even as skyrocketing rents force the city's middle and working classes out of the city.
The poverty rate for black people has hit its lowest level ever, with blacks three times more likely to live below the poverty level than whites, and twice as likely to be unemployed. African American and Hispanic men with college degrees earn less than their white counterparts.
The economic statistics are not the only ones to show a persistent inequality. Roughly 13 percent of black men are ineligible to vote because of a felony conviction, and one study contends the U.S. has more blacks behind bars than South Africa did under apartheid. In some respects, Hispanics lag even further behind than blacks - substantially fewer Hispanics graduate from high school, and substantially more go without health insurance.
As Martin Luther King reminded us, true equality "is not the absence of tension, but the presence of justice." There is just so much one can boast about the lowered crime rate, the fewer high-profile ethnic confrontations, the new civic culture, and the changing face of New York. The truth is, the majority of immigrants are considered people of color, and they too have been victims of discrimination. The New York Police Department did not know Diallo was an immigrant from West Africa; they knew he was black.
What is to be the legacy of the mayor that former Mayor Ed Koch calls "the nasty man"? No doubt some of the Giuliani efforts around crime will be remembered. But what will most be remembered is a mayor who had an opportunity to bring together New Yorkers of every race, color, and ethnicity, and chose the low road.
Whoever becomes our new mayor has a chance to look at how his decisions affect all New Yorkers, regardless of our race or accent or economic status. The new majority of African Americans and Latinos must join ranks with our well-intentioned white brethren and put to an end this neo-conservative agenda that has produced a landscape of despair for poor communities.
Howard Jordan is a professor of public administration at Hostos College and a weekly columnist for the Spanish-language daily, Hoy.
&nbsp
For a different view, see One City, One Standard by Seth Forman.
###
Check out the Feature Archives!



$app = JFactory::getApplication(); $menu = $app->getMenu(); $menu_items = $menu->getItems('menutype', 'mainmenu'); var_dump($menu_items); * */ ?>